Below I will compare the power, portability, and features of the Makita 4350FCT and JV0600K
Difference between Makita 4350FCT and JV0600K
The technical summary sheet for Makita 4350FCT and JV0600K
Image
Dimensions
14.57 x 3.94 x 13.39 inches
4.33 x 14.57 x 12.99 inches
Image
Dimensions
14.57 x 3.94 x 13.39 inches
Image
Dimensions
4.33 x 14.57 x 12.99 inches
Design Comparison
We all know that every user expects a lightweight jigsaw for higher convenience. Luckily, two candidates today will surely be beyond your expectation.
In more detail, Makita 4350FCT is available on the market with a weight of 5.7 pounds and the sizes of 14.57 x 3.94 x 13.39 inches. Meanwhile, its opponent weighs about 5.2 pounds, and its dimensions are 4.33 x 14.57 x 12.99 inches.
As such, you can conclude that Makita JV0600K is much more lightweight and brings more convenience in terms of mobility.
Power Comparison
It must be mentioned that there is a slight difference in the engine power between these two items.
The 4350FCT runs on a 6.3-Amp motor capable of speeds 800-2.800 SPM. On the other hand, the JV0600K is powered by a powerful 6.5-Amp engine along with various rates of 500-3.100 SPM.
Therefore, it is easily noticed that JV0600K still has the upper hand over the counterpart. And you will find it easy and quick to cut through plastic, wood, steel, and more.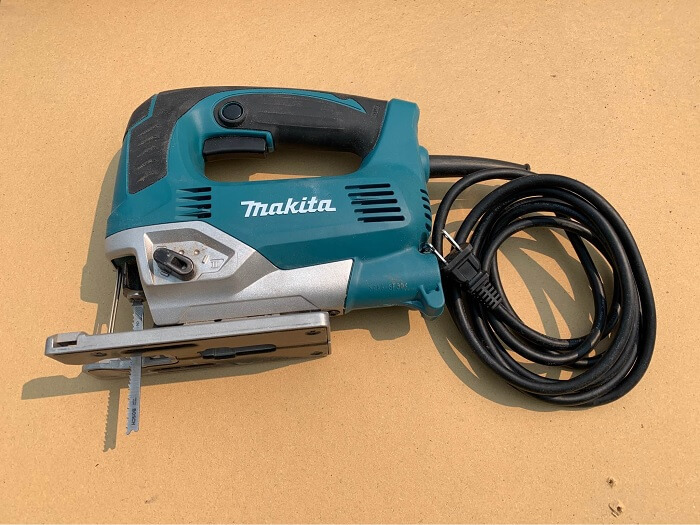 Features Comparison
In fact, both Makita 4350FCT vs JV0600K share many other features in common.
For example, they all have the tool-less blade change system, which perfectly fits for newbies and less-experienced users to install and remove the blade quickly. Another stunning factor is the onboard wrench leading to fast bevel adjustments.
On top of that, the manufacturer has added the die-cast aluminum housing base, which contributes greatly to added durability. They are incredibly versatile thanks to the ability to adjust up to 45 degrees in any direction.
Besides, you can make accurate cuts with ease thanks to the built-in dust blower to clear the cut line. What is more, dust management is not a big deal since these tools feature a through-the-body dust port with a vacuum. Rest assured that you can keep your working surface clean throughout the operation.
However, they are still somehow different. First, it is not an exaggeration to say that Makita has paid more attention to the cutting precision while creating the 4350FCT jigsaw.
Specifically, it offers a built-in LED light to illuminate the path and increases your visibility as a result. Moreover, it can give a positive stop at 90 degrees for you to make solid cuts.
Buying a Makita 4350FCT, you will receive the jigsaw blades, a cover plate, a Hex wrench, an anti-splintering insert, and a tool case.
On the other side, Makita JB0600K promises to give you a smooth operation without any vibrations with the help of a counterbalance system. We bet that you will totally love this feature.
A package of this tool includes jigsaw blades, a Hex wrench, and a tool case.
Quick Rundown Of Makita 4350FCT
Makita 4350FCT Jig Saw
3 orbital settings plus straight cutting with powerful 6.3 AMP motor for cutting in all varieties of materials
Variable speed control dial (800-2,800 SPM) enables user to match the speed to the application for superior results
Tool-less blade change system for fast and easy blade installation and removal
Uses Tang shank blades
40% less tool vibration with the lowest noise level in its class

Quick Rundown Of Makita JV0600K
Makita JV0600K Jig Saw
6.5 AMP motor and 3 orbital settings plus straight cutting deliver faster and more accurate cuts in a variety of materials
Variable speed control dial (500-3,100 SPM) enables user to march the speed to the application
Through-the-body dust port for use with a vacuum provides efficient dust management
Counterbalance system for reduced vibration
Tool-less blade change system for fast blade installation and removal

Conclusion
Both Makita 4350FCT vs JV0600K are considered well-engineered jigsaws on the market, so any tool will surely serve you well. If you only have one option, we would like to recommend the Makita JV0600K because of its powerful yet compact design.
Of course, it is up to your preference to make an informed decision.