Below I will compare the power, portability, and features of the Makita DJV180Z and DJV182Z
Difference between Makita DJV180Z and DJV182Z
Image
Dimensions
3.35 x 12.01 x 8.86 inches
8.66 x 11.42 x 3.94 inches
Image
Dimensions
3.35 x 12.01 x 8.86 inches
Image
Dimensions
8.66 x 11.42 x 3.94 inches
Design Comparison
Makita DJV180Z has a dimension of 3.35 x 12.01 x 8.86 inches and weighs 5.28 pounds. In contrast, Makita DJV182Z features 8.66 x 11.42 x 3.94 inches in size and 2.2 pounds in weight.
Overall, Makita DJV182Z is more lightweight and compact than its brother, DJV180Z. This advantage enhances portability for the tool. Therefore, the winner in the convenience round is, without a doubt, DJV182Z.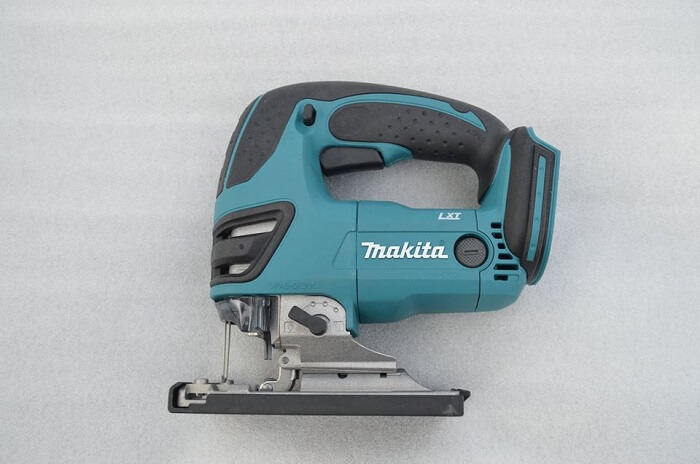 Power Comparison
There is the fact that both Makita DJV180Z and DJV182Z are equipped with the maximum cutting capacity in wood at 90 degrees with 135mm in steel at 90 degrees with 10mm and in aluminum with 20mm.
They are similar in the depth of cut at 26mm with 0-2,600SPM cutting rate/minute. Besides, their bevel cutting – aluminum base can be tilted up to 45 degrees left or right.
Plus, with a change lever for three orbital settings and straight cutting, two types of cordless jigsaws can help the operator obtain a more aggressive cut.
However, with the same stroke length of 26mm, DJV180Z has 0 – 2600 Strokes Per Minute (SPM) with 340 Watts Maximum Output, DJV182Z features 800 – 3, 500SPM with 390Watts maximum output.
To sum up, with similarities in cutting capacity and depth of cut, no one wins in the engine power battle.
Features Comparison
Despite their similarities, Makita DJV180Z and DJV182Z have differences that make them stand out and overwhelm their competitors.
The highlight feature of DJV180Z is that it possesses an integrated built-in LED light for illuminating the work area to create a more excellent cutting performance. When purchasing this tool, you will get some attachments such as a Jigsaw blades set (B-10, BR-13, B-22; 2 pieces per pack), a protective plate, an anti-peeling device, and a hexagon lock.
Makita DJV182Z overweighs its brother because its dust nozzle can go with the Makita vacuum cleaner for in-depth dust cleaning. When you buy this jigsaw, you will receive 1 DJV182Z D-Handle Jigsaw Body Only, 6 Jigsaw Blades, 1 Hex Wrench, 1 Kerf Board, 1 Cover Plate, and 1 Dust Nozzle.
Quick Rundown Of Makita DJV180Z
Sale
Makita DJV180Z Jigsaw
Maximum in steel 10 mm
Maximum in wood 135 mm
0-2600 strokes per minute
Tool-less blade change
LED job light that creates an easy to trace cutting line.High comfort grips

Quick Rundown Of Makita DJV182Z
Makita DJV182Z Jigsaw
Brushless motor
Rigid aluminium base bevels 0 to 45 degrees left and right
Change lever for three orbital settings and straight cutting
Tool-less blade change
Soft no load function automatically reduces the motor speed during idling to suppress the vibration of the machine body.Variable speed control dial

Conclusion
The final winner in the Makita DJV180Z Vs DJV182Z comparison will be based on your preference and purpose.
Makita DJV180Z is suitable for those who prefer a more precise cutline with LED light for any place they work in.
If you want a cheaper cordless jigsaw, the right choice for you is Makita DJV182Z for sure.