Milwaukee 6955-20 review will show you a real "monster". Really, just look at its exterior design and imagine how it operates and starts the engine. Milwaukee 6955-20 isn't here for small or intricate cuts. It's made for rough projects which include thick wood pieces, metal, and hard materials. Now let's see what is inside that robust machine.
>>> More: 10 BEST Miter Saws (Sliding, Compound) 
Milwaukee 6955-20 12″ Sliding Dual Bevel Miter Saw Overview.
If you are looking for an elegant, small, and portable cutting tool, Milwaukee 6955-20 is absolutely not your option, at all. This machine provides accurate, clean, and sharp cuts, especially for thick materials. Here is what you need to know before getting deeper into Milwaukee 6955-20: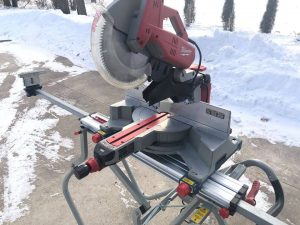 Heavyweight and robust design.
Secure operation with a powerful engine.
Efficient exhaust system with a dust collection bag.
Dual laser guidelight for accurate aim.
Sale
Milwaukee 6955-20 Miter Saw
Miter angle fine adjust with detent override makes it simple to dial-in precise miter angles
Miter angle digital readout provides repeatable accuracy to 0.1 degree
Dual integral job-site lights fully illuminate the work piece and cut line from either side of the blade
15-amp, 3.3 max hp direct-drive motor provides increased power for high-performance cutting in hard lumber
Integral dust channel captures 75 percent of all dust and debris
>>> Read Customer Reviews: Here
Milwaukee 6955-20 Miter Saw Highlights.
1. Cutting capacity and power of Milwaukee 6955-20.
12-inch blade accompanying with a sliding arm. I mean, what more to expect?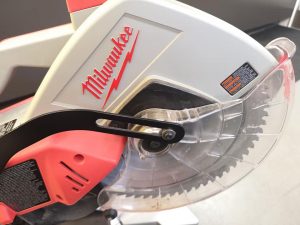 Milwaukee 6955-20 offers deep cuts which are also sharp and even with high accuracy. It, especially, features digital miter angle – fine adjust, which is doing amazing things. This system allows you to dial-in the miter angels accurately and quickly in any condition. Reproducing the same cuts with the same accuracy has never been easier.
People say Milwaukee has 'Constant Power Technology' and yes, well said. The speed of 3,200 RPM of the blade provides powerful and smooth cuts. It works efficiently with hardwood and metal, too.
However, keep your hand sturdy, and you need time to get used to that motor's power. But once you are familiar with it, you will see how excellent the cuts are.
2. The utility of Milwaukee 6955-20.
What I like most is the exhaust system of Milwaukee 6955-20 as it's absolutely outstanding.
Not like other compound miter saws with poor-efficiency dust collection bag, this machine is really focusing on how it will collect the sawdust. The system helps reduce a significant amount of debris, dust, and particles around (seriously it collects 75% of the dust. This also does a lot so to help you with the cleaning after work.
One more thing that makes Milwaukee 6955-20 unique is the dual laser light. The system provides two lights on both sides of the tool, which enhances the brightness and eliminates the shadow of the blade. Personally, I love this feature, as it makes things done quickly and precisely.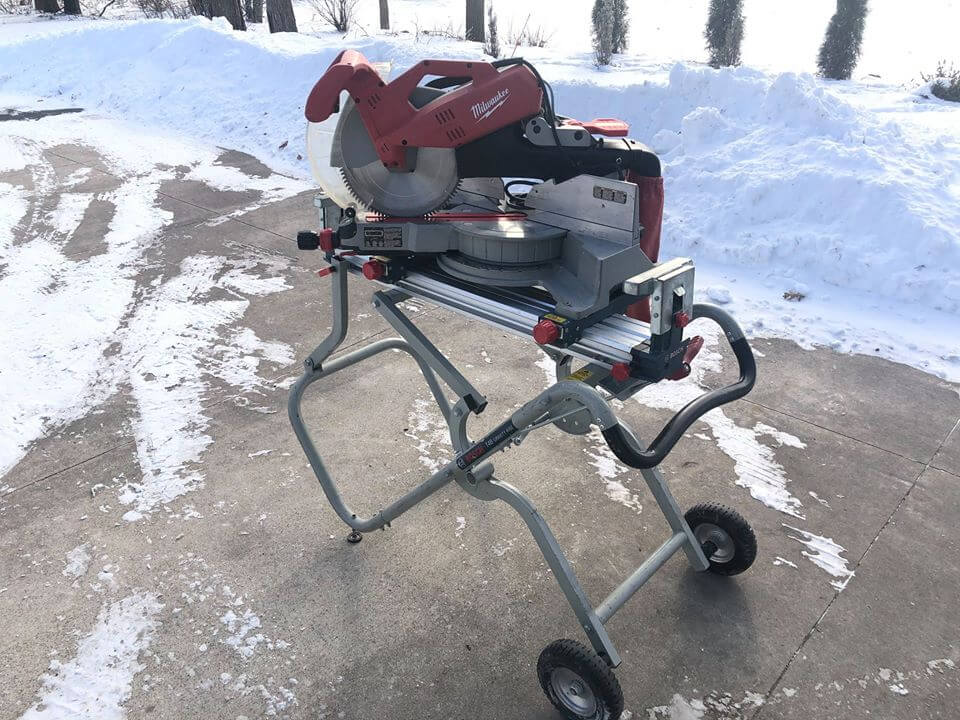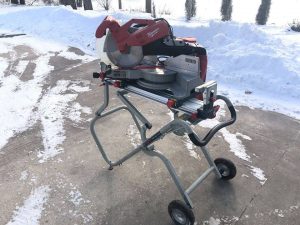 3. Durability and service of Milwaukee 6955-20.
The USA products always come with the commitment of manufacturers for a long-lasting lifespan. Unless you try to smash or throw that heavy metal piece, it will last as long as you need it. Never doubt the durability and quality of the USA product. Milwaukee offers a 5-year warranty for their products
Obstacles.
Nothing is perfect, and neither is Milwaukee 6955-20. These are what we are not interested in this machine.
First, Milwaukee 6955-20 is not portable. It's understandable as this "beast" weighs 65 lbs and you know, it should only be placed at a stationary position. Of course, you can move it as there is a rubber handle. It just takes a bit of effort.
Second, the cord power is too short. When it's on the stand, the cord can't even touch the ground. Therefore, you may find it hard to look for a convenient place to work.
Popular Alternatives Worth Considering:
In conclusion.
Milwaukee 6955-20 review gives you a summary features and highlights of the 12-inch robust cutting machine. It does come with powerful and accurate cutting quality, high utility and durability. Though it has obstacles, we may accept it as it doesn't make things more difficult. So what about your opinion?