Further down the page, you'll find some explanations regarding the key similarities and differences between the Nordictrack Commercial 2450 and the Sole F85.
But before checking out explanations regarding their specs and features here's a table that summarizes the main technical summary sheet for these 2 treadmills:
Image
The Winner (#1)
The Runner-up (#2)
Model
NordicTrack Commercial 2450
Heart Rate Monitor
Pulse grip and chest strap heart rate monitoring
Display
14″ Web-Enabled HD Touch Screen
9-inch LCD workout display
Audio
MP3-compatible sound system
The Winner (#1)
Image
Model
NordicTrack Commercial 2450
Display
14″ Web-Enabled HD Touch Screen
The Runner-up (#2)
Image
Heart Rate Monitor
Pulse grip and chest strap heart rate monitoring
Display
9-inch LCD workout display
Audio
MP3-compatible sound system
Specs Comparison
The first thing we want to discuss is price. In this battle, Commercial 2450 seems to be inferior to its competitor, as it is $1,200 more expensive than Sole F85.
Let's see, with the higher price, does the NordicTrack Commercial 2450 bring more tools? The NordicTrack Commercial 2450 includes 50 built-in programs to exercise. However, Sole F85 provides only 10 types of them. The product of NordicTrack makes exercising more interesting than Sole.
How about the weight of the two trainers? Sole F85 has a maximum of 400 pounds of weight capacity. Meanwhile, Nordictrack 2450 can load only 300 pounds which is 100 pounds lighter than Sole.
Both Commercial 2450 and Sole F85 have the same running area with 22-inch by 60-inch. It's also the common surface running of the other treadmills.
Let's discuss the motor which powers the trainers. The NordicTrack Commercial 2450 and Sole F85 both run on a 4.0 CHP motor. Compared to the other treadmills in the market, they both have strong energy. Normally, other products use motors from 3.25 to 3.5 CHP.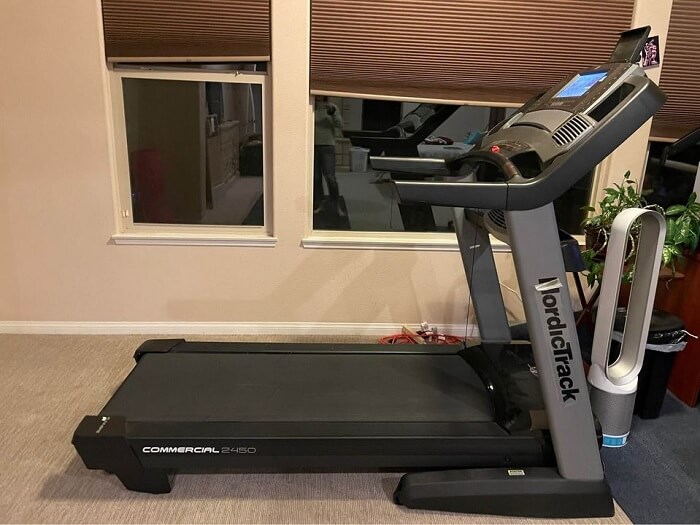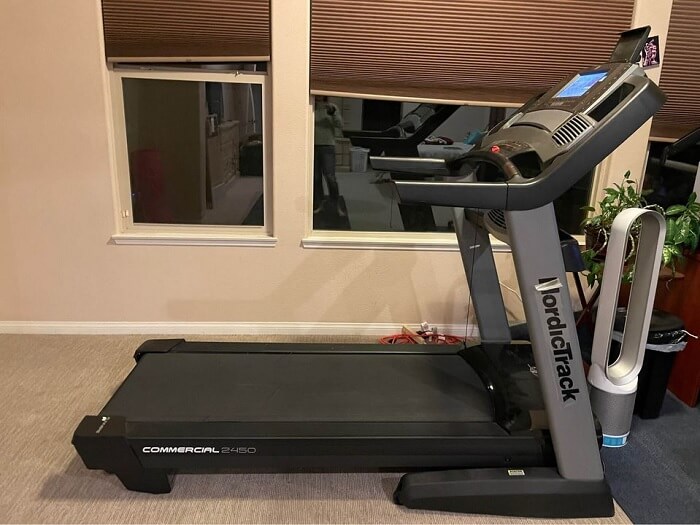 What about the inline range of NordicTrack Commercial and Sole? While NordicTrack Commercial 2450 can incline from -3 to 15%, Sole F85 can only incline from 0 – 15%. NordicTrack's provide a wider range than Sole.
In terms of the max speed, NordicTrack Commercial 2450 can reach 12 MPH at the highest speed, and Sole F85 also has the same highest level speed.
Interestingly, NordicTrack Commercial 2450 and Sole F85 can track your heart while you exercise. NordicTrack Commercial 2450 tracks by Bluetooth while Sole F85 uses wireless. Heart speed is an important figure when training. Therefore, equipped treadmills are useful for users.
Last but not least, let's take a look at the dimensions to see which one fits your space. NordicTrack 2450's dimensions are 81.2 x 39.2 x 69.9 inches, a bit bigger than Sole F85, which is only 83 x 37 x 57 inches.
Features Comparison
The Commercial 2450 console features a luxurious 14-inch HD touch screen that allows you to enjoy your iFit fitness programs in full vision and clarity.
Its new graphics processing guarantees a smooth and crisp HD video stream during your workouts, which was updated for 2021. The workout data is projected on a 10.1-inch screen with a white backdrop and a graphic display.
You can cool yourself down during your workouts on Commercial 2450 with the aid of two AutoBreezeTM fitness fans that can switch to your workout tempo automatically or manually. There's even a built-in tray under the console panel where you can hold your water bottle and tablet. Meanwhile, Sole F85 can't provide this tool.
A tool that is included in Commercial 2450 and excluded in Sole F85 is iFit Coach Workout. Through this tool, you can experience an infinite number of personalized fitness plans with a home WiFi link, ranging from virtual Google Maps trails to interactive HD training workouts planned and guided by world-class personal trainers.
Quick Rundown Of Nordictrack Commercial 2450
Nordictrack Commercial 2450 Treadmill
30-Day iFIT Family Membership Included; Stream live & on-demand workouts on your equipment with Global Workouts & Studio Classes; Add up to 5 users; Elite trainers adjust your equipment ($39 value)
Immersive 14-inch interactive HD touchscreen streams on-demand iFIT workouts directly to your equipment and provides easy stats tracking; SMART-Response motor for effective running and cardio training
-3 to 15 % OneTouch incline control; 12 MPH SMART OneTouch speed control; Your iFIT trainer auto-adjusts your speed and incline to meet trainer requirements and match real-world terrain
Innovative SpaceSaver design with EasyLift Assist means your treadmill can fold up after your run for compact, simple storage; 22" x 60" tread belt for leg and elbow space; Runners Flex cushioning
300-pound user capacity; Protected with a 10-year frame warranty, 2-year parts warranty, and 1-year labor warranty; 59.25" H x 39.25" W x 81.25" L. FASTER Dual 2.4 GHz and 5 GHz Wi-Fi Connectivity
[i2pc show_title="false" title="Pros & Cons" show_button="false" pros_title="Pros" cons_title="Cons" ][i2pros]Touch screen with premium features
Including the tool "iFit Coach"
Motor with high level
Monitoring heart rate
Storage trays and fans [/i2pros][i2cons]Warranty within a short period
Hard to set up
[/i2cons][/i2pc]

---
Quick Rundown Of Sole F85
Sole F85 Treadmill
UNLEASH YOUR FULL POTENTIAL - Elevate your fitness journey with our New 2023 Sole F80 Treadmill! Featuring a powerful 4.0 HP motor, this incline treadmill powers your workouts seamlessly on the expansive 22"x 60" running surface.
VERSATILE WORKOUTS - This walking and running treadmill offers an array of fitness programs, including Manual, Hill, Fat Burn, Cardio, Strength, HIIT, 10K, Custom, HRC*2, Fit. Test*7, and Template*12. Tailor your treadmill workouts to your goals!
SPACE-SAVING DESIGN - This folding treadmill features a release lever that makes storage a breeze. These are the perfect foldable treadmills for home use, offering premium performance without compromising on space.
WIDE SPEED RANGE - Take command of your treadmill workout with a speed range from 0.5-12 MPH (1-22 Kph). Whether you're walking, jogging, or sprinting, you have control over your Sole Treadmill's pace. Adjust it to match your goals effortlessly.
IMPORTANT DELIVERY DETAILS - Please make sure to update your contact information and preferences so that we can reach you to schedule the delivery. Otherwise, your shipment may be subject to delivery without an appointment.
[i2pc show_title="false" title="Pros & Cons" show_button="false" pros_title="Pros" cons_title="Cons" ][i2pros]Powerful motor (4.0 CHP)
Long warranty period
Heart monitoring[/i2pros][i2cons]Limited exercise programs
No cooling tools [/i2cons][/i2pc]

---
Product Videos
---
Conclusion
Through our comparison of NordicTrack Commercial 2450 vs Sole F85, you can see, the amount you have to spend on Nordictrack Commercial 2450 is higher than Sole F85. Therefore, the tools and value which 2450 brings will be more. In our opinion, Nordictrack Commercial 2450 shows superior performance and prevails in this comparison.
---