Further down the page, you'll find some explanations regarding the key similarities and differences between the NordicTrack Commercial 2450 and the Sole TT8.
But before checking out explanations regarding their specs and features here's a table that summarizes the main technical summary sheet for these 2 treadmills:
Image
The Winner (#1)
The Runner-up (#2)
Model
NordicTrack Commercial 2450
Heart Rate Monitor
Pulse Grips & Wireless Chest Strap
Display
14″ Web-Enabled HD Touch Screen
Audio
MP3-compatible sound system
The Winner (#1)
Image
Model
NordicTrack Commercial 2450
Display
14″ Web-Enabled HD Touch Screen
The Runner-up (#2)
Image
Heart Rate Monitor
Pulse Grips & Wireless Chest Strap
Audio
MP3-compatible sound system
Specs Comparison
Even though the Nordictrack 2450 is priced lower than the Sole TT8, it will cost more than its rival in the long run for consumers. Specifically, the Nordictrack model requires consumers to pay a manual fee of an iFit subscription to customize the routines and manually-created exercises.
What do you know about the maximum weight that two machines can withstand? While the Sole TT8 can reach up to 400 pounds of user weight capacity, the NordicTrack Commercial 2450 is about 300 pounds.
With the Nordictrack, users can create up to five individual exercise profiles, which gives access to live, studio, and global workouts. On the contrary, Sole TT8 provides users with six standards, four custom programs, and two heart-rate control programs dedicated to weight loss or cardio training.
Both treadmills give users generous leg and elbow space with their 22″ x 60″ belt in running belt size. Each also equips a thick cushion to ensure comfort and minimal injuries.
Speaking of power, there is not much discrepancy between the two machines. Regarding Sole TT8 and Nordictrack 2450, having a 4.0 HP motor makes them powerful enough to reach 12 MPH. Therefore, the two machines are best for casual home users and professional users.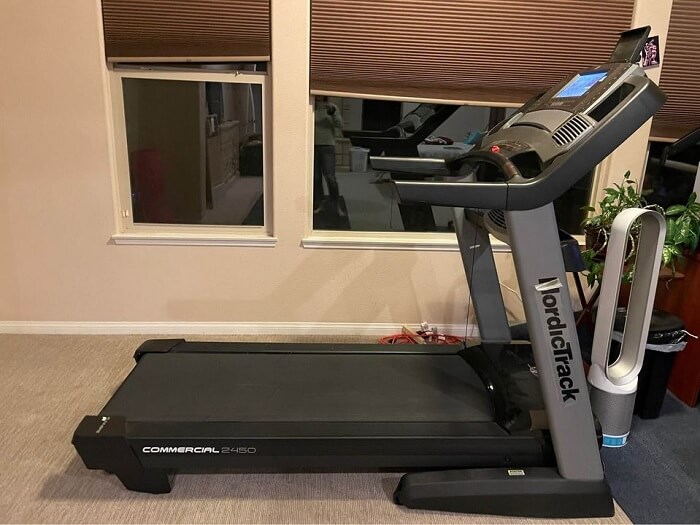 Regarding the treadmill's incline range, generally, you can change the incline range between 0% and 15% in the Sole model and Nordictrack model. However, there is a slight difference in that Nordictrack can incline from -3% to 15%. Hence, we recommend Nordictrack if you want to add more challenges to your training session.
Both treadmills will provide you with built-in cooling fans. However, the Sole TT8 often earns more positive feedback because of its clever fan's position at the armrests.
Despite the Nordictrack 2450 monitoring users' heart rate through sensor grips, there are some complaints that the sensors are not accurate enough. Unlike the Nordictrack, the Sole TT8 comes with a wireless heart rate chest strap that promises 99.9% accuracy. A heart rate graph accompanies the strap for users to track their heart zones as well.
The Nordictrack is 81.2 x 39.2 x 69.6 inches after folding it, whereas the Sole TT8 is 80 x 33 x 58 inches. Hence, the former is bulkier and takes up more space than its rival.
Although larger and heavier, the Nordictrack 2450 is designed to be space-saving with a foldable treadmill for simple storage. In contrast, Sole TT8 is more suitable for a permanent workout space.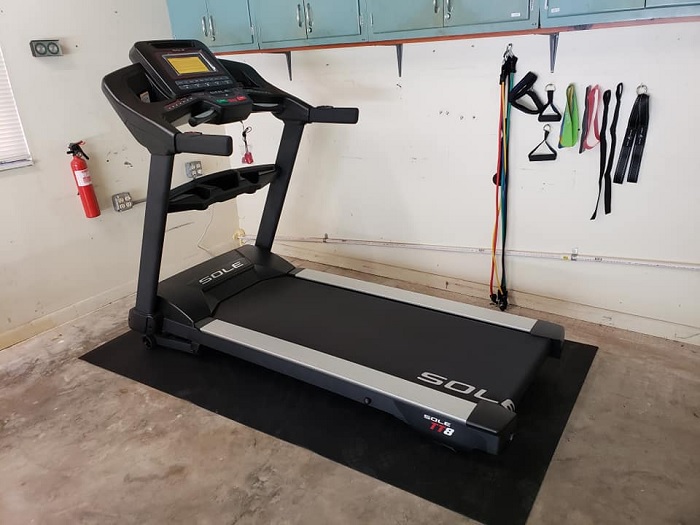 Features Comparison
The Nordictrack comes with a 14" HD touchscreen that features iFit workouts for users. With this screen, users can collect graphics and data on speed, duration, and distance.
For the iFit runs, you can immerse yourself in a selection of visual tours around the world. Hence, it makes training more fun and less tedious. But there is a downside about this feature that you will not be able to cross-train if that is what you are seeking.
Apart from an interactive screen, some high-quality speakers cater to users who like to enjoy their music while working out. There are convenient cupholders and slots on either side of the treadmill panel to hold gym essentials, like energy bars and wipes.
Like the Nordictrack, the Sole TT8 has a display screen that tracks users' speed, incline, distance, pulse, etc.
Quick Rundown Of NordicTrack Commercial 2450
NordicTrack Commercial 2450 Treadmill
30-Day iFIT Family Membership Included; Stream live & on-demand workouts on your equipment with Global Workouts & Studio Classes; Add up to 5 users; Elite trainers adjust your equipment ($39 value)
Immersive 14-inch interactive HD touchscreen streams on-demand iFIT workouts directly to your equipment and provides easy stats tracking; SMART-Response motor for effective running and cardio training
-3 to 15 % OneTouch incline control; 12 MPH SMART OneTouch speed control; Your iFIT trainer auto-adjusts your speed and incline to meet trainer requirements and match real-world terrain
Innovative SpaceSaver design with EasyLift Assist means your treadmill can fold up after your run for compact, simple storage; 22" x 60" tread belt for leg and elbow space; Runners Flex cushioning
300-pound user capacity; Protected with a 10-year frame warranty, 2-year parts warranty, and 1-year labor warranty; 59.25" H x 39.25" W x 81.25" L. FASTER Dual 2.4 GHz and 5 GHz Wi-Fi Connectivity

---
Quick Rundown Of Sole TT8
Sole TT8 Treadmill
Features a 3.5 horsepower motor and Cushion Flex deck with a 22- by 60-inch running surface
Includes grip pulse monitoring and a heart rate chest strap
Six standard programs, two user-defined programs, and two heart rate programs; speed range is 0.1-12 miles per hour
Six-window LED display tracks your speed, incline, time, distance traveled, calories, pulse, and pace
400-pound maximum weight capacity; measures 33 by 80 by 58 inches (W x L x H) when assembled

---
Product Videos
---
Conclusion
By now, have you grasped all the insights about the comparison between Nordictrack 2450 vs Sole TT8?
If you prefer to have a sturdy, permanent treadmill that offers reliable user-friendly features, you should opt for the Sole TT8. Still, the Nordictrack 2450 is more suitable if you have limited space and want a
---