Further down the page, you'll find some explanations regarding the key similarities and differences between the NordicTrack Commercial 2450 and the Sole F80.
But before checking out explanations regarding their specs, features, and warranty, here's a table that summarizes the main technical summary sheet for these 2 treadmills:
Image
The Winner (#1)
The Runner-up (#2)
Model
NordicTrack Commercial 2450
Heart Rate Monitor
Pulse grip and chest strap heart rate monitoring
Display
14″ Web-Enabled HD Touch Screen
7.5-inch LCD workout display
Audio
MP3-compatible sound system
The Winner (#1)
Image
Model
NordicTrack Commercial 2450
Display
14″ Web-Enabled HD Touch Screen
The Runner-up (#2)
Image
Heart Rate Monitor
Pulse grip and chest strap heart rate monitoring
Display
7.5-inch LCD workout display
Audio
MP3-compatible sound system
Specs Comparison
Product price is a factor that has a great influence on customer decisions. Here, compared to the Commercial 2450, the Sole F80 is rated higher because it is about $600 cheaper.
Comparing the weight capacity of each model, the Sole F80 has eclipsed the competition with a maximum capacity of up to 350 lbs. Meanwhile, the Commercial 2450 can only lift 300 lbs. For customers with a large weight, this lifting capacity is a big minus point between the two machines.
How many exercises does each treadmill have? Well, there is a difference between the two models. Here, Commercial 2450 stands out for its ability to offer 50 pre-built training programs. In contrast, the Sole F80 proved to be quite inferior to the opponent with only 10 exercises.
Running belts are an important part of the treadmill segment. After doing some research, we found that the belts of both models were thick and sturdy. This feature is an advantage of NordicTrack and Sole compared to other brands on the market.
The 4 CHP engine makes the Commercial 2450 one of the strongest trainers in this segment in terms of power. Also appreciated for the power, but the engine of Sole F80 is a bit weaker with 3.5 CHP.
Do these treadmills make noise? Unfortunately, they do! Like most machines, noise is inevitable when it comes to treadmills. However, for comparison, the sound of the F80 is a bit louder.
The maximum tilt of the Sole F80 is 0 to 15%. Meanwhile, the incline and decline of NordicTrack 2450 have a fairly large range, ranging from -3% to +15%. According to statistics, not many trainers have a -3% incline. This number is ideal for those who want to experience downhill running exercises.
Which model has the greater top speed? In fact, in this battle, no one wins. The top speed of both is 12 MPH. This is quite an ideal level with many different exercises.
Treadmills will produce a large amount of heat when operating. That is why fans are a factor you cannot ignore when choosing a treadmill. NordicTrack's AutoBreeze cooling system for better cooling, while the Sole F80 is quite useless because the wind is quite weak.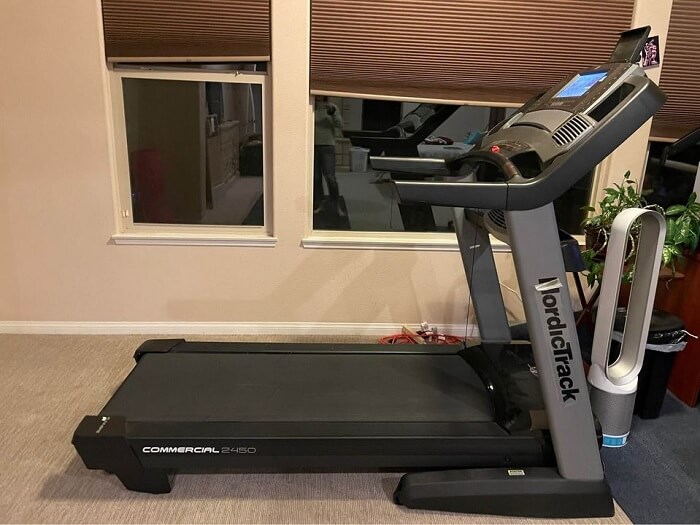 Comparison of heart rate monitoring function between the two machines. NordicTrack 2450 enables heart rate monitoring with two wireless tracking features and a handheld. The Sole F80 uses a handlebar pulse clamp. These are all methods commonly used in treadmills, but 2450 is a bit more accurate.
Which machine is suitable for your space? The dimensions of the F80 are 82 x 36 x 16.5 inches and weigh 298 lbs. These numbers will surely make many people hesitate to choose. In contrast, the NordicTrack 2450 measures 81.2 x 39.2 x 69.9 inches, but it weighs only 260 lbs. Obviously, compact size, lightweight is the big plus of 2450.
Coincidentally, the belts of Nordictrack and Sole both measure 22 x 60 inches. For users who are tall or have a long stride, this size is an ideal choice.
Another plus for both models is the ability to fold. To save space when not in use or when traveling, you can fold them easily. In addition, both machines are equipped with a bottom roller system. However, the Sole F80 has more wheels than the competition. For 2450, the treadmill deck is 10″ – 17″ off the ground, depending on the incline. At 0%, the Sole F80 has a deck height of 8″.
Features Comparison
Modern treadmills are often very cleverly designed. If you want to change the speed and incline during practice, just press the control button on the screen.
How does NordicTrack Commercial 2450 Vs Sole F80 fan work? Their fans can all change speed automatically. However, a reminder for you is not to expect too much on the F80 because its wind power is quite weak.
How about choosing an exercise program between two treadmills? Of the 10 available programs of Sole F80, there are two that force users to adjust themselves. NordicTrack 2450 integrates iFit Coach for program selection. Obviously, NordicTrack's program is more user-friendly.
The control panel allows you to quickly and conveniently change the operating mode. Images of the Commercial 2450 are displayed clearly on the 14-inch rotating HD touch screen. Meanwhile, the Sole F80 uses a bright 9-inch LCD screen. However, many users do not appreciate this monitor because it does not have full color.
A speaker system is a device that enhances the user experience. Like other Nordictracks, 2450 is equipped with a pair of 2-inch digital amplifier speakers. Meanwhile, the F80 has built-in speakers and audio cables. It can be seen that when comparing the listening features, Commercial 2450 has a distinct advantage.
Both treadmill models in this article can connect to wifi. Both machines can use Bluetooth and the built-in USB port. In addition, they are also compatible with Android and iOS devices. The exercises of F80 are installed on SOLE Fitness. If you choose NordicTrack 2450, you will receive a free year of using iFit Coach.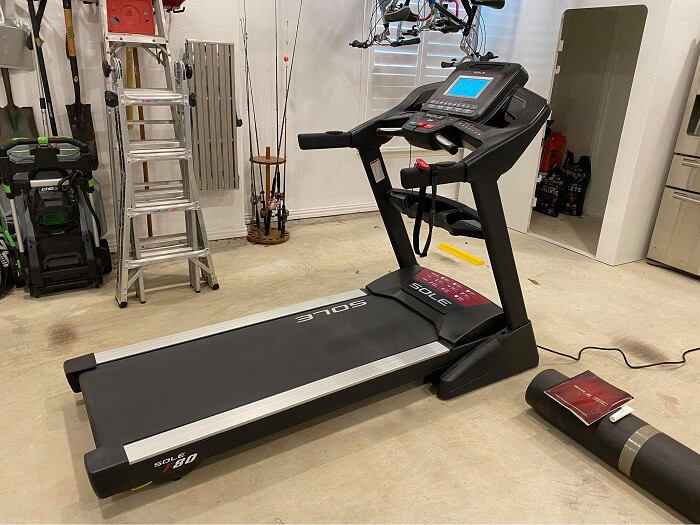 Warranty
Each brand has its own warranty policy. The NordicTrack Commercial 2450's warranty is a bit shorter than the competition. You will only get 2 years spent on parts and electronics.
Meanwhile, the Sole F80 offers an attractive package with a lifetime warranty on the frame, engine, and deck, 5 years for electronics and parts, and 2 years of labor.
Quick Rundown Of NordicTrack Commercial 2450
Sale
NordicTrack Commercial 2450 Treadmill
30-Day iFIT Family Membership Included; Stream live & on-demand workouts on your equipment with Global Workouts & Studio Classes; Add up to 5 users; Elite trainers adjust your equipment ($39 value)
Immersive 14-inch interactive HD touchscreen streams on-demand iFIT workouts directly to your equipment and provides easy stats tracking; SMART-Response motor for effective running and cardio training
-3 to 15 % OneTouch incline control; 12 MPH SMART OneTouch speed control; Your iFIT trainer auto-adjusts your speed and incline to meet trainer requirements and match real-world terrain
Innovative SpaceSaver design with EasyLift Assist means your treadmill can fold up after your run for compact, simple storage; 22" x 60" tread belt for leg and elbow space; Runners Flex cushioning
300-pound user capacity; Protected with a 10-year frame warranty, 2-year parts warranty, and 1-year labor warranty; 59.25" H x 39.25" W x 81.25" L. FASTER Dual 2.4 GHz and 5 GHz Wi-Fi Connectivity
---
Quick Rundown Of Sole F80
Sole F80 Treadmill
Folding treadmill with 3.0-horsepower continuous-duty motor
Vibrant 7.5-inch LCD display with integrated speakers and audio cable
6 standard workouts, 2 custom workouts, and 2 HR-controlled workouts
Easy Assist folding deck design; Cushion Flex shock-absorption system
350-pound capacity; measures 33 x 80 inches (W x D); weighs 250 pounds
---
Product Videos
---
Conclusion
In this article, we have discussed the similarities and differences between NordicTrack Commercial 2450 vs Sole F80. As can be seen, the size, features, and elements of the Commercial 2450 stand out from the competitor – Sole F80. This is probably the treadmill you are looking for for your workout plans.
---