Further down the page, you'll find some explanations regarding the key similarities and differences between the NordicTrack EXP 10i and the NordicTrack EXP 7i.
Specs Comparison
We all know that the cost is a top-concerned problem when choosing something to buy. In today's post, we can obviously see that the NordicTrack EXP 7i is more affordable than the 10i. In detail, the 7i version costs $500 less than the 10i version.
In terms of the weight limit, like other Nordictrack treadmills, both the 7i and 10i can safely support users of up to 300 pounds.
Next, let's see how many built-in training programs are in each version. The Nordictrack EXP 7i has about ten built-in workouts. However, when you get one of the two treadmills, you have a chance to use the 1-year Family Membership of Ifit. This all-in-one fitness app will provide you with more than 17.000 workouts.
When talking about the running deck system, both of the two versions have the same running area with 20″ x60″ tread belts. Unfortunately, there is no difference in the trainer's belt size between the 7i and its more expensive sibling.
In terms of power, the NordicTrack EXP 7i is powered by a 3.0 CHP Commercial Plus motor less powerful than the 10i, which comes with a 3.5 CHP motor. Hence, the 10i is superior to the 7i version.
We bet you want to know more about the incline range of each treadmill, right? While NordicTrack EXP 7i only has a maximum incline of 12% available and no decline option, the 10i has a wider range: from -3% to +12%.
What about the maximum speed? Well, surprisingly, the two treadmills all allow users to reach 12 mph. Nothing different.
Another thing available in these two treadmills is AutoBreeze Workout Fan, which keeps users cool while running or walking.
Both the 7i and 10i treadmills have the same heart rate sensors coming with an EKG grip pulse embedded in the handlebars. So if you want to track your heart rate, it might be useful for you.
Let's discuss the product weight of each trainer. The EXP 10i is 229 lbs in box product weight, which is slightly heavier than the 222 lbs of the 7i version. However, thanks to the SpaceSaver Design with EasyLift Assist, both two treadmills are quite easy for movement as needed.
The size of the product is also an important thing to consider before purchasing. The NordicTrack EXP 7i has dimensions: 77.3″L x 35.3″W x 59.6″H, smaller than the 10i dimensions which are 79.9"L x 35.08″"W x 59.25″H. In addition, both of them are foldable to save space and are suitable for people who live in small places.
Features Comparison
The EXP 7i and 10i from NordicTrack treadmill have automated speed and incline built-in via iFit programs. Therefore, while you watch the program, the treadmill will automatically adjust for you.
The fan, built into the console, can automatically adjust to the workout's intensity. This feature is available in the EXP 7i and 10i as well.
With iFit, today, we can access the largest library of over 17.000 workouts using a tablet, smartphone, or choosing directly on the touch screen panel.
Corresponding to each version treadmill, the NordicTrack 7i comes with a 7-inch smart HD touchscreen, a little smaller than the 10-inch HD touchscreen of the 10i.
What about the connection with Bluetooth? The EXP 10i and EXP 7i all have Bluetooth integration connectivity and a set of 2″ digitally amplified wireless speakers, which is also a nice plus.
When you require a Wi-Fi connection to get to the iFit program, don't worry because we see improved dual-band Wi-Fi, ensuring a clean, crisp, and stable streaming of the iFit program two types of the treadmill.
Both the EXP 7i and 10i are integrated accessory trays to set phones or other objects inside while running. Moreover, the tray of the 10i treadmill has space for two large water bottles – that is a plus for this treadmill.
Quick Rundown Of NordicTrack EXP 10i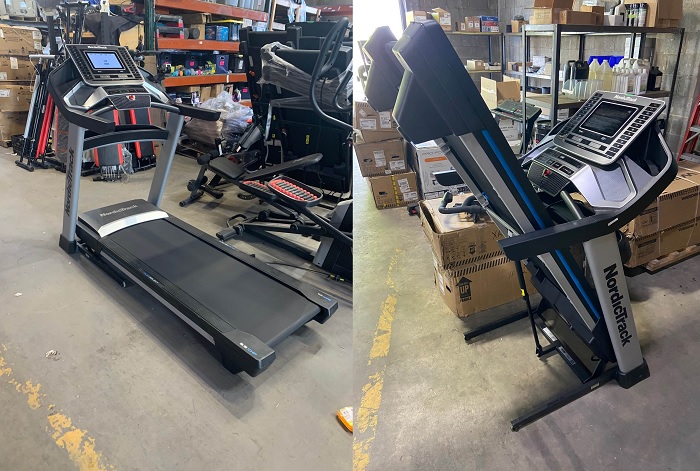 [i2pc show_title="false" title="Pros & Cons" show_button="false" pros_title="Pros" cons_title="Cons" ][i2pros]Smart-response motor 3.5 CHP
10-inch intuitive touch screen control panel
iFit data tracking
Excellent cushioning
One year Membership in iFit programs
The EKG heart rate sensor
Cooling options
Easy folding
Included a decline option down to -3%[/i2pros][i2cons]Only 2-year warranty on electronics offered
The large console with a small screen.[/i2cons][/i2pc]

---
Quick Rundown Of NordicTrack EXP 7i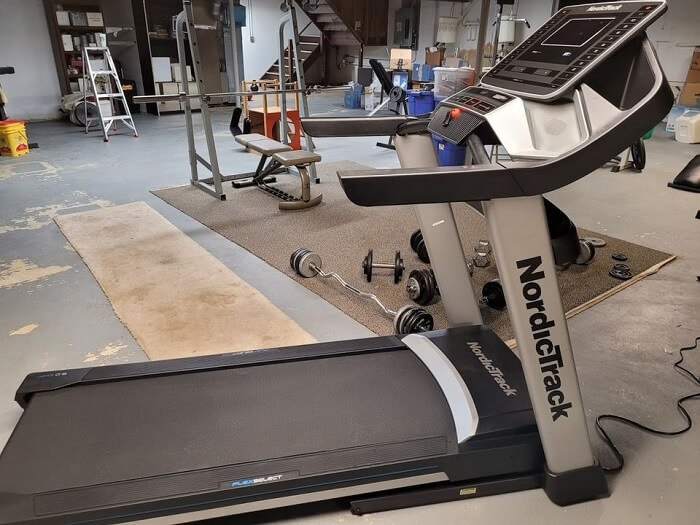 [i2pc show_title="false" title="Pros & Cons" show_button="false" pros_title="Pros" cons_title="Cons" ][i2pros]Smart-response 3 CHP motor
Flex-Select cushioning
The EKG heart rate sensor
1-year Membership to iFit
The automatic trainer control
Cooling fan thanks to the AutoBreeze V
Foldable design[/i2pros][i2cons]No decline option installed
No built-in programs
Have to purchase an online subscription to use iFit programs[/i2cons][/i2pc]

---
Product Videos
---
Conclusion
Throughout the comparison of "NordicTrack EXP 7i vs 10i" in today's post, we hope you can choose a suitable treadmill that is friendly to your budget and meets your needs. However, the EXP 10i is ideal for regular workout purposes and overshadows its opponent – the EXP 7i.
---