Further down the page, you'll find some explanations regarding the key similarities and differences between the NordicTrack T 6.5 SI and the Horizon Fitness T101.
But before checking out explanations regarding their specs and features here's a table that summarizes the main technical summary sheet for these 2 treadmills:
Image
The Winner (#1)
The Runner-up (#2)
Heart Rate Monitor
dual EKG handlebar pulse grips
The Winner (#1)
Image
Heart Rate Monitor
dual EKG handlebar pulse grips
The Runner-up (#2)
Image
Specs Comparison
NordicTrack T 6.5 SI and Horizon T101 are two new models of home multi-function electric treadmills from famous corporations in the world. In terms of cost, the Horizon Fitness T101 is nearly $350 cheaper than the T Series 6.5 Si Treadmill.
About the design, the two devices are available in luxurious black and white gray colors, highlighting the family space. In addition, both high-strength steel chassis designed to be sturdy will help ensure the safest and most comfortable for you when using.
Horizon Fitness T101 is a compact machine with a size of 73 x 29.5 x 12 inches, easily folded to save space optimally. Besides, you will experience the feeling of comfortable running with exclusive running deck technology "3-Zone variable response cushioning" with 0.7 mm thickness and 20 x 55 dimensions.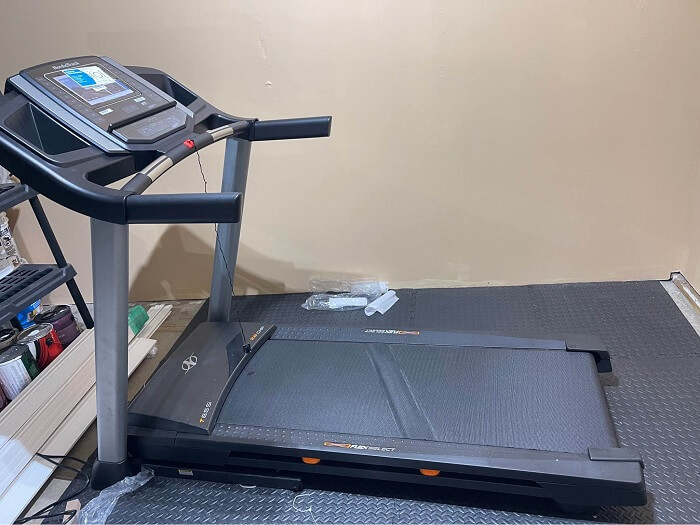 With a weight of 180lbs, the machine's max user capacity reaches 300 pounds. Such an impressive number, isn't it?
The T Series 6.5 Si Treadmill has a significantly larger size with 3-way specifications of 67.5 x 36 x 73 inches. Therefore, the machine's weight is a bit more than the Horizon Fitness T101, at 200lbs. However, the max user weight is still the same, at 300lbs. The 20″ x 50″ tread deck is slightly shorter than the competitor but still enough to give you comfortable movement space.
The NordicTrack products are equipped with an Innovative SpaceSaver design with EasyLift Assist to help you arrange your living space as scientifically as possible.
Both Horizon Fitness T101 and T Series 6.5 Si use an outstandingly powerful electric motor with a capacity of 2.5 CHP and 2.6 CHP, respectively. Because the difference is not too much, both machines are stable with an allowed jogging speed of 10 miles/h, supporting a slope from 0-10%.
Features Comparison
NordicTrack T 6.5 SI and Horizon T101 are both new smart treadmills that use modern technology, easily connecting to electronic devices (such as phones, tablets, TVs, etc.) and Bluetooth to track your workouts. Besides, the manufacturer also provides you with all the necessary equipment for the training process, such as a cup holder, fan, phone holder.
Horizon T101, with a much lower price than the competition, is only equipped with very basic features such as 10-speed keys & 10 incline keys, quick program keys. In addition, the manufacturer also provides you with an additional phone charging port. Now, you don't have to worry about training interruptions due to the low battery on your phone!
Compared to Horizon, NordicTrack 6.5 Si is much more advanced with smart features. For example, the machine is equipped with a touch screen up to 10 inches, capable of directly interacting with the practitioner through many different exercise modes. These include Bootcamp, Yoga, Full body scoping, and lots of new exercises every day, giving you the feeling that you are experiencing a real sport outdoors.
If you want to keep yourself company, NordicTrack offers Online trainers from all over the world. Online coaches will guide you through any terrain simulator, control the speed and intensity of your training. Trainees will achieve the goal of having a beautiful body and good health in no time.
Moreover, all information about your exercise will be recorded by the sensor on the device and fully displayed on the screen. Home Interactive Personal Training powered by the iFit app is compatible with Android and iOS operating systems. Tracking your health has never been easier!
Horizon Fitness T101 offers customers a lifetime warranty on both the engine and the chassis. Therefore, you can rest assured during the use of the product.
Unfortunately, NordicTrack isn't as generous in its warranties as to its competitors.
When buying a NordicTrack treadmill, you will be committed to a 10-year warranty for the chassis, two years for the removable parts, and one year for the labor. This is a point customers should consider before choosing a product. However, you should not worry too much because a 10-year warranty is also a standard amount of time.
Quick Rundown Of NordicTrack T 6.5 SI
NordicTrack T 6.5 SI Treadmill
30-Day iFIT Family Membership Included; Stream live & on-demand workouts on your equipment with Global Workouts & Studio Classes; Add up to 5 users; Elite trainers adjust your equipment ($39 value)
Immersive 10-inch interactive HD touchscreen streams on-demand iFIT workouts directly to your equipment and provides easy stats tracking; SMART-Response motor for effective running and cardio training
10 % OneTouch incline control; 10 MPH SMART OneTouch speed control; Your iFIT Trainer auto-adjusts your smart treadmill's speed and incline for a fully optimized workout that meets your goals
Innovative SpaceSaver design with EasyLift Assist means your treadmill can fold up after your run for compact, simple storage; 20" x 50" tread deck; Bluetooth headphone connectivity for in-ear audio

---
Quick Rundown Of Horizon Fitness T101
Horizon Fitness T101 Treadmill
BEST-SELLING & MOST-RELIABLE: Horizon's most-awarded treadmill with simple, reliable controls and durable components. Get started with an exercise routine or train for your next event in the comfort of your home. Easy set-up in 30 minutes.
COMPACT, FOLDABLE TREADMILL: Effortlessly store this folding treadmill between workouts with a one-step hydraulic folding system. Assembled dimensions are 70" x 34" x 55".
BLUETOOTH CONNECTION: Sync your phone or device to integrated speakers to stream media with crisp stereo sound. A built-in device holder keeps your screen in view for entertainment or classes. Includes rapid-charge USB port to keep you powered.
RESPONSIVE: A 20 x 55-inch deck with responsive, 3-zone cushioned deck so you can work out longer, with less fatigue and more comfort. Horizon treadmills provide responsive cushioning, for ideal flex and support for runners, joggers, and walkers.
POWERFUL MOTOR: Features a quiet and powerful 2.5 continuous-duty horsepower motor. The Johnson Drive System helps you stay in perfect rhythm with a durable, innovative system that recalibrates with each footfall so you never feel lags or surges.

---
Product Videos
---
Conclusion
In comparing NordicTrack T 6.5 SI vs Horizon T101, both machines have their own strengths and weaknesses.
Horizon Fitness T101 is suitable for those who want to find a basic machine to meet simple daily exercises. Meanwhile, the T Series 6.5 Si at a higher price point offers you a more premium experience with professional features, effectively serving the training.
These are certain criteria that you need to consider to find a suitable product for your needs and budget.
---