Further down the page, you'll find some explanations regarding the key similarities and differences between the Nordictrack T 7.5 S and the Nordictrack T 8.5 S.
But before checking out explanations regarding their specs and features here's a table that summarizes the main technical summary sheet for these 2 treadmills:
Image
The Winner (#1)
The Runner-up (#2)
The Winner (#1)
Image
The Runner-up (#2)
Image
Specs Comparison
The first comparison section in this post is price. If you prioritize the product's price, then the T 7.5 S will definitely be your right choice as it is much more affordable than the other.
In terms of allowable user weight capacity, the T 7.5 is about 300 pounds. Similarly, the T 8.5 S series is also 300 pounds.
Nordictrack T 7.5 S and T 8.5 S also integrated up to 50 exercises available, helping users freely choose different exercises.
In addition, the running surface thickness of the product is also something you need to consider. The running surface thickness of the two products is the same.
While the T 7.5 S engine specification is 3.0 HP, the engine power of its rival is higher at about 3.5 HP.
Subsequently, the noise level of these 2 product lines seems insignificant as both are integrated with muffler and vibration reduction components to help you enjoy the exercises perfectly.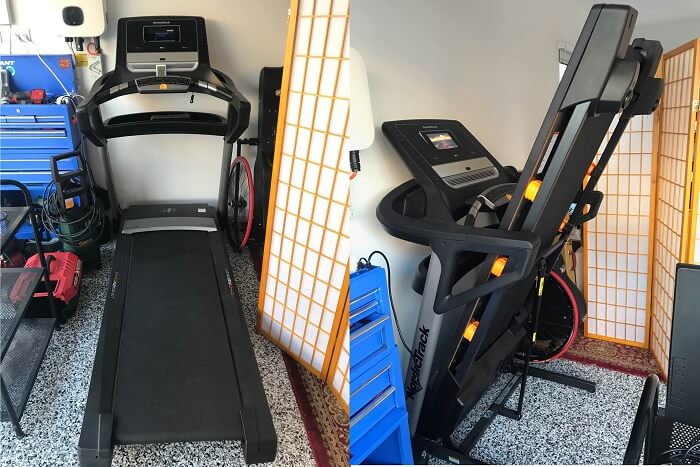 Tilt parameters of the running surface at Nordictrack T 7.5 S and T 8.5 S are between 0 – 12%. Similarly, the maximum running speed in both of these products is 12 MPH.
Another identical feature, whenever mentioned about the two machines, is their AutoBreeze fan systems. We especially love this feature, as it offers us a better experience while exercising in the hot summer.
There are integrated heart rate monitoring functions on the armrest or chest strap of the T 7.5 S and T 8.5 S devices. Hence, you can easily track your health status.
About the treadmill weight, both the T 7.5 S and T 8.5 S possess a weight of 3.3 pounds, which is the optimized weight that makes product transportation and movement extremely convenient. The Nordictrack T 7.5 S and T 8.5 S also have dimensions of 78.5 x 35.5 x 59.
Furthermore, you will get a wheel system in both machines for easy transport.
The running surface size of Nordictrack T 7.5 S and T 8.5 S is the same 20 x 60 inches. Thus, their spacious surface will allow you to comfortably practice your favorite exercises.
You can also easily fold them if not in use with their EasyLift Assistant and Spacesaver design.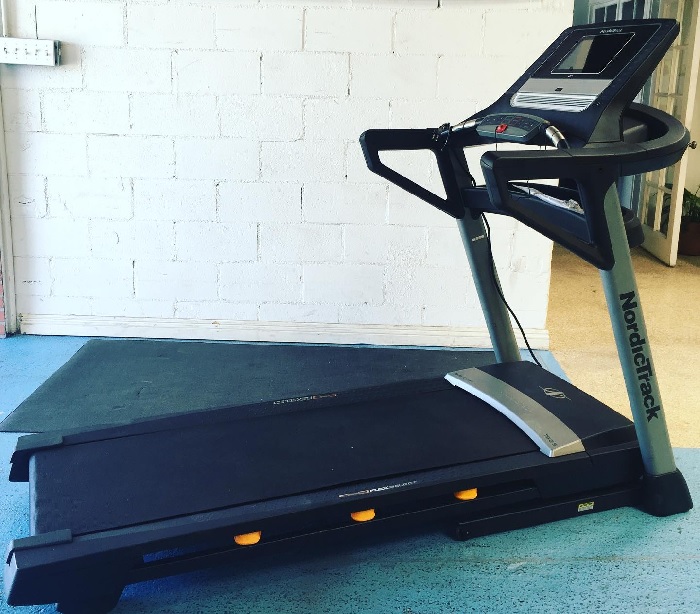 Features Comparison
Both the Nordictrack T 7.5 S and T 8.5 S are equipped with several features such as tilt control, speed control. However, the T 8.5 S uses a more modern sensor control than the T 7.5 S series.
You can choose the exercises available on the machine arbitrarily; you can also practice some additional exercises outside.
The screen of the T 7.5 S is 7 inches, while the T 8.5 S has a large screen with a size of 10 inches. Indeed, this is also one of the great advantages of the T 8.5 S compared to the T 7.5 S.
Nordictrack T 8.5 S is also equipped with more modern technology than the T 7.5 S. More specifically, some features such as Bluetooth connection and wifi allow users to easily access the internet to listen to music and watch movies while exercising.
Nordictrack also provides users with reasonable warranties, maximizing support related to product quality. For both T 7.5 S and T 8.5 S series, you will get a 1-year frame warranty, a two-year component warranty, and a 1-year labor warranty.
Quick Rundown Of Nordictrack T 7.5 S
Sale
Nordictrack T 7.5 S Treadmill
30-Day iFIT Family Membership Included; Stream live & on-demand workouts on your equipment with Global Workouts & Studio Classes; Add up to 5 users; Elite trainers adjust your equipment ($39 value)
Immersive 7-inch interactive HD touchscreen streams on-demand iFIT workouts directly to your equipment and provides easy stats tracking; FlexSelect cushioning and an AutoBreeze treadmill fan
Enjoy reduced motor noise and self-cooling technology with a powerful DurX commercial plus motor perfect for running, jogging, and walking in the comfort of your home
12% Automatic Incline Matching technology, 12 MPH smart speed adjustment; spacious 20" x 60" tread belt; Folding SpaceSaver design for compact storage. Integrated Tray
300 Lb. user capacity; Protected by a 10-year frame warranty, 2-year parts warranty, and 1-year labor warranty; 59.5" H x 35.5" W x 78.9" L

---
Quick Rundown Of Nordictrack T 8.5 S
Nordictrack T 8.5 S Treadmill
Bring Home Interactive Personal Training powered by iFit; 12-month iFit family membership included; create up to 5 individual exercise profiles; Access live, studio, and global workouts
10" HD Interactive Touchscreen Display streams on-demand iFit workouts into your home directly on your treadmill; SMART-Response motor for effective running and cardio training at home
0-12% Digital Quick Incline control; 0-12 MPH Digital QuickSpeed control; Your iFit Trainer auto-adjusts your smart treadmill's speed and incline for an optimized workout that meets your goals
Innovative SpaceSaver design with EasyLift Assist means your treadmill folds up after your workout for compact, simple storage; 20" x 60" tread belt with FlexSelect cushioning reduces joint impact
300-pound user capacity; 59.4" H x 35.5" W x 78.9" L

---
Product Videos
---
Conclusion
Lastly, you can now easily make a choice between Nordictrack T 7.5 S vs T 8.5 S depending on your needs and economic conditions. But if you are a technology lover and want to immerse yourself in modernity, your right choice will be T 8.5 S. On the contrary, you should turn to T 7.5 S if you are looking for an affordable one.
---