This article will compare the power, portability, and features between Porter-Cable 690LR and 9690LR. Each one has distinct strengths and weaknesses. Let's discover what these are.
Difference between Porter-Cable 690LR and 9690LR
Image
The Winner (#1)
The Runner-up (#2)
The Winner (#1)
Image
The Runner-up (#2)
Image
As mentioned, the following sections will discuss the power, sizes, weights, striking features, and accessories of the two models.
Power Comparison
In terms of power, there is not much difference between porter cable 690lr and 9690lr. Both models come with a powerful 11 AMP motor, which can produce 1- ¾ maximum horsepower. With this hefty horsepower, the machine can generate a remarkable 27.500 revolutions per minute for accurate cuts.
So, on the round of power, the two models tie as both provide precise cuts at the same power level- 11 AMP motor- 1-¾ HR- 27.500 RPM.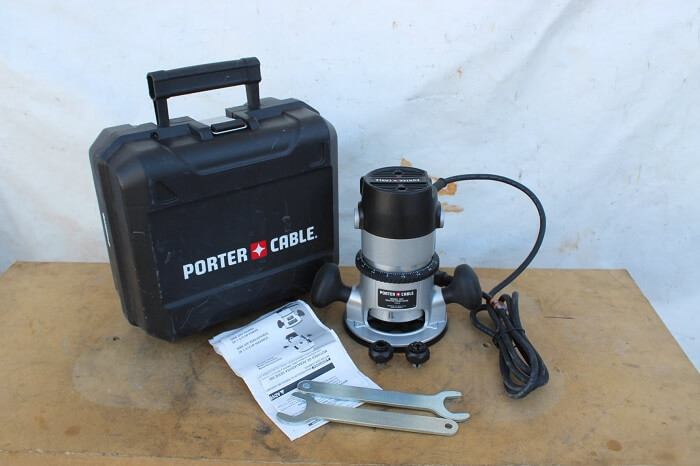 Design Comparison
When it comes to the two machines' design, the differences between porter cable 690lr versus 9690lr are noticeable.
First of all, the porter cable 690lr comes 12 inches long, 5.5 inches wide, and 8.62 inches high. With this dimension, this model weighs roughly 8 pounds- quite heavy to carry around.
How about its brother- the 9690lr model? The latter has 9.25 inches in length, 11.5 inches in width, and 11.88 inches in height. Surprisingly, this machine is just 5.5 pounds- way much lighter than its brother. So if you have to travel frequently, you should think about the 9690lr model.
Features Comparison
Let's talk about porter cable 690lr first. This Fixed-Base Router comes with a strong 11-amp motor that is protected behind an aluminum layer to reduce the risk of shattering caused by using or transporting the machine.
Furthermore, sealed ball-bearing construction and dust-sealed switch guarantee that the device can survive wear and tear when it works.
Moreover, going with the machine is an over-molded grip designed to bring a comfortable, pleasant, and secure experience to the user.
With this handle design, the machine won't cause arm, hand, or back pain even if the users work with the router for a long time.
To create a friendly user experience, the 690lr model consists of an auto-release collet system for simple bit discharge after use.
So, what comes with this model in the box? The components are a fixed base, a router with motor, collet wrench, 1/4-inch, and 1/2-inch collets, and an operating manual.
In terms of the 9690lr model, for extra convenience, there are two different collets- ½ inch and ¼ inch coming with the machine, not a 1/2 and an insert as in many types of router.
Regarding consistent, stable performance, coarse height adjustments are never easier with the cam-lock lever's help. Additionally, the 9690 LR model goes with a quick fixed-base motor release, allowing the user to place the motor pack between plunge flexibly and d-handle bases. Last but not least, a micro depth adjuster ensures accurate cuts to within 1/128 inch.
Coming in the seal with this machine is a router motor, a fixed base, 1/4-inch, and 1/2-inch collets, a collet wrench, a carrying case, and an operating manual.
Quick Rundown Of Porter-Cable 690LR
Porter-Cable 690LR Router
11-amp motor producing 1-3/4 peak horsepower
27,500 revolutions-per-minute single-speed motor
Precision machined aluminum motor housing and base
Cam-lock lever enables simple coarse height adjustments and motor release
Micrometer depth adjuster accurate to 1/128-inch
Pros:
Long Warranty ( 3 years)
Powerful Motor
High Precision
Cons:

Quick Rundown Of Porter-Cable 9690LR
Porter-Cable 9690LR Router
Permanently sealed ball bearing construction
Heavy duty motor
Dust sealed switch
11 Amp motor producing 1-3/4 Peak hp
27,500 rpm single speed motor
Pros:
Lightweight for moving around
Strong engine
High Accuracy
Cons:

Conclusion
Hopefully, this article has provided you with insightful information on the difference between porter cable 690lr vs 9690lr. Each model has its strengths and weaknesses. Hence, depending on your budget and your demand, be wise to choose the right machine.