Triton and Makita are both famous power tool manufacturers with great innovation and precise router products. In terms of history, Triton is a young company compared to a Japanese company with over 80 years of operation.
However, their products are highly competent and outstanding with their perks. This review picked a top-range model from each of the companies, triton tra001 vs Makita rp2301fc, to give you a detailed overview of these products.
Difference between Triton Tra001 and Makita RP2301FC
Image
The Winner (#1)
The Runner-up (#2)
The Winner (#1)
Image
The Runner-up (#2)
Image
Power Comparison
In terms of power, both Triton and Makita have a similar motor of 15 amp that can work on the hardwood.
However, while Makita rp2301fc power can be operated from 9000 to 22000 revolution per minute (RPM) with a variable speed engine, Triton tra001 power is slightly behind with the RPM range of 8000 to 21000. Makita rp2301fc favors woodworkers for not getting overheated when running at 22000 RPM for a long period.
Design Comparison
As a dual-mode plunge router, Triton is 12 ¼ inches in height or 31 centimeters, which is the same height as Makita rp2301fc. However, Makita's weight is 13.4lbs or 6 kilograms, which is 1.5 lighter than Triton tra001.
The differences in weight are mainly due to Triton dual-mode: fixed base and plunge base. If you're looking for a multi-task tool, Triton is a super versatile power tool for all your wood design. If you need to work on intricate wood design only, it is better to go with the handheld Makita plunge router.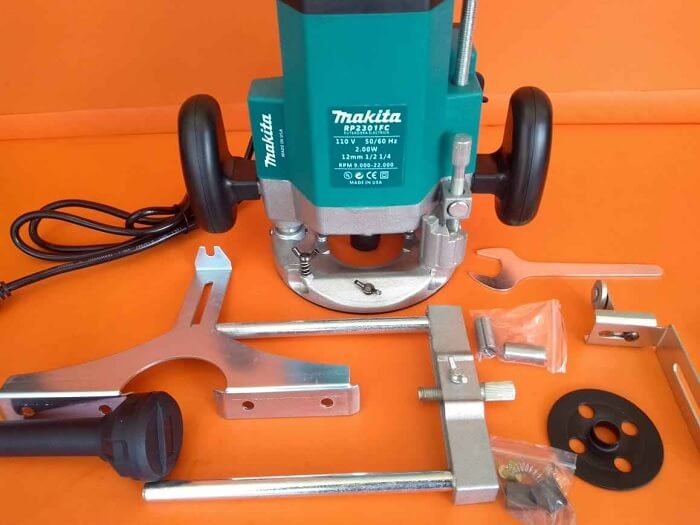 Features Comparison
Regarding features, Triton tra001 has several great features that outshine many other routers in the market. Besides some similar features to Makita rp2301fc, such as soft start, depth adjustment, and variable speed, Triton tra001 also has its unique designs.
With its dual base features, woodworkers can easily switch between bases by using one button to change. This allows you to work with multiple different types of projects without buying other gadgets and tools.
While using plunge mode, you can adjust the routing depth with the micro winder features. You have more options to go down to 2/3/5 inches into the wood.
A Triton tra001 package comes with a Table height winder, 1/2″ collet, 12mm collet, multi-function fence, and collet wrench.
Although the Makita rp2301fc is much lighter than Triton tra001, it still has many competitive features.
One of the notable features of the Makita model is a linear ball bearing. This enhances the smoothness of its performance massively. With its oversized ball bearing construction, a built-in fan and dust collection helps avoid dust from coming in the machine and damage it.
Makita rp2301fc also has an ergonomic rubberized handle that can increase your control over the machine while working. On the hold, there is also a switch for twin built-in LED lights to light up the working areas.
Lastly, a templet guide can be easily installed or removed by pulling the lock plate. The Makita rp2301fc also comes with a package of ¼ inch collet sleeve insert, ½ inch collet cone, and extended knob and wrench for depth adjustment.
Both power tools have a standard quality with newly installed features that help woodworkers in many ways. However, we can see that Makita rp2301fc has the upper hand here with its stronger power and smart features that give users a smooth performance and high safety experience.
Quick Rundown Of Triton TRA001
Sale
Triton TRA001 Plunge Router
Single button switches from conventional plunge to fixed-base router with rack and pinion mode
Through base, single wrench bit change is achieved with automatic spindle lock
Micro winder enables continuous fine depth adjustment through the full plunge mode
Soft start and variable speed provides the perfect speed for all cutter types
Side air vents reduces intake of dust into the motor casings
Pros:
Flexible dual mode
Side vent reducing dust
Easy to set up
Cons:
Unpredictable tool vibration
Heavyweight

Quick Rundown Of Makita RP2301FC
Makita RP2301FC Plunge Router
Powerful 15 AMP motor delivers 9,000-22,000 RPM for smooth routing
Electronic speed control maintains constant speed under load
Variable speed control dial enables user to match the speed to the application
Soft start feature for smooth start-ups
Electric brake for increased productivity
Pros:
LED lights with better visibility
Lightweight reducing working fatigue
Strong power motor
Cons:
Available only for intricate wood design tasks
Higher price than most routers

Conclusion
Plunge routers are an essential power tool for woodworking jobs. Therefore, it is important to learn and understand the product's power and features so as to know if a product is suitable for your type of work. After our comparison of Triton tra001 vs Makita rp2301fc, we hope you learn more about these two products and what they are capable of to help you deliver a smooth and effortless result.