Predator 3500 and 9000: Which portable generator is the better option for you? Still, have no idea? Let's scroll down to find the answer!
Differences Between Predator 3500 Vs 9000
Power Comparison
Similar to other machines, both Predator 3500 and Predator 9000 use gas to operate, making it easier and faster to recharge.
The Predator 3500 is equipped with a 212 cc OHV 4-stroke engine. As its name, the machine can produce a rated wattage of 3000W and a peak wattage of 3500W. this generator can work up to 11 hours.
Meanwhile, Predator 9000 runs on a 420 cc (13 hp) OHV 4-stroke engine with a surge wattage of 9000 watts and running watts of 7250. Hence, it is over twice as strong as the 3500 model. At 50% load, this generator can work up to 13 hours.
Interestingly, Predator 9000's fuel tank capacity of 8 gallons is much larger than the 2.6-gallon capacity of Predator 3500. However, the 3500 machines with an energy consumption of 0.24 GHP will help you save more fuels than its rival (0.62 GHP).
Predator 3500 has a noise level of 57dBA, making people call it a super-quiet power output. On the other hand, the 9000 at 76dbA is no match for the 3500.
Noticeably, the 3500 machines with THD < 5% are considered suitable for sensitive electronic devices.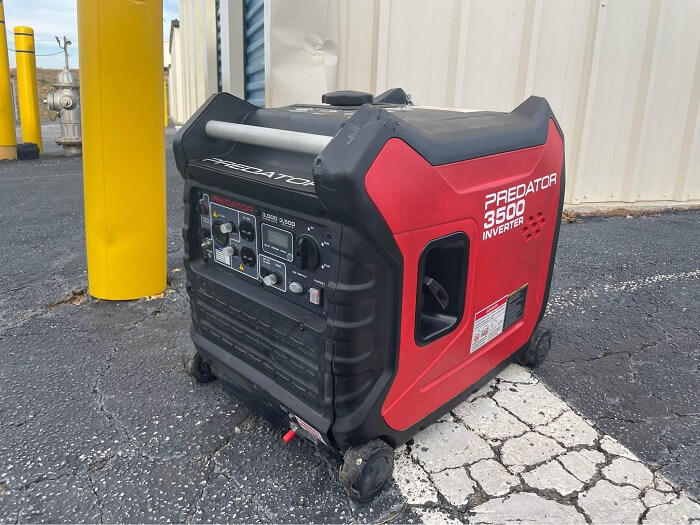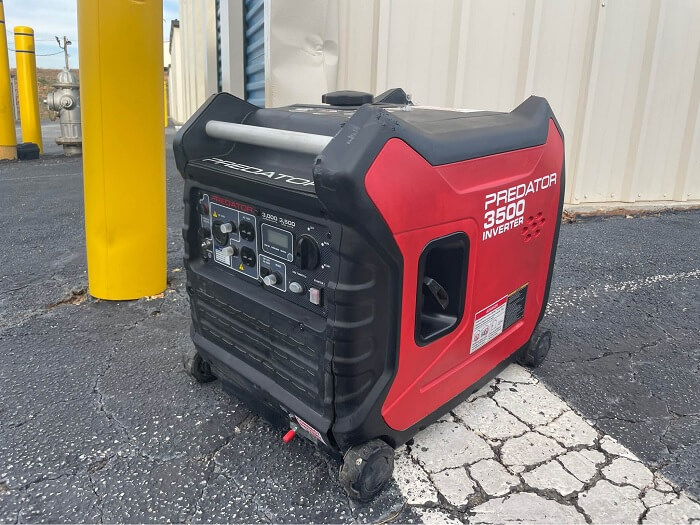 Design Comparison
With a dimension of 22.75 x 17.3 x 20 inches, Predator 3500 brings users a much more compact experience. The lightweight of 110 lbs makes it easy to transport to anywhere you want.
Meanwhile, the 9000 is 26.9 x 22 x 22.8 inches in measurement with a weight of 194 lbs, which is near twice as heavy as the first one. So, if you desire a convenient machine to carry outdoors, you should opt for the 3500.
Moreover, both generators have smooth-rolling casters and handle for easier portability.
Features Comparison
Both Predator 3500 and 9000 can start with a traditional wire pull. Also, you can launch the 9000 engine by electric start with recoil back up. Unfortunately, the 3500 does not offer this special feature.
The 3500 machine has 3 AC and 1 DC jacks. The 9000 generator owns up to 6 AC and 1 DC jacks, which is proportional to its weight and dimension.
Both machines are equipped with low oil indicators and low oil shutdown ability. Surprisingly, Predator 9000 owns a digital LCD screen to warn overload and show the output and Ul circuit breakers, which you can not find on the 3500.
One plus feature of the 3500 generators is a parallel ability which can double the output when you need and 30 Amp RV adapter for easier connecting to your RV.
Quick Rundown Of Predator 3500
No products found.
[i2pc show_title="false" title="Pros & Cons" show_button="false" pros_title="Pros" cons_title="Cons" ][i2pros]Compact design
Parallel capacity
Low noise
Save more fuel[/i2pros][i2cons]Traditional pull to start[/i2cons][/i2pc]

Quick Rundown Of Predator 9000
[i2pc show_title="false" title="Pros & Cons" show_button="false" pros_title="Pros" cons_title="Cons" ][i2pros]Strong power
Digital LCD screen
Both traditional pull and electricity starting
Larger fuel capacity
[/i2pros][i2cons]High noise
Heavyweight[/i2cons][/i2pc]

Product Videos
Conclusion
There is no doubt that Predator 3500 vs Predator 9000 are much more convenient than other traditional machines. From our perspective, though Predator 3500 brings much more compact experiences, Predator 9000 is still better with the power supply capability and convenient starting. So what's your opinion?
Let's decide which one will be a great companion for your family. Do not forget to come back here and leave some comments about your experience. Good luck!