Predator 2000 and 3500: Which portable generator is the better option for you? Still, have no idea? Let's scroll down to find the answer!
Differences Between Predator 2000 and 3500
Power Comparison
Both machines run on gasoline like most of the models on the current market.
Predator 2000 uses a 79.7 cc OHV 4-stroke engine, which can produce 1600W. When reaching the maximum speed, it can boost the wattage up to 2000W. The machine only supports the traditional recoil.
Meanwhile, its competitor, Predator 3500, is equipped with a more powerful engine, which is 212 cc OHV 4-stroke. The normal wattage and maximum wattage of this engine are 3000W and 3500w, which are nearly double that for Predator 2000. The starter of Predator 3500 is identical to the Predator 2000. You can only pull the handle to start both machines.
The oil tank capacity of Predator 2000 is only 1 gallon. However, due to the less powerful engine, it can last for up to 8 hours, more than 1 hour, when compared to Predator 2000 running time. The fuel tank capacity of Predator 2000 is 2,6 gallon.
When testing, the energy consumption level of Predator 3500 tripled that for Predator 2000, whose figures are 0,24 GPH and 0,08 GPH, respectively.
When having sensitive electronic devices, you can use both the machines for your house because they have the THD below 5%. Therefore, the system output current has little distortion.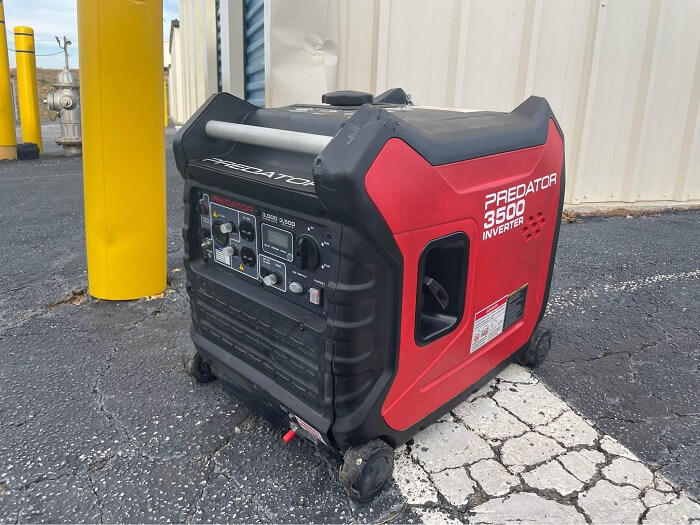 Design Comparison
In general, Predator 2000 has a more compact design; however, the difference is just a little. The dimensions of two machines are 22,6 x 12,6 x 18,5 inches and 22,8 x 17,3 x 20 inches.
In terms of weight, the predator 3500 weighs more than two times the Predator 2000, with 99,2 lbs. This figure for the other is 47 lbs.
Features Comparison
Speaking of the number of outlets, we appreciate the predator 3500 with 3 AC outlets and 1 DC outlet. The predator 2000 only support 2 AC outlets and 1 DC outlets
Because of the heavy design, the Predator 3500 is updated with four wheels at the bottom to support when moving around. With Predator 2000, you have a handle on the top without wheels. However, this machine is not too heavy, and the wheel is clearly unnecessary.
Another advantage of Predator 3500 over 2000 is the large LCD screen, which allows you to see the running time, the outputs, and oil level.
Predator 2000 also has an oil indicator. However, it is in the form of a LED light.
The noise level is also a factor that consumers concern the most. Predator 3500 is much louder with 65 dBA, while the noise level of Predator 2000 is only at 57 dBA.
Quick Rundown Of Predator 2000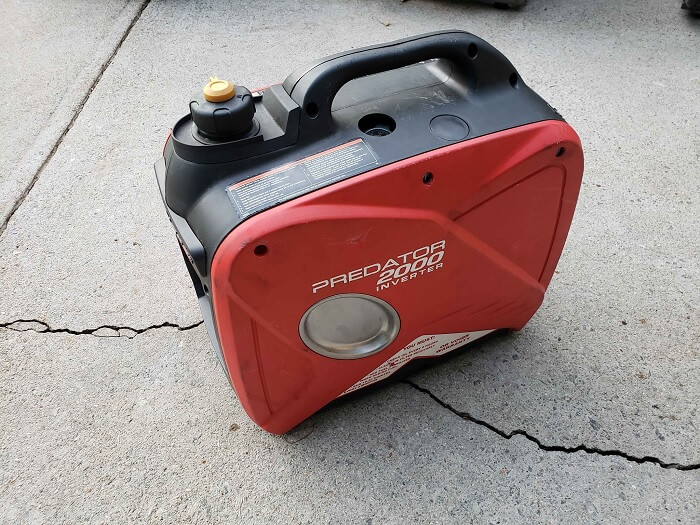 Quick Rundown Of Predator 3500
Predator 3500 Inverter Generator
212cc air-cooled OHV gas engine
11 hour run-time @ 25% capacity
Digital LCD Screen with low oil, overload and output light indicators
Integrated smooth-rolling casters for portability
Electronic overload protection

Product Videos
Conclusion
To sum up, after reading the comparisons between "Predator 2000 vs 3500", you have known that the Predator 2000 is a smaller version of Predator 3500, which has a weaker engine and more compact design. Although there are many similarities between them, we lean towards the Predator 3500 for its power, friendly display, more AC outlets.