Further down the page, you'll find some explanations regarding the key similarities and differences between the ProForm 1295i and the ProForm Pro 2000.
But before checking out explanations regarding their specs and features here's a table that summarizes the main technical summary sheet for these 2 treadmills:
Image
The Winner (#1)
The Runner-up (#2)
Heart Rate Monitor
EKG grip pulse Sensor and wireless chest strap
Display
7″ full color capacitive touch display
Audio
Audio Auxiliary Port and Bluetooth Speakers
The Winner (#1)
Image
The Runner-up (#2)
Image
Heart Rate Monitor
EKG grip pulse Sensor and wireless chest strap
Display
7″ full color capacitive touch display
Audio
Audio Auxiliary Port and Bluetooth Speakers
Specs Comparison
Firstly, do you agree that pricing is one of the most important factors to ponder when purchasing anything? We do believe so. Now, let's compare the selling price between Proform 1295i and 2000. The model 1295i goes to market in the range from $1,299 to $1,499, depending upon different sales discount programs of the year. The 2000 model still comes with a slightly higher rate- around $1600. Hence, Proform 1295i is right for you unless you have a lot of money.
Now it is time to compare the size and weight of the treadmills. Generally, Proform 1295i does not differ much from the model 2000 regarding size and weight.
Specifically, the model 2000 measures 77 inches long, 39 inches wide, 70 inches high, and weighs about 262 lbs, while Proform 1295i measures 81 inches long, 37 inches wide, 66,7 inches high, and weighs 225 lbs. So, as you can see, the size and weight of the treadmills are almost the same. However, you can consider these factors to make the final buying decision.
Between Proform 1295i and Proform 2000, the maximum carrying capacity is dissimilar. Both machines possess strong decks and frames to carry up to 300 lbs of users. But, while Proform 1295i can carry 350 lbs, its sibling only handles users of 300 lbs -135 kg. That is why the Proform 1295i model is recommended for weighty users.
How about the incline level? Overall, the Proform 1295i model ties with its sibling- 2000 in this rivalry.
Proform 1295i can change the incline range from 0% to 15%, while 2000's incline level can vary between -3% to 12%. Hence, both treadmills are worth considering for those who want to add more challenges to the training.
Both treadmills offer multiple exercises in terms of the pre-installed workout programs than many others on the market. To the Proform 1295i model, there are 34 programs- 2 more than those of the 2000 model.
Regarding the engine power, the difference is not big. Equipped with a 3.5 HP and 3.25 HP motor, respectively, the Proform 1295i and Proform 2000 can boost to 12 MPH at ease, making it perfect for home users.
Eventually, both treadmills are equipped with a large 20-by-60 inch tread belt. This size is the "golden standard" for the running area of all treadmills on the market, so you do not have to worry about a lack of comfort while running. Moreover, the technology on the tread belt of 1295i is Proshox Cushioning, while the 2000 model goes with ReBound Pro Cushioning. The cushioning tech on both machines provides users soft landing in each step.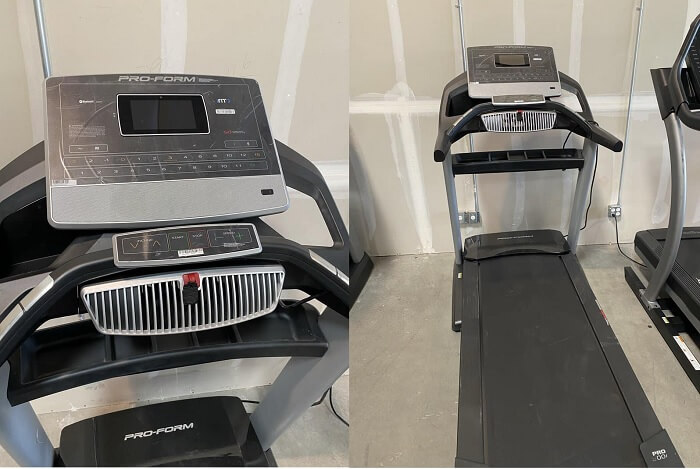 Features Comparison
In entertainment, the two treadmills have BlueTooth tech to connect with mobile devices such as earphones, smartphones, and other apps. There are also speakers built on the treadmills.
In addition, the two machines also have big screens to assist you in following training info. However, the 2000 model comes with a 10-inch Smart HD Touchscreen- 3 inches bigger than Proform 1295i. So, if you want to look at a big screen, Proform 2000 is a good option.
The two treadmills are also iFit- enabled. In detail, iFit Coach is one of the most famous all-inclusive fitness apps designed for treadmills. It gives users access to hundreds of training workouts, routes worldwide on Google Map, and other advantages. When customers buy the models, the selling price already includes a 1-year iFit membership -$396.
In the consoles of the two treadmills, there are also fans to chill users down.
Finally, the two treadmills adapt the Heart Rate Monitoring technology into the handlebars so that runners can supervise their heart rate in just a grip. Moreover, to the model 2000, the treadmill is compatible with chest straps.
In general, the warranty coverage is similar between Proform 1295i and 2000 with an unlimited warranty package on the frame and the motor, the other parts, and electronics within five years, and two years for labor.
Quick Rundown Of ProForm 1295i
ProForm 1295i Treadmill
iFit ready, 7 inch Full-color touchscreen, 34 workout apps, EKG Bluetooth compatible
3.5 CHP* Motor, 20" x 60" tread belt, 0 - 12 MPH Digital QuickSpeed control, 0 - 15% incline
Proshox cushioning, SpaceSaver design with easylift assist, coolaire workout fan
Integrated tablet holder, ipod compatible audio, 2.5 inch balanced rollers, 350 lb. Weight capacity
The power 1295I is protected with a Lifetime frame & Motor Warranty, 5-year parts Warranty, and 2-year labor Warranty

---
Quick Rundown Of ProForm Pro 2000
ProForm Pro 2000 Treadmill
Footprint: 39.15" W x 79" D x 71.4" H | Tread Belt: 22" x 60"
Weight Capacity: 300 lb
7 inches backlit over sized LCD with racetrack display, iFit compatible. Integrated device shelf
3.5 CHP Mach Z commercial Pro, 0 to 12 MPH Quick Speed
-3 – 15% Digital Quick Decline & Incline Control

---
Product Videos
---
Conclusion
Hopefully, this article has clarified the differences between Proform 1295i vs 2000. Despite having a higher rate, Proform 2000 is a better deal to buy owing to its benefits over its sibling- Proform 1295i.
---