Further down the page, you'll find some explanations regarding the key similarities and differences between the ProForm Carbon T10 and the ProForm Pro 9000.
But before checking out explanations regarding their specs and features here's a table that summarizes the main technical summary sheet for these 2 treadmills:
Image
The Winner (#1)
The Runner-up (#2)
Heart Rate Monitor
EKG grip pulse Sensor and wireless chest strap
Display
10″ Smart HD Touchscreen display
Audio
3″ speakers mp3 and iPod compatible
The Winner (#1)
Image
Heart Rate Monitor
EKG grip pulse Sensor and wireless chest strap
Display
10″ Smart HD Touchscreen display
Audio
3″ speakers mp3 and iPod compatible
The Runner-up (#2)
Image
Specs Comparison
For any user, one of the first things they look at is price. And for this round, ProForm Carbon T10 comes out as a leader as it is cheaper than the ProForm PRO-9000.
As they can both deal with 300 pounds as a maximum capacity, this figure is common in current treadmills. Thus, the two machines gain the same score in this round.
If you wonder why PRO 9000 can cost at such a high price over T10? Here comes the reason! The SMART PRO 9000 offers a really large track with its workout surface is 60″ long and 22″ wide, which is more spacious than T10 and other standard treadmills.
Besides that, PRO 9000 also comes with up to 40 build-in programs, much higher than T10 with just 20-30 programs.
Moreover, the PRO 9000 runs with a really powerful engine at 4.0 CHP and is much stronger than the T10's motor at 3.0 CHP even though their noise making is almost equal.
Regarding performing a hard task like quick and hard running, PRO 9000 also appears to be a better choice with its generous incline being 3-15%, while this number in T10 is just 12% incline.
Nevertheless, a plus point for T10 is that it goes with a cooling fan during the training. With this function, you can enjoy your training freely without worrying if you will get soaked in sweat.
Thanks to the lightweight materials, T 10 weighs only 222 pounds lighter than PRO 9000 at 298 pounds. But no matter how light it is, you will need the help of others when moving these treadmills as they contain no wheel.
Also, PRO 9000 at 77 x 39 x 70 inches and the treat belt of 22″ x 60″ will bring you a more comfortable experience than T10. The T10 model has a size of 77.25 x 31.5 x 12 inches, and the tread belt at 20″ x 55″. In case you do not want to spend too much room on the treadmill, T10 might be a better choice. Additionally, the size is no longer a big deal as both machines are fordable.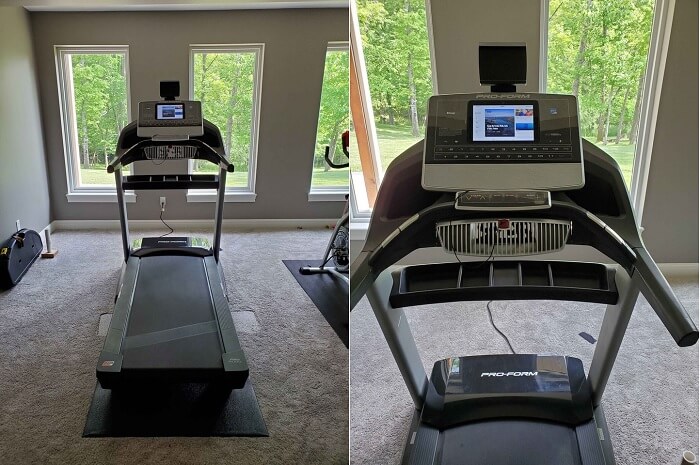 Features Comparison
These two treadmills also share the same convenient 10″ HD touchscreen so that you can run their iFit program and try the best workout experience. With this screen, you can easily find the preset workout programs and interact with any training experience.
On the convenience of heart rate checking, both machines show the friendly use of EKG Grip Pulse that allows the Bluetooth connection with your phone.
On adjusting speed and incline, both ProForm Carbon T10 and ProForm PRO-9000 can change automatically during the iFit training process to make sure your exercise is the most effective.
Despite the fact that the ProForm Carbon T10 offers a great cooling fan feature, it has no place for you to put your water bottle or phone. In contrast, the PRO 9000 benefits with a large space for putting some of your small items.
ProForm PRO 9000 also wins over its competitor with its 3-inch Bluetooth speakers that will surely give you a better sound experience than the T10 with only 2-inch speakers.
As the top reputable brand of treadmills in the market, ProForm manufacturer offers a guaranteed time of 10 years for the frame, two years for the machine's parts and motor, and one year for labor. With this, you do not need to worry if your treadmill will be broken at any time.
Quick Rundown Of ProForm Carbon T10
Sale
ProForm Carbon T10 Treadmill
30-Day iFIT Family Membership Included; Stream live & on-demand workouts on your equipment with Global Workouts & Studio Classes; Add up to 5 users; Elite trainers adjust your equipment ($39 value)
10" hd interactive touchscreen display streams on-demand ifit workouts into your home directly on your treadmill; self-cooling mach z motor for effective running and cardio training at home
0-12% digital quick incline controls; 0-10 mph digital quickspeed controls; adjust your speed and incline with the touch of a button; with ifit, your trainer will auto-adjust your treadmill for you
20" x 55" tread belt; recommended for users under 6'2", this spacious belt allows you to stretch out your stride; folding spacesaver design for compact storage; iso flex deck cushioning
300-pound weight capacity; protected with a 10-year frame warranty and a 1-year parts & labor warranty; 57.5" h x 35.2" w x 73.5" l

---
Quick Rundown Of ProForm Pro 9000
ProForm Pro 9000 Treadmill
4.25 chp Mach Z commercial plus motor, 0 to 12 MPH quick speed control
Dimensions - Footprint: 39.15" W x 77.16" D x 70" H | Tread Belt: 22" x 60"
15 percent incline, -3 percent decline
Weight Capacity: 300 lb
2.5" Precision-Balanced Rollers, integrated cross fit tray

---
Product Videos
---
Conclusion
Above are some criteria for comparing Proform Carbon T10 vs PRO 9000. Although it will depend on the needs and demands of users to find which one is the winner here, we consider that PRO 9000 is a better choice after all.
The PRO 9000 will undoubtedly bring you a great time doing exercise with a strong engine and a large track. Other than that, the better sound delivery is also a plus point when you consider the PRO 9000. If you are still wondering which one is the best, you can visit the nearby store and try on these items. Hope you have the best time doing exercise with the treadmill.
---