Further down the page, you'll find some explanations regarding the key similarities and differences between the ProForm Carbon T7 and the ProForm Carbon T10.
But before checking out explanations regarding their specs and features here's a table that summarizes the main technical summary sheet for these 2 treadmills:
Image
The Winner (#1)
The Runner-up (#2)
The Winner (#1)
Image
The Runner-up (#2)
Image
Specs Comparison
Reasonably, price is always the first concern when making a purchase. In this battle, these two products have no difference because of their similar prices.
Next, let's talk about the maximum weight that the two treadmills can handle. There is a drawn battle here as Proform Carbon T7 and T70 have the weight capability of 300 lbs.
One thing to consider when looking for a treadmill is the number of built-in exercises. T10 provides about 20 to 30 exercises, while the T7 series gives users the freedom to choose from 30-exercise training programs.
In terms of incline, these two trainers are once again inconclusive. They all have tilting capacities ranging from 0% to 12%. If you are wondering which product line has the upper motor, the answer absolutely is Proform Carbon T10! It provides the 3.0 CHP powerful engine while T7 only has a 2.75 CHP one.
When there is a need to change the running speed, the practitioner can freely adjust it to suit their training desires. With Proform Carbon T10, its running surface can operate at a maximum speed of 10 MPH. However, Proform Carbon T7 has the advantage when users can choose speeds up to 12 MPH.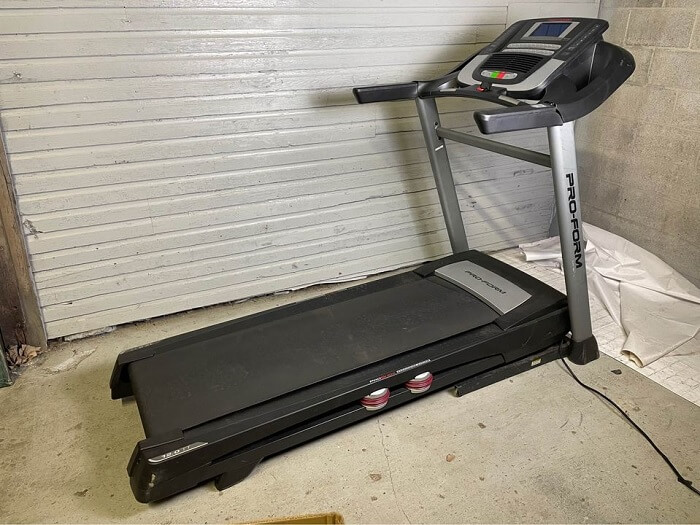 During operation, the treadmill's motor will generate a lot of heat. That's why it would be great if these treadmills were equipped with a cooling fan system. Unfortunately, the T7 does not have this feature. That's why in this battle, T10 won, thanks to the built-in cooling fan system.
What about heart rate monitoring? Proform T7 once again dominates because it has this feature built-in by manufacturers, while T10 does not. Such a pity, isn't it?
Another thing that is extremely important when choosing a treadmill is size and weight. In terms of size, it is surprising that these two exercise machines have almost no big difference. The T10 measures 77.25 x 31.5 x 12, while the T7's dimensions are 77 x 32 x 12. However, the weight of the Proform Carbon T7 is 212 lbs, slightly lighter than the T10 (222 lbs).
So are they foldable? The answer is yes. In addition, they are also equipped with a roller system which is specifically all 1.9" to help the moving.
Running surface size is also an issue of interest to buyers. Usually, a treadmill with a large running area will be preferred. However, there is a similarity as their running surface area is both 20 x 55.
Features Comparison
The control panel of these Proform products allows you to change the speed, incline, and drop angle for a more comfortable workout. Regarding the screen, T7 offers 7" full-color touchscreen, T10 has a 10" HD screen. Therefore, the T10 seems to be a bit more dominant.
What about their speaker system? Fortunately, both are equipped with speaker systems by the manufacturer Proform, helping users have a better experience when practicing. Conveniently, right?
In case there is a need to connect with other devices, users can use the built-in Bluetooth connection port. Each of them also comes with the iFit workout app built-in, so they require a Wifi and Internet connection. However, neither of these products has a USB port to charge smart devices, which is a pity.
Proform Carbon T7 and T10 can connect to any phone with any operating system. In addition, they also have some areas designed to hold objects for the user during practice.
According to the manual, Proform Carbon T10 is protected with 10 years on frame and 1 year on parts and labor. All the while, The Carbon T7 has a warranty of 10 years on frame, 2 years on parts, and one year on labor.
Quick Rundown Of ProForm Carbon T7
ProForm Carbon T7 Treadmill
Balanced Nonflex Rollers
Incline-matching Technology
EKG Grip Pulse Tracks Your Heart Rate
30 Preset Workout Apps Allow You To Customize Your Workout

---
Quick Rundown Of ProForm Carbon T10
Sale
ProForm Carbon T10 Treadmill
30-Day iFIT Family Membership Included; Stream live & on-demand workouts on your equipment with Global Workouts & Studio Classes; Add up to 5 users; Elite trainers adjust your equipment ($39 value)
10" hd interactive touchscreen display streams on-demand ifit workouts into your home directly on your treadmill; self-cooling mach z motor for effective running and cardio training at home
0-12% digital quick incline controls; 0-10 mph digital quickspeed controls; adjust your speed and incline with the touch of a button; with ifit, your trainer will auto-adjust your treadmill for you
20" x 55" tread belt; recommended for users under 6'2", this spacious belt allows you to stretch out your stride; folding spacesaver design for compact storage; iso flex deck cushioning
300-pound weight capacity; protected with a 10-year frame warranty and a 1-year parts & labor warranty; 57.5" h x 35.2" w x 73.5" l

---
Product Videos
---
Conclusion
The T7 and T10 are both good treadmills that you should consider buying. The article above shows you the knowledge about the two treadmills Proform Carbon T7 Vs Carbon T10. We recommend you buy a T7 for its weight capability, heart rate programs, and lots of other wonderful features.
After this post, we hope you can find the trainer that best suits you.
---