Further down the page, you'll find some explanations regarding the key similarities and differences between the Proform Carbon T10 and the Sole F63.
But before checking out explanations regarding their specs, features, and warranty, here's a table that summarizes the main technical summary sheet for these 2 treadmills:
Image
The Winner (#1)
The Runner-up (#2)
Heart Rate Monitor
Pulse Grips and Chest Strap
The Winner (#1)
Image
Heart Rate Monitor
Pulse Grips and Chest Strap
The Runner-up (#2)
Image
Specs Comparison
Needless to say, price is the first element that greatly influences purchasing decisions. In this term, the price tags of ProForm Carbon T10 and Sole F63 are nearly the same.
As for the capacity, ProForm Carbon T10 can support up to 300 pounds, similar to other standard treadmills on the market. Yet the Sole F63 even works better with its 325-pound capacity – such an ideal number, right?
If you wonder whether there are any differences in the number of their workout programs, here is our answer. While Sole F63 consists of 8 standard programs and 2 user-defined programs, ProForm Carbon T10 offers up to 30 preset workouts for users.
In terms of motor power, the Sole F63 and ProForm Carbon T10 is equipped with a 3.0 CHP engine
How about the product's maximum incline? Well, the maximum incline percentages of the ProForm Carbon T10 and Sole F63 are 12% and 15%, respectively.
As for the maximum speed, both trainers allow users to reach 12 MPH. But remember that you should warm up first before running at high speed.
Both T10 and F63 have cooling fans to cool the engine. Noticeably, the ProForm Carbon T10 has a built-in CoolAire™ fan that gives users three levels of breeze to keep them feeling good throughout their challenging workouts.
Let's move on to the heart measure feature. The Sole F63 uses the heart rate chest strap for the whole process. Unfortunately, the ProForm Carbon T10 doesn't offer this function.
Regarding product dimensions, ProForm Carbon T10 measures 77.25 x 31.5 x 12 inches and weighs 222 pounds. On the other hand, Sole F63 looks a bit bulkier with 75 x 33 x 58 inches and 260 pounds.
But it does not matter at all! They both have the ability to fold easily for space-saving and easy moving. Sole F63 is even more convenient with four rollers for transportation.
What about their belt sizes? Well, while ProForm Carbon T10 has a running belt at 20 x 55 inches, Sole F63is a bit wider at 20×60 inches. Not much difference between them, right?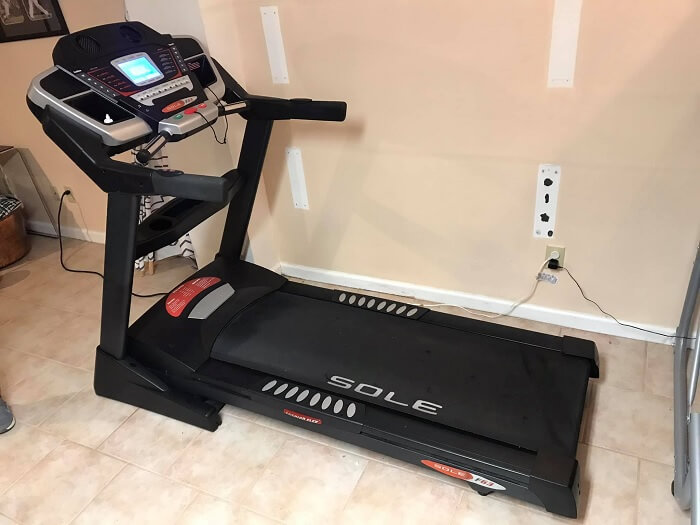 Features Comparison
The conSole enables users to change the speed, incline, and decline angle for more comfortable training. T10's users can easily make adjustments by a button on the screen, while F63 has already installed this function on the armrests to keep users comfortable during the workout process.
Regarding visual display, Sole F63 offers an LCD display that closely tracks your workout progress. In contrast, the T10 comes with a high-quality 10" Smart HD Touchscreen.
As for fitness apps, the ProForm Carbon T10 allows users to access a wide range of online workout programs via iFit. Unfortunately, Sole F63 lacks this wonderful feature.
So, what features will make Sole F63 outstanding from its competitor? Here we go! USB function is only available in Sole F63. And last but not least, it is equipped with a built-in corner for holding water bottles during your workout.
Warranty
ProForm Carbon T10 comes with a 10-year warranty for the frame and a 1-year warranty for parts & labor. This is beaten by Sole F63 with 20 years on the motor, three years on the deck, a lifetime on the frame, three years on the electronics/belt/rollers, and one year on the labor.
Quick Rundown Of Proform Carbon T10
Sale
Proform Carbon T10 Treadmill
30-Day iFIT Family Membership Included; Stream live & on-demand workouts on your equipment with Global Workouts & Studio Classes; Add up to 5 users; Elite trainers adjust your equipment ($39 value)
10" hd interactive touchscreen display streams on-demand ifit workouts into your home directly on your treadmill; self-cooling mach z motor for effective running and cardio training at home
0-12% digital quick incline controls; 0-10 mph digital quickspeed controls; adjust your speed and incline with the touch of a button; with ifit, your trainer will auto-adjust your treadmill for you
20" x 55" tread belt; recommended for users under 6'2", this spacious belt allows you to stretch out your stride; folding spacesaver design for compact storage; iso flex deck cushioning
300-pound weight capacity; protected with a 10-year frame warranty and a 1-year parts & labor warranty; 57.5" h x 35.2" w x 73.5" l
---
Quick Rundown Of Sole F63
Sale
Sole F63 Treadmill
Features. 1/4 mile track feature and a Peak and Valley graph for different programs.. Built in speakers that allow you to hook up any MP3 player (iPod, etc.) for easy listening..
New for this year, the F63 now includes an Integrated tablet holder. Allows you to use your smart devices to watch shows or follow your workout routines. Included is a USB port.
Made in China.
---
Product Videos
---
Conclusion
We have summed up all about Proform Carbon T10 vs Sole F63 through this post. It's obvious that the Sole F3 is the better choice overall. From the function, pricey, speed, and elements, this model stands out over its competitor -Proform Carbon T10.
---
---