Further down the page, you'll find some explanations regarding the key similarities and differences between the ProForm Pro 2000 and the ProForm 995i.
But before checking out explanations regarding their specs and features here's a table that summarizes the main technical summary sheet for these 2 treadmills:
Image
The Winner (#1)
The Runner-up (#2)
Heart Rate Monitor
EKG grip pulse Sensor and wireless chest strap
Display
7″ full color capacitive touch display
Audio
Audio Auxiliary Port and Bluetooth Speakers
The Winner (#1)
Image
Heart Rate Monitor
EKG grip pulse Sensor and wireless chest strap
Display
7″ full color capacitive touch display
Audio
Audio Auxiliary Port and Bluetooth Speakers
The Runner-up (#2)
Image
Specs Comparison
When it comes to making a purchase decision, price is undoubtedly on top priority to consider. Both products from Proform share the same price in this battle, which is quite a high price for a treadmill. Scroll down to see with the same price; what do Pro 2000 and 995i have to offer?
What's the difference between the weight two treadmills can handle? Whereas Proform 995i can load weight of 350 pounds maximum, Pro 2000 can carry up to 300 pounds which is 50 pounds less than 995i.
Let's talk about the number of built-in workout programs in each product. The 995i can provide thirty workout programs, while the Pro 2000 includes just more than twenty programs. You can have more interesting training experiences with Pro 2000 because of its multiple exercise programs.
In terms of power, Proform 2000 has a powerful 3.5 CHP motor. Proform 995i's power comes from a motor at 3.0 CHP, which is weaker.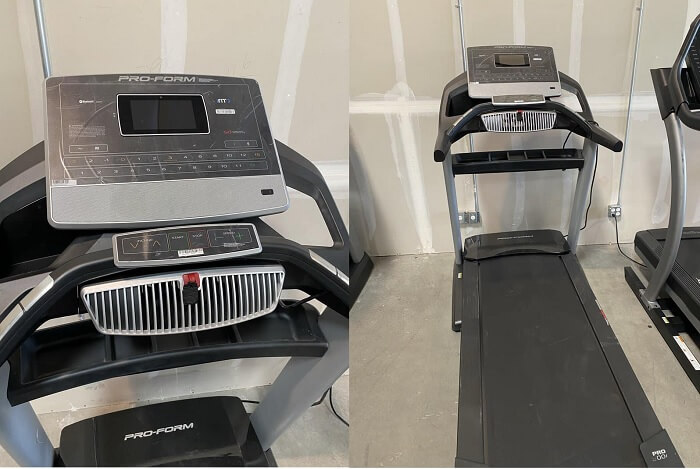 Like the other Proform products, Proform 2000 and 995i both have an impressively wide decline and incline gap when it comes to the incline range. The 2000's incline range is from -3% to 15%, and the range of 995i is less challenging : 0 – 15%.
What about their maximum speed? Like the other treadmills on the market, two products can reach 12 MPH as the max speed.
A high level of heat is emitted when the treadmills reach their highest speed; therefore, the cooling system is a highly important key factor. 02 built-in fans cool the Pro 2000's engine. However, Proform 995i is not equipped with a cooling fan.
Let's compare the heart rate monitoring provided in 02 trainers. Both devices share the same heart monitoring functionality. Holding handlebars is all that is required, and the trainer will compute your heart rate for you.
Another important factor to consider before making a purchase is the size. You are probably wondering whether it fits the space you intend to place it in. The Proform 2000 takes up space up to 39.15″ wide x 79″ long x 71.4″ high. On the contrary, the competitor is less bulky with 37″ wide x 81″ long x 66.75″ high.
According to the instructions, only Proform 2000 has the front and back wheels 2.5″ Precision-Balanced for easier relocation. The 995i lacks rollers, so it is a tad hard to move.
Proform Pro 2000 takes the lead point over its competitor with the 22″ X 60″ running surface when talking about its belt size. Proform 995i only has the 20″ X 60″ belt meaning Proform Pro 2000 is more suitable for plus size users.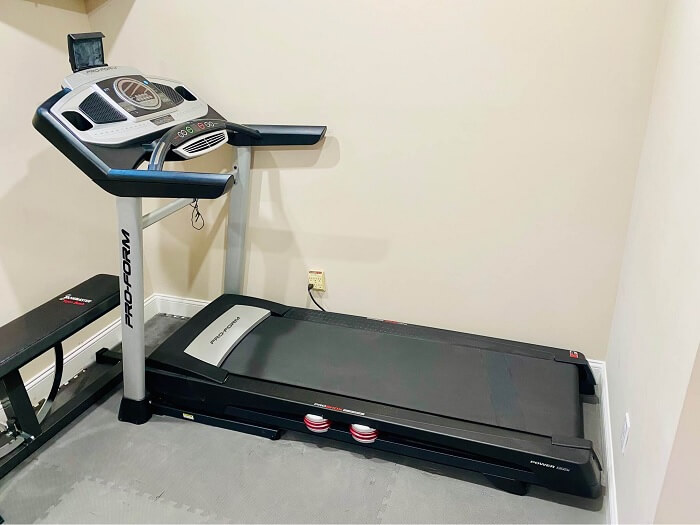 Features Comparison
As previously noted, the console lets you adjust the pace, decline, and incline angle for a more pleasant workout. Proform Pro 2000 is equipped with a large HD touchscreen recently updated with a full-color screen to replace dual-color. The 9995i does not include this tool.
How about two trainers' speaker systems? Like other Proform products, the Pro 2000 and 995i all have dual 2″ speakers. The devices of Pro2000 are more media-friendly which can connect with smartphones and other players.
This means if you want to be entertained while training, you can use the audio port in each trainer to connect with other players to listen to music.
If you're looking for a treadmill-compatible app to keep track of your workouts, iFit is your best choice because a premium iFit account will be issued to you after purchase. You can run on terrains from all around the world using Google Maps.
The resistance necessary in the programs or the outdoor landscape of your choice is automatically synced with the inclination and decline settings. The programs speed up to meet the resistance necessary in the programs or the outdoor landscape per your liking.
In terms of water bottle cubbies, both treadmills feature a little built-in nook where the drink can be placed. However, only Proform Pro 2000 includes a device holder.
Buying a Proform Pro 2000 trainer means you will have a 10-year warranty on the motor and the frame, a 2-year warranty on parts, and a one-year labor warranty.
On the other hand, 995i users will have a longer warranty period on frame and motor during the trainer's lifetime plus three years for parts and one year for labor.
Quick Rundown Of ProForm Pro 2000
ProForm Pro 2000 Treadmill
Footprint: 39.15" W x 79" D x 71.4" H | Tread Belt: 22" x 60"
Weight Capacity: 300 lb
7 inches backlit over sized LCD with racetrack display, iFit compatible. Integrated device shelf
3.5 CHP Mach Z commercial Pro, 0 to 12 MPH Quick Speed
-3 – 15% Digital Quick Decline & Incline Control

---
Quick Rundown Of ProForm 995i
ProForm 995i Treadmill
3.0 CHP drive system, 20 X 60 non-stretch 1-ply commercial belt, ProShox cushioning, space saver design, easy lift assist
2.5" precision machined and balanced non-flex roller, 7" backlit iFit display, iFit workout apps matrix
IFit alpha numeric message center, iFit enabled, iPod compatible audio (2-2" speakers)
Digital quick speed control 0-12 MPH, digital quick incline control 0-15, 30 preset workout apps
Coolaire workout fan, EKG grip pulse, 350lb. user capacity, lifetime frame & motor warranty, 3 yr. parts & 1 yr. labor warranty

---
Product Videos
---
Conclusion
And that is everything you need to know about Proform Pro 2000 vs. 995i. Proform Pro 2000 seems to be the better choice overall. From the size, powers, elements, and features, Proform Pro 2000 outweighs its competitor – 995i. With the same price, isn't it obvious Proform Pro 2000 makes a better training partner for you? Follow for more helpful reviews like this!
---