Further down the page, you'll find some explanations regarding the key similarities and differences between the ProForm 600i and the ProForm 995i.
But before checking out explanations regarding their specs and features here's a table that summarizes the main technical summary sheet for these 2 treadmills:
Image
The Winner (#1)
The Runner-up (#2)
Display
10″ full color capacitive touch display
The Winner (#1)
Image
The Runner-up (#2)
Image
Display
10″ full color capacitive touch display
Specs Comparison
Let's start the review with the cost comparison first. In the first round, 600i will beat its rival with its affordable price. The 995i is $200 more expensive than its competitor.
Now we will discuss the weight capacity of both machines. The 600i can handle 325 pounds; meanwhile, the 995i machine can carry up to 350 pounds. Thus, the 995i wins over the 600i with a difference of 25 pounds.
The number of built-in programs also varies in two treadmills. There are 22 workouts in the 600i, whereas the 995i has 30 different programs.
Another factor that buyers must take into consideration is the motor power of the treadmill. Again, 995i outstands its competitor since it can run up to 3 CHP while 600i's engine can only operate to 2.75 CHP.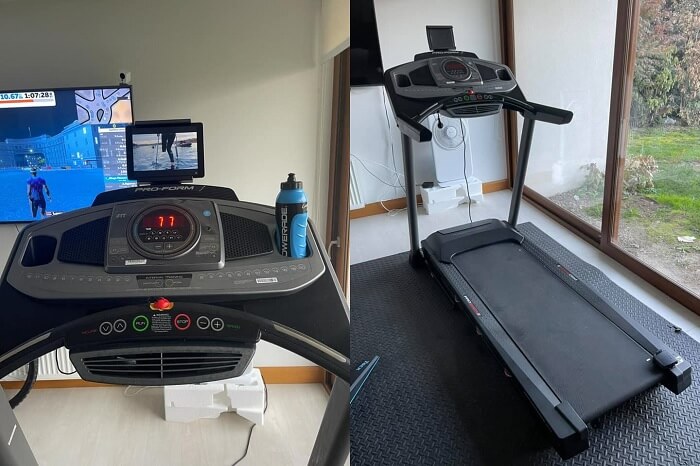 In terms of the incline range, 995i gets one more point with the range of 0 – 15%. That figure for 600i is not as wide as the other, running from 0 to 12%.
The maximum speed also plays an important role. Specifically, both treadmills allow users to reach the speed of 12 MHP.
What if runners hit the limit? Of course, the machines will release the heat. But don't worry, as both 995i and 600i have a cooling fan to decrease the temperature.
The Proform products also have one more thing in common: the heart rate monitor. On the handlebars, each contains dual-grip sensors to measure your heart rate during your training.
Now, let's have a look at their size. 660i is 59.25″ long X 36.63″ wide X 79.62″ high. The 995i, on the other hand, is much longer and a little shorter in height: 81″ long X 37″ wide X 66.75″ high.
Why don't we take a peek at their weights? If you prefer something light, 600i may win your heart. A 600i machine only weighs 224 lbs, and a 995i treadmill is a bit heavier: 248 lbs.
Despite their bulky body, you can still move them easily because both have rollers. 990i uses 2.5″ balanced rollers while the ones in 600i are 1.6″. Moreover, the fact that both are foldable makes a move easier than ever.
You don't have to be confused about the running area in each treadmill, as they both offer a 20″ x 60″ surface. This figure is supposed to be the standard size for any running area.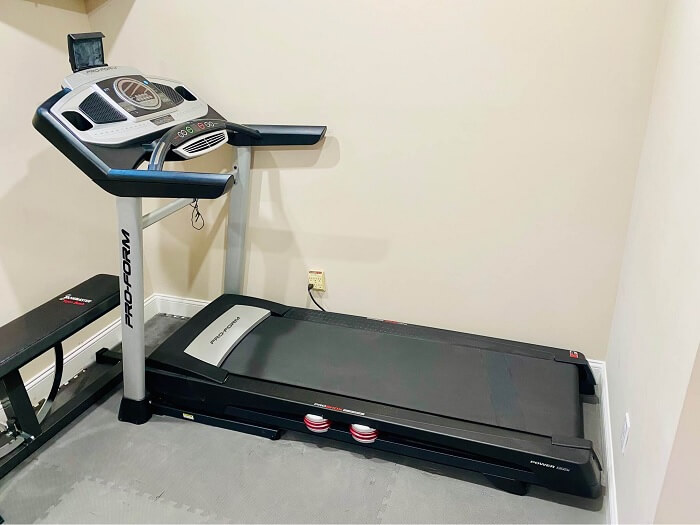 Features Comparison
Proform 600i and 995i share lots of similarities in their features. For example, both allow you to change the speed and the incline and decline for your pleasant training.
Similarly, they also have the same console: the round watts LED display. Even though it is not a touchscreen, this LED display still can show your time running, and the calories burned every time you practice. To compare, the 995i provides a 6″ display, which is smaller than the 10″ screen served by the 600i.
Moreover, the console helps to change the trainer's construction. The cooling fan is adjusted by the orders from the screen as well.
Here is good news for those who would like music while working out: 600i and 995i have 2″ speakers. The treadmills can also connect to iPod or MP3. All you have to do is plug your device into the Sound System in the machine, then enjoy your favorite songs.
How about other kinds of connectivity? 600i and 995i use Bluetooth as a bridge to connect to any device. An Auxiliary port is also available on each treadmill. Unfortunately, they do not have any USB ports.
When it comes to workout applications, iFit is the top choice. 600i and 995i enable you to access the app through Bluetooth. Thanks to the connection, you can utilize hundreds of exercises in the library for your work.
You may wonder where to put your water bottle. Well, 995i and 600i have cup holders. However, space seems not to be enough for a bottle.
Both 600i and 995i provide customers with a lifetime warranty on frame, motor, and labor. Meanwhile, they have a different policy for the parts. While 600i offers two-year parts, 995i warrants them for three years.
Quick Rundown Of ProForm 600i
ProForm 600i Treadmill
60-inch length gives your legs plenty of room to stretch out your stride
20 x 60 tread belt, proshox cushioning, space saver with easy lift assist, IPod Compatible audio
CoolAire workout Fan, EKG grip Pulse, 325 lb Weight capacity
This Treadmill is protected with a Lifetime frame and motor Warranty, 2-year parts Warranty and 1-Year Labor Warranty
If it Compatible- requires if it Wireless module; sold separately; buy an if it Wireless module and receive a free one-year if it subscription

---
Quick Rundown Of ProForm 995i
ProForm 995i Treadmill
3.0 CHP drive system, 20 X 60 non-stretch 1-ply commercial belt, ProShox cushioning, space saver design, easy lift assist
2.5" precision machined and balanced non-flex roller, 7" backlit iFit display, iFit workout apps matrix
IFit alpha numeric message center, iFit enabled, iPod compatible audio (2-2" speakers)
Digital quick speed control 0-12 MPH, digital quick incline control 0-15, 30 preset workout apps
Coolaire workout fan, EKG grip pulse, 350lb. user capacity, lifetime frame & motor warranty, 3 yr. parts & 1 yr. labor warranty

---
Product Videos
---
Conclusion
This article has discussed Proform 600i vs 995i. As you can see, 995i overweighs 600i in terms of a powerful engine, higher weight capacity, and various built-in programs. So, 995i, with no doubt, is a better choice!
---