Further down the page, you'll find some explanations regarding the key similarities and differences between the NordicTrack C 990 and the ProForm 995i.
But before checking out explanations regarding their specs and features here's a table that summarizes the main technical summary sheet for these 2 treadmills:
Image
The Winner (#1)
The Runner-up (#2)
Heart Rate Monitor
Bluetooth chest strap and EKG grip pulse
Display
7″ full color touch display
The Winner (#1)
Image
Heart Rate Monitor
Bluetooth chest strap and EKG grip pulse
Display
7″ full color touch display
The Runner-up (#2)
Image
Specs Comparison
To start, let's examine the dimensions of the two treadmills to see which one is suitable for you best. Generally, Nordictrack c990's dimensions are smaller than the Proform model, but its weight is bigger than Proform 995i.
In detail, Nordictrack c990 measures 79.5 inches long, 35.5 inches wide, inches 60.3 high, and weighs about 245 lbs, while Proform 995i is 81 inches long, 37 inches wide, 66.7 inches high, and 225 lbs heavy. As a result, as you can tell, there is not much difference between the two treadmills regarding size and weight. But you can absolutely take this criterion into consideration.
Apart from measurements, let's talk about their price on the market. Proform sells the model 995i at under 1000 dollars. Nordictrack c990, however, comes with a little bit higher price- over $1000. Hence, if you are on a budget, you may want to opt for the Proform 995i.
Between Proform 995i and Nordictrack c990, the maximum carrying weight is not the same. Even though both treadmills possess strong builds that can carry up to 300 lbs, while Proform 995i can carry up to 350 lbs, the counterpart is only suitable for those who are under 325 lbs. Hence, the Proform 995i model is probably matched with heavier users.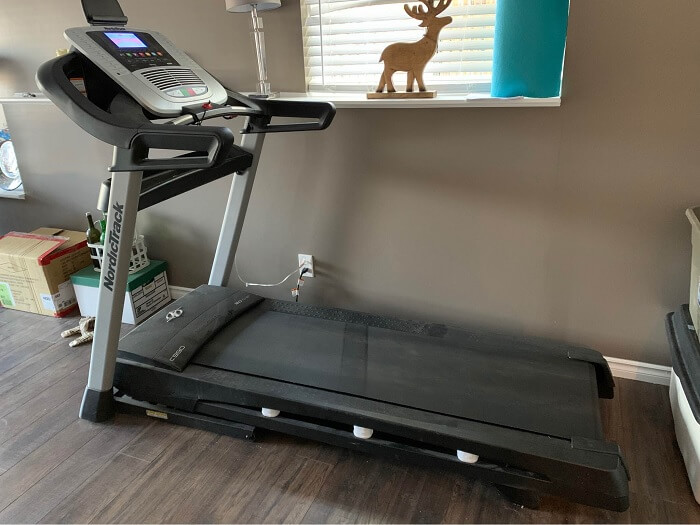 Now, let's discuss the treadmill's incline level. Overall, the Proform model overtakes its counterpart in the bigger incline range it offers.
To Proform 995i, it can flexibly adjust the incline level in the range from 0% to 15%, while Nordictrack c990 can only incline between 0% to 12%.
Therefore, if you want to challenge yourself with a highly intense level, Proform 995i can help you.
Regarding the built-in programs, both models offer users many onboard training programs compared to other treadmills on the market. These treadmills come with almost the same quantity of workout programs, with 30 programs on the Power 995i and 32 programs on the C990. Yet, model C990 has different workouts, such as heartbeat rate programs, calorie burn, speed, intensity workouts, and incline exercise programs. On the Proform 995i, there are tempo and interval training programs.
Speaking of power, there is not much discrepancy between the two machines. Having a 3.0 HP motor that is strong enough for the two treadmills to speed up to 12 MPH. Therefore, the machines are suitable for casual home walkers, joggers, and runners.
Finally, both Proform 995i vs Nordictrack c990 get a pretty large 20-by-60 running area. With this tread belt, both machines provide runners with comfort while running.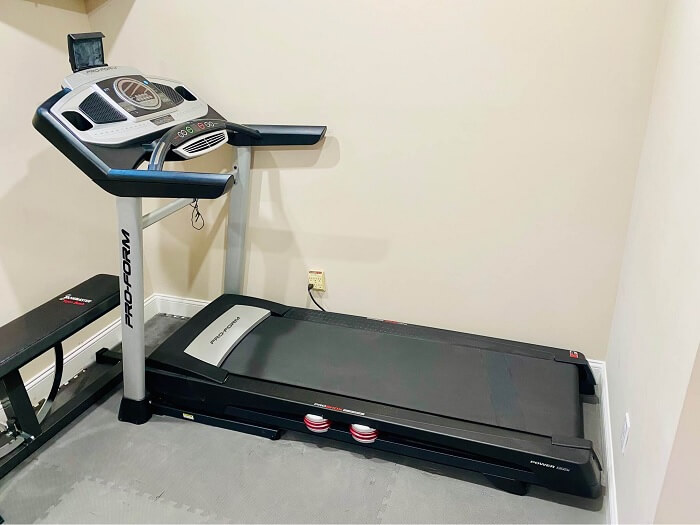 Features Comparison
Firstly, Proform 995i and Nordictrack c990 support BlueTooth connection to mobile devices and the speakers in the treadmills.
Apart from that, two treadmills also have LCD screens to show training information. Yet, Nordictrack c990 comes with a 7-inch web-enabled touch screen, while Proform 995i does not have a touch screen. Furthermore, as the screen of Nordictrack is web-enable, the Internet connection is just a piece of cake. Hence, if you wish to have a big screen with Internet-enabled technology, Nordictrack c990 is the better option.
Besides, the two treadmills also go with a year iFit membership with the deal. Specifically, iFit is an all-in-one training app that gives users access to thousands of training programs, iFit Coach, Google Maps Routes worldwide, and other benefits. When customers purchase the treadmills, the deal already includes 1-Year iFit Coach Membership, which is worth $396.
There is also a workout fan attached to the consoles to cool users down on the two models.
Finally, the treadmills support Heart Rate Monitoring technology to help runners track their heart rate by the handlebar grips.
Overall, there is not much difference regarding the warranty coverage because Proform 995i and NordicTrack c990 have a pretty good warranty policy. In detail, the frame and the motor are under unlimited warranty coverage, while the other parts and electronics warranty covers within five years. The labor is for a 2-year warranty.
Quick Rundown Of NordicTrack C 990

---
Quick Rundown Of ProForm 995i
ProForm 995i Treadmill
3.0 CHP drive system, 20 X 60 non-stretch 1-ply commercial belt, ProShox cushioning, space saver design, easy lift assist
2.5" precision machined and balanced non-flex roller, 7" backlit iFit display, iFit workout apps matrix
IFit alpha numeric message center, iFit enabled, iPod compatible audio (2-2" speakers)
Digital quick speed control 0-12 MPH, digital quick incline control 0-15, 30 preset workout apps
Coolaire workout fan, EKG grip pulse, 350lb. user capacity, lifetime frame & motor warranty, 3 yr. parts & 1 yr. labor warranty

---
Product Videos
---
Conclusion
Hopefully, this article has clarified the distinctions between Proform 995i vs Nordictrack c990. Despite coming with a higher price, Nordictrack c990 is still worth investing in as it provides more beneficial qualities than its counterpart- Proform 995i.
---