Further down the page, you'll find some explanations regarding the key similarities and differences between the ProForm PRO 9000 and the NordicTrack Commercial X22i.
Specs Comparison
Firstly, let's compare the price of the two treadmills? Proform Pro 9000 is the champion in this battle as it comes with a much cheaper price compared to the NordicTrack x22i model. In detail, the Proform Pro 9000 costs about $1900, while the counterpart's price is around $3000. That is why Proform Pro 9000 is a good choice for budgeted users.
Apart from price, there are differences in the dimensions of the two models.
Nordictrack x22i is a smaller and lighter model compared to Proform Pro 9000. The former is 70 inches long, 39 inches wide, and 72.5 inches high, while Proform Pro 9000 measures 70 inches long, 39 inches wide, and 77 inches high. This is why Proform is going to take up more area of your room. Just need to note that this model is a little bit heavier than the Nordictrack x22i. However, Proform Pro 9000 is still a good option to consider.
Another aspect of comparing Proform Pro 9000 vs NordicTrack x22i is how much weight they can carry. Well, they both have decks and frames, which are very tough and durable- being able to hold different types of users, Pro 9000 – 300 lbs and x22i – 200 lbs, hence they are suitable for different customer segments.
How about the number of built-in workout programs on each treadmill? Are there any differences? Yes, while Nordictrack x22i has 44 training programs, the Proform model offers 40 exercises for its users. However, both treadmills have more workout programs than most of the treadmills on the market.
Regarding power, both treadmills go with a powerful 4 CHP motor- allowing the two treadmills to speed up to 12 MPH. Therefore, both machines are ideal treadmills for home users, such as running, jogging, walking as well as professional runners.
Now, let's discuss the treadmill's incline level. The motorized incline range of Proform is between -3% to 15%, while Nordictrack can incline between -6% to 40%. So, with Nordictrack x22i, users can add more challenges to the training routine by flexibly changing the incline level.
How about the running space of the two treadmills? There is no difference between them as they are both equipped with the 22-by-60 tread belt, which are quite standard figures of a treadmill suitable for adult runners.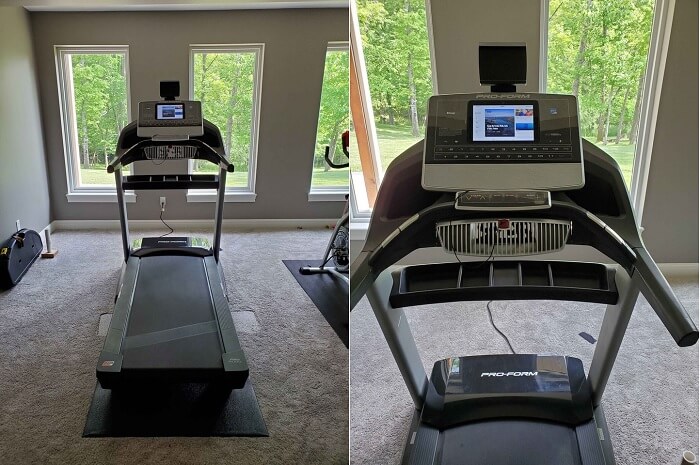 Features Comparison
First of all, both models offer BlueTooth technology to link with mobile devices, headphones, and the speakers built in the treadmills.
Besides, two treadmills also have LCD screens to display training information. Yet, Nordictrack comes with a 22-inch web-enabled touch screen- 12 inches bigger than Proform 9000. Moreover, as the screen of Nordictrack is web-enable, it can help you with easy access to the Internet just by a touch. As a result, if you want to have a big internet-enabled screen, Nordictrack x22i is the better choice.
Both treadmills also come with-iFit Coach- one of the most popular all-in-one fitness apps designed for treadmills. Specifically, iFit gives users access to hundreds of training sessions, iFit Coach, Google Maps worldwide, and other features. In detail, when customers purchase the treadmills, the price paid includes 1-Year iFit Coach Membership, which is worth $396.
There is also a fan attached to the consoles to cool users down on the two models. In addition, on the two models, there are water bottle holders built in the machines.
Finally, the treadmills support Heart Rate Monitoring technology to help runners keep track of their heart rate. Users can use the EKG handlebar grips or chest strap to check their heart rate in both models. Pretty convenient, right?
Overall, there is not much to discuss regarding the warranty coverage because Proform Pro 9000 and NordicTrack x22i have a pretty good warranty policy. Specifically, the frame and the motor of the two models are under an unlimited warranty package, while the other parts and electronics are warranted within five years. The labor is for a 2-year warranty.
Quick Rundown Of ProForm PRO 9000
ProForm PRO 9000 Treadmill
4.25 chp Mach Z commercial plus motor, 0 to 12 MPH quick speed control
Dimensions - Footprint: 39.15" W x 77.16" D x 70" H | Tread Belt: 22" x 60"
15 percent incline, -3 percent decline
Weight Capacity: 300 lb
2.5" Precision-Balanced Rollers, integrated cross fit tray
[i2pc show_title="false" title="Pros & Cons" show_button="false" pros_title="Pros" cons_title="Cons" ][i2pros]Affordable
Easy to Assemble
Powerful Motor[/i2pros][i2cons]Limited Screen
Limited Training Programs[/i2cons][/i2pc]

---
Quick Rundown Of NordicTrack Commercial X22i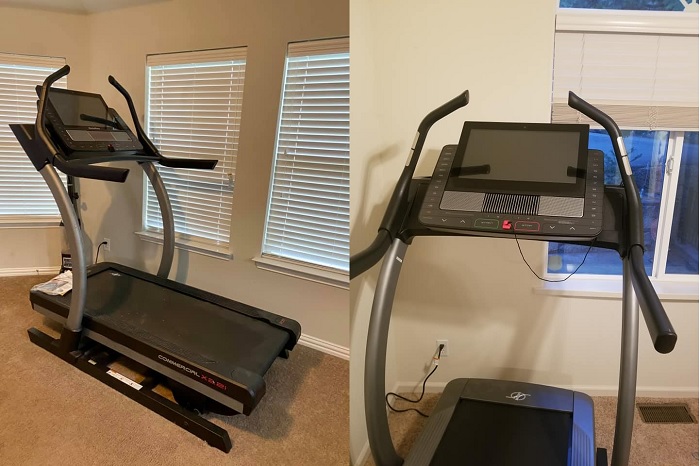 [i2pc show_title="false" title="Pros & Cons" show_button="false" pros_title="Pros" cons_title="Cons" ][i2pros]Wide Incline Range
Big Screen with Web-enable Tech
More Training Programs[/i2pros][i2cons]Pricey[/i2cons][/i2pc]

---
Product Videos
---
Conclusion
Hopefully, this article has pointed out the main differences between Proform Pro 9000 vs NordicTrack x22i. Generally speaking, despite coming with a higher price, NordicTrack x22i is still a good deal to invest in as it offers more superior qualities compared to its counterpart- Proform Pro 9000
---