The cordless miter saw from Ryobi is preferred to use for the DIY jobs around the workshop or house.
Do you also believe in this machine and decide to invest one?
So, it would be best to read our Ryobi P3650B review to determine your selection again.
>>> More: 10 BEST Miter Saws
Ryobi P3650B Sliding Miter Saw Specifications.
Product Dimensions: 32" D x 20" W x 12" L
Weight: 34 lbs
Maximum speed: 4000 RPM
Miter Saw Type: Sliding compound
Blade Diameter: 10 inches
Bench or Stationary: Bench
Dust Collection Way: Bag
Cutting Capacity: 12 inches
Bevel Type: Dual
Rating: 4.3 out of 5 stars.
>>> Read Customer Reviews: Here
Ryobi P3650B Review – Outstanding Advantages
No products found.
*** Unboxing.
Opening the product package is interesting when shopping. With the Ryobi P3650B Saw, there are not many parts to assemble. You only need to set up the sliding miter fence, the dust bag, and the work clamp.
When installing the parts together, insert the batteries and then start testing the EXACTLINE laser to ensure the accuracy for cutting later.
*** Stability & Portability
Users will likely meet difficult to cut if the saw is unstable. To cope with this, the Ryobi P3650B Saw has built-in the heavy-duty base and table made from aluminum. Plus, on the base, there are the small rubber feet that help to prevent your saw from moving.
For the portability, the 34lb weight and the built-in carrying handle are light and portable. You can easily handle and carry it anywhere you need to use it.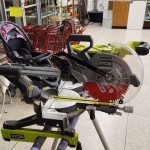 *** Power.
This sliding compound saw provides a brushless motor up to 4,000 RPMs. It allows you to perform 370 cuts after each recharged in two Ryobi batteries (not included).
Because the ba series operate in tandem, the power is constantly delivered to the machine throughout use.
*** Dust Collection.
Attaching the dust bag, the miter saw from Ryobi collects sawdust effectively. It is easy to remove for cleaning, especially it is compatible with a 1-¼-inch small port hose. Made well!
*** Other Features.
Electric brake: Once you release a switch, it will make the cutting blade stop rotation.
Dual bevel: You can quickly move the saw, not material. Not only that, but it also offers high accuracy and safety when cutting.
Exactly laser alignment system: You can adjust this system to get the precise cuts with the blade. When pressing the trigger switch, it will encage. If need, you can manually activate by pressing the laser guide button built-up the rear of the trigger. It indicates your cut line, not engaging your saw.
Miter ranges: In particular, you can cut at 45 ° to the left and 50 ° to the right.
Positive stops: This saw has various stops, 0 °, 15, 22.5, 31.6, and 45 ° (both right and left).
*** Disadvantages.
The Ryobi P3650B Sliding Miter Saw does not include batteries, so you will have to buy it separately.
Popular Alternatives Worth Considering:
In a Nutshell.
Have you changed your decision after our Ryobi P3650B review above? Is this saw suitable for your needs?
Yes, we provided full of the optimal features of the Ryobi P3650B so that you can have the most objective view on this saw. Read carefully and then give an exact selection!
Leave your comment for us if you find the interesting information in our article.