If your selection is the XSL04ZU Compound Miter Saw from Makita to replace your old saw, it would be best to read our article – Makita XSL04ZU review to know more.
The power tools from Makita are very preferred to use despite the high cost. Not only can you use them for the heavy-duty cutting tasks but they also have the lasting-long durability, typically, the Makita XSL04ZU Miter Saw.
Would you like to know what this saw is good? Well, don't ignore our following Makita XSL04ZU review.
>>> More: 10 BEST Miter Saws
1. Makita XSL04ZU Specifications.
Makita XSL04ZU Miter Saw
Powered by two LXT batteries; X2 LXT technology delivers more power, speed and run time without the hassles of a cord (batteries not included)
Makita built electronically controlled BL Brushless Motor delivers 4,400 RPM for faster and smoother cutting
Auto-start Wireless System (AWS) utilizes Bluetooth technology for wireless power-on/off communication between tool and optional dust extractor
Auto-start Wireless System (AWS) utilizes Bluetooth technology for wireless power-on/off communication between tool and optional dust extractor
Makita XSL04ZU 36V (18V X2) LXT Brushless 10" Dual-Bevel Sliding Compound Miter Saw, AWS and Laser, Tool Only
*** Pros:
Straight cuts.
Nice electric brake.
Great, tall fence for crown molding.
Strong slider mechanism.
No cords to drag around.
*** Cons:
Rating: 5 out of 5 stars.
>>> Read Customer Reviews: Here
2. Makita XSL04ZU Miter Saw Review.
*** Blade.
The XSL04ZU miter saw from Makita has built-up an impressive factory blade. It allows users to cut a variety of MDF, plywoods, wood species, softwoods, hardwoods, and composites.
Handling the heavy-duty cutting jobs quickly, this 10-inch blade even provides the high accuracy and eliminate the chip-out change when you upgrade up to the 80-tooth blade.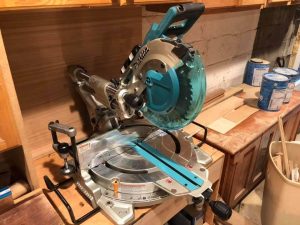 *** Cutting Capacity.
We are impressed with the cutting capacity of the Makita XSL04ZU.
Despite running with two lithium-ion batteries, the unit delivers up to 334 cuts after a full charge. Typically, you can use it for nested cuts ( 6-5/8″ crown), vertical cuts (5-1/4″ base), and crosscuts at 90° (4×12").
The innovative 2-steel rail sliding system also supports cutting. It allows users to place the saw flush against the wall for smooth precise cuts.
You can even get the best performance when cutting because of having the Automatic Speed Change technology. How is it effective? As per need, you might regulate torque and cutting speed. Ensure the excellent cuts.
*** Durability.
Instead of using the standard belt-drive motors, Makita prioritizes to utilize the BL Brushless Motor for their saw. A no-load speed can reach up to 5,700 RPM. Importantly, this motor lasts twice in comparison to these standard motors.
In addition to the Soft Start technology for smooth cutting, the XSL04ZU miter saw has equipped an Auto-Start Wireless System using Bluetooth technology for dust collecting. The purpose is to prevent dust buildup from the motor.
Not only that, but the manufacturer also takes the battery life into consideration, so they add the Star Protection Computer Controls. You can adjust conditions when charging.
*** Other Outstanding Features.
In terms of power, this sliding compound miter saw runs with two 18V lithium-ion batteries providing the 36V power. Plus, the rapid optimum charger is equipped for fast charge time.
The features, electric brake, or the rubber grip handle, for example, are convenient for the users, especially when mitering 0-48° (both left and right) and bevels 0-60° (including left and right).
Don't stop. For adjusting the blade precisely, there is a built-in laser, and the 3-stage L.E.D. gauges help to notice the charge level. Beneficial!
3. On the Whole.
We recommend the Makita XSL04ZU Miter Saw to those who are looking for a powerful and cordless model. Looking at our reviews above, you can see that this saw is ideal for the big cutting tasks.
If your work is heavy-duty, this machine is suitable.
Finally, are you satisfied with our Makita XSL04ZU review? Leave your comment and tell us your thought a bit. Thanks!!!