If you are looking for the features, strong points, and the weaknesses of Ryobi TS1345L, here you go.
>>> More: 10 BEST Miter Saws
1. Ryobi TS1345L Overview
Ryobi TS1345L is really dominating in its class. With minimal design, this tool can do various projects but still ensures high-quality cuts, accuracy, and portability:
Lightweight and smart design
Versatile and portable
Affordable price suitable for both beginners and experienced workers
Rating: 4.8 out of 5 stars.
>>> Read Customer Reviews: Here
2. Key features of Ryobi TS1345L miter saw.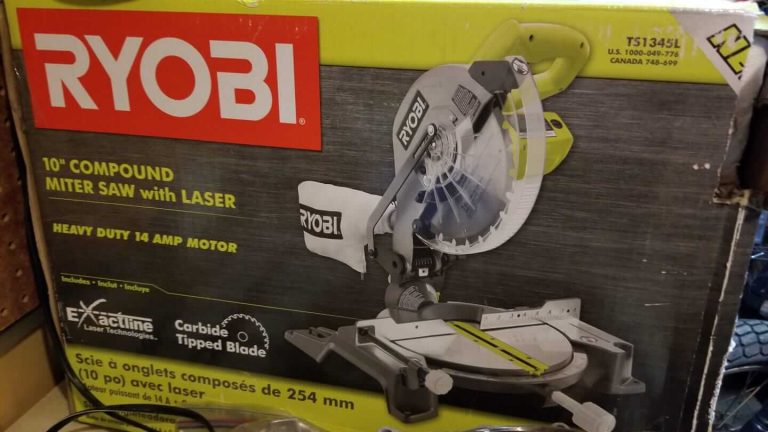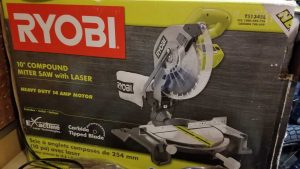 #1. Utility.
Of course, we cannot dismiss the utility of tools for a DIY project. They should be light-weight, versatile, easy to handle, and multi-functional. Well, in this term, Ryobi TS1345L won't disappoint you at all.
With a pretty light-weight, Ryobi TS1345L allows users to carry easily to job sites or workshops. It specializes in bevel cuts and miter cuts, which is suitable for many kinds of projects. You can work on crown molding (as it has a curve pattern), door casings, or window trim, etc. Well, those are all materials with intricate patterns.
#2. The capability of cutting.
*** How wide can Ryobi TS1345L cut?
4.25 inches approximately.
*** How deep is the cut?
3.5 inches approximately.
Well, if you are looking for a saw that works on a big project, this is not for you. In contrast, this handy little machine can work precisely and efficiently with small and complicated materials.
If you notice, there is a laser indicator (or laser guide) that helps you cut more quickly and accurately. Seriously, it does help me a lot. With this little guide, you don't have to make many cuts until you finish the work. One final cut is enough.
#3. Weight and design.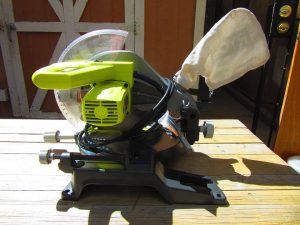 Ryobi TS1345L is pretty light-weight with only 26.2 lbs, and well, it's much lighter than other saws. You can bring or carry it as there is a handle at the bottom.
*** What about the design?
So simple yet impressive.
Personally, I love Ryobi TS1345L because of its minimal design and portability. Not counting detail parts, there is a large scale at the bottom, a blade which is secured by a shield, and a handle. That's all. The most notable part is the dust collection bag, which doesn't appear in most saws.
#4. Price
Reasonable. Yes, we must say the price is fair for all users.
It costs you about $200 for a small, versatile, and precise compound miter saw. In this term, it's absolutely suitable for DIY workers who enjoy doing their projects at home. You can use it to renovate your house with crown molding, cabinet, window trim, or fences without paying for a woodworker.
It also works if you are a beginner woodworker. It doesn't cost you much to practice with the real tool and the actual project. I mean, who can refuse to use this cheap excellent-quality power tool?
3. Ryobi TS1345L And What We Don't Like About It.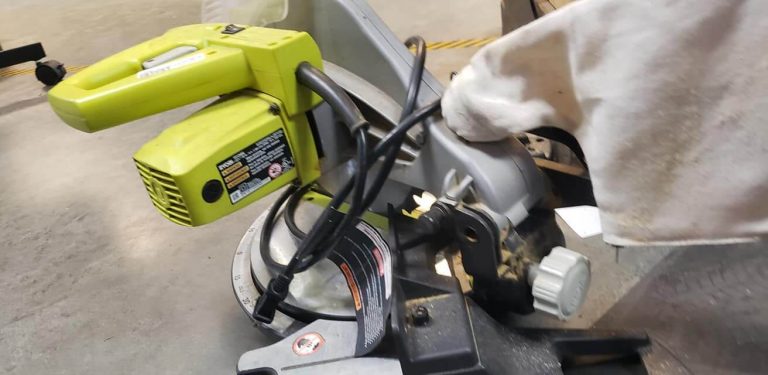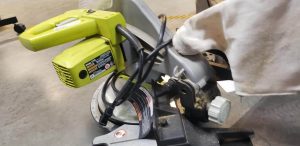 Like most tools, Ryobi TS1345L also has weaknesses that we don't like.
The dust collection bag helps collect dust from your projects, but you know, it's not really working. It only collects a small amount of dust that you may see particles around your tool. However, it's quite a good idea for other brands.

The laser indicator has also been reported to be dim and vague during the operation. You can hardly see it, especially in direct sunlight.
4. In conclusion.
Above are Ryobi TS1345L review and the 4 highlights you need to know before deciding to buy it. Honestly, this small minimal tool helps me a lot with little work inside the house. But remember it doesn't fit if you are doing a big project. Just consider your project and pick your suitable tool.