A powerful wrench will help you a lot in your daily work. And if you are wondering which one to choose between Ryobi R18iw3-0 vs P261, you can find all the information you need here.
Below we will compare the power, portability, and features of the Ryobi R18iw3-0 and P261. Ready to explore? Let's start now!
Difference between Ryobi R18iW3-0 and P261
Image
The Winner (#1)
The Runner-up (#2)
The Winner (#1)
Image
The Runner-up (#2)
Image
Power Comparison
For Ryobi r18iw3-0, you will have a wonderful wrench of 18V Cordless Impact motor that offers ideally 400Nm of torque. With this power, you can tighten or remove any heavy fasteners quickly.
The impact mechanism will allow your tool to generate high torque amounts with weak feedback on the handle. Besides, for this model, you will have three-speed settings, which are convenient to versatile and control the working process. These three setting includes:
1st Mode is for precision task: 0-2,100 rpm
2nd Mode allow you the added control: 0-2,500 rpm (This will help you to avoid damaging the materials and fasteners
3rd Mode is for the maximum performance: 0-2,900 rpm (This option is helpful for the toughest work)
Meanwhile, the P261 is a powerful wrench with 3,200 impacts/ minutes and torque of 300 ft./lbs. Hence, this tool will be a great help for any heavy-duty jobs.
For this version, you will also have a three-speed setting for a small fastener, middle torque ground, and highest power for any hard task. ​It can work for even large fasteners (specifically, 6 seconds for 5/16″ lags with pre-drilled holes, 19 seconds for 1/2″ lag without a pilot hole, and only 30 seconds for 5/8″ lag of 6″ long with pilot holes).
Design Comparison
Regarding the weight, Ryobi P261 is lighter than Ryobi R18IW3-0. More specifically, you will have Ryobi R18IW3-0 weight at 2kg with battery and 1.8 kg without battery. At the same time, this number in Ryobi P261 is just 0.75 Kilograms in total.
About the size, Ryobi P261 is clearly smaller than Ryobi R18IW3-0 with their dimensions of 12.4 x 10.4 x 7 inches and 9.13 x 31.5 x 78.74 inches, respectively. So if you do not have a large pack, the P261 will be more convenient to carry around.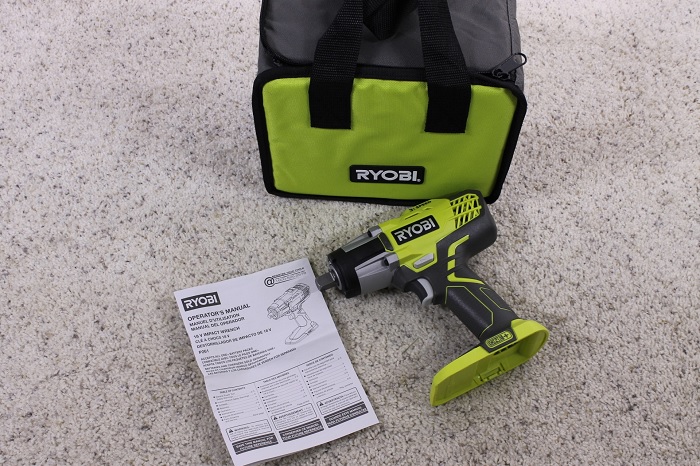 Features Comparison
With Ryobi R18IW3 3-Speed Wrench, you will have an 18V motor offering a torque of 400Nm. Its impact mechanism delivers high torque amounts with small reactionary feedback.
Moreover, the feature of Tri-Beam LED lights allows you to work in dark areas. It is also easy socket fit with the locking pin of 1/2″ Square drive and three different speeds offered. This tool also well with materials including Impact Wrench body and hex adapter of 1/4″
Or if you chose Ryobi P261, besides the three different speed functions, this machine also has a battery of 18v, 1/2″ Square anvil supporting the easy connection, and the maximum impacts of 3200 impacts/ minute. Other than the led lightning systems, the compact Ryobi P261 includes Bare-Tool. How great!
Quick Rundown Of Ryobi R18IW3-0
Ryobi R18IW3-0 Impact Wrench
High power motor with 400Nm of torque for removing tough nuts and bolts
3 Speeds for precise control and a wider range of applications.
1/2" Square drive socket with locking pin and included 1/4" hex adapter for use with screwdriver bits
Fit up to 100 wheels per charge when used with the RB18L40 4.0Ah battery
[i2pc show_title="false" title="Pros & Cons" show_button="false" pros_title="Pros" cons_title="Cons" ][i2pros]Convenient to use and carry
Neither need for a power cord nor compressed air hose
Available for even the most sensitive screwing
Long-lasting[/i2pros][i2cons]Weaker than wrenches in electric and pneumatic[/i2cons][/i2pc]

Quick Rundown Of Ryobi P261
Ryobi P261 Impact Wrench Kit
Impact wrench - Impact mechanism produces 300 ft./lbs. torque and up to 3,200 impacts per minute (IPM) for a variety of heavy-duty applications
Impact wrench - 3-speed selector switch offers greater control over a wide range of fastening applications
Charger - Dual-chemistry charger energizes 18-Volt ONE+ batteries in as little as 1 hour
[i2pc show_title="false" title="Pros & Cons" show_button="false" pros_title="Pros" cons_title="Cons" ][i2pros]Perfectly suitable for woodwork
Strong enough for almost all auto tasks
Quite a low price[/i2pros][i2cons]Possibly of battery upgrade requirements
Low torque compared to some models[/i2cons][/i2pc]

Product Videos
Conclusion
That is all you need to know about Ryobi r18iw3-0 vs p261. You might now have a clear view of which one is useful for you, right? With these two powerful tools from Ryobi, you will surely get the professional task done for your home mechanic. Best wishes to you!