Ingersoll Rand W7152 vs W7150 battle is reaching its peak! Wanna see which features more outstanding points? Update yourself with the following info!
Difference between Ingersoll Rand W7152 and W7150
Image
The Winner (#1)
The Runner-up (#2)
The Winner (#1)
Image
The Runner-up (#2)
Image
Power Comparison
To start the series of features compared, let's talk about these models' motor strength. The manufacturer gives the Ingersoll Rand W7152 a brushless motor, which enhances the durability of the tool. With this motor, users can produce 1000 ft-lbs of maximum reverse torque or even up to 1500 ft-lbs nut-busting torque.
How about its rival? The model W7150 just features 780 ft-lbs of max torque and up to 1100 ft-lbs of nut-busting torque. These handy and cordless appliances are genuinely great for consideration.
One more thing is that both of them utilize batteries for operation. In the end, it's clear to see the Ingersoll Rand W7152 is the winner in this battle. Congrats! But wait, there's still a lot ahead to discover!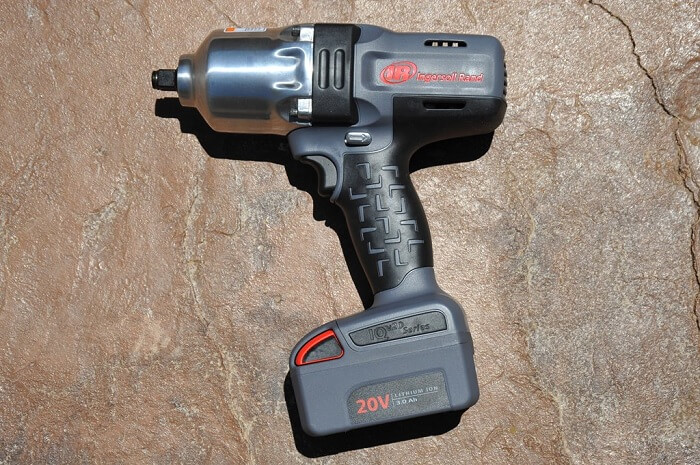 Design Comparison
The two models from the producer Ingersoll outweigh numerous other competitors on the market with their super compact dimension and lightweight.
In detail, the W7152 weighs only 6 pounds and features 8.1 x 3.3 x 9.3 inches. At the same time, the W7150 weighs 6.83 pounds and has a dimension of 9.37×3.26×10.8 inches.
These models deserve the best title with their power-to-weight ratio. The battle in terms of design is so close! But if we need to make every crystal clear, then the victor is the W7152.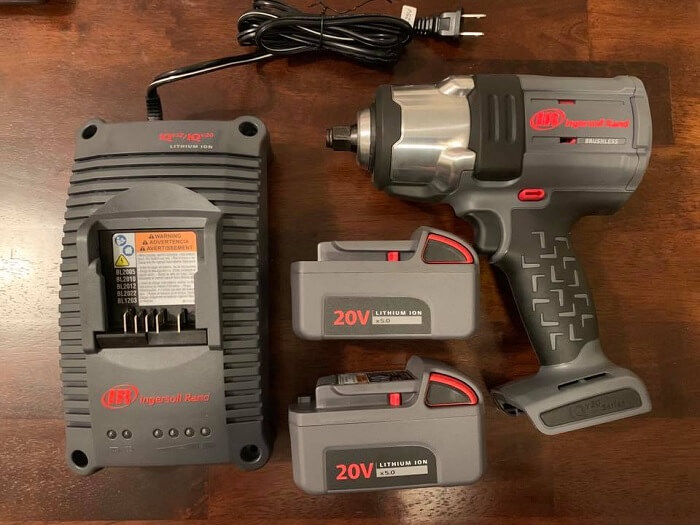 Features Comparison
The Ingersoll Rand W7152 is so well known for its IQV control system. This intelligent power system allows the model to be the most powerful cordless impact wrench in its class.
There are four modes that you can choose: Max power, mid-power, wrench tight, and hand tight. These are ranked from the highest to the lowest nut-busting torque. And the IQV can give you an experience from the max power to the hand tight in no time!
Its rival, the W7150, won't lose the game easily. The most outstanding feature of the W7150, not to mention its durability with magnetic motor, and comfortability of an ergonomic handle, is probably the BMS.
It is a smart battery management system, which enables impact wrenches to change the motor power for suitable applications. At the same time, the BMS shows us its power-level and current control from its battery.
You will receive a bare tool only, or with battery charge, Lithium-Ion battery, and a carry case when purchasing the Ingersoll Rand W7152 and W7150. It's up to your choice of the set style. Here marks an end to the comparison, also. And we really think this is a draw!
Quick Rundown Of Ingersoll Rand W7152
Sale
Ingersoll Rand W7152 Impact Wrench
Power: Powerful brushless motor and impact mechanism are finely tuned for best in class power-to-weight ratio. 1500 ft-lb nut-busting torque and 1000 ft-lb of MAX torque.
Control: Includes the IQV Power Control System with 4 modes: Full Power, Half Power, Wrench Tight, and Hand Tight. From axle nuts to oil pans, flange bolts to pre-torque joints there's no need to switch tools.
Durable: Patented steel reinforced frame and impact-and-chemical resistant housing protects the W7152 from every day abuse. The IQV brushless motor delivers more power and efficiency than a brushed motor, providing longer tool life.
Access: 8.1" short tip-to-tail design and 360⁰ shadowless task light with 4 dimmable settings provides increased visibility and access.
Robust and durable all-metal drivetrain and hammer mechanism optimized for maximum power and efficiency.
Pros:
Higher torque provided
IQV intelligent system
More compact and handy
Power mode change in no time
Cons:
Battery replacement required

Quick Rundown Of Ingersoll Rand W7150
Ingersoll Rand W7150 Impact Wrench
Power - 1, 100 ft. -Lbs. Of nut-busting torque from a tool weighing just 6. 8 lb. – best power to weight ratio in its Class.
Durability - High-Efficiency rare earth magnet motor, high capacity variable speed trigger, all-metal drive train, and metal reinforced housing enable this tool to stand up to the toughest jobs
Comfort - optimized balance combined with an ergonomic handle and soft touch over-molded grip provide increased comfort in extended use
Includes - (1) 1/2" impact wrench bare tool, (1) battery charger, (1) 20V 5Amp Lithium-Ion battery & carry case
Intelligent battery management system (bms)— provides power-level and current control from the battery to the switch to the motor for optimum efficiency
Pros:
BMS smart system
Power levels showed
Compact and handy
High torque
Cons:
Battery replacement required

Product Videos
Conclusion
Everything seems easier now when things come down to details. In the battle of Ingersoll Rand w7152 vs w7150, the former wins as it is more compact and features higher torque with different power modes.
Anyway, for starters, the two products are great in terms of design and applications! It's time to make your repairing jobs simpler than ever before with a cordless impact wrench!