Don't tell us you never read a review of a product before purchasing it!
You are here – Hitachi C10FCH2 review – because you are considering getting a super portable yet efficient compound miter saw, aren't you?
The good news is you are in the right place. Hitachi C10FCH2 is an excellent choice for those who love a minimal, handy, light-weight, and low-price cutting tool. But what about its weaknesses? Let's find out now in Hitachi C10FCH2 review.
>>> More: 10 BEST Miter Saws
1. Hitachi C10FCH2 Compound Miter Saw overview.
Hitachi C10FCH2 Miter Saw
Hitachi Power Tools has renamed to Metabo HPT. Same great tools, with only a new name.
Hitachi's Laser Marker System for increased cutting accuracy
15 Amp motor, powerful for the toughest cutting jobs
0 52 Degree miter angle range, to the right and left for increased flexibility
0 45 Degree bevel angle range, to the left with adjustable bevel stops for precision cuts
Just look at this glossy metal piece, and you will fall in love at first sight.
Indeed, Hitachi C10FCH2 offers a minimal yet attractive appearance. However, don't let it fool you by its look as this machine comes with a robust motor and high productivity.
The laser indicator is helpful for most people (including me), which makes the work done more quickly and accurately. The dust collection, honestly, doesn't really work as expected. It can just collect a little bit of dust created around.
Anyway, let go deeper to see what we like (and don't like) about Hitachi C10FCH2.
Rating: 4.7 out of 5 stars.
>>> Read Customer Reviews: Here
2. Hitachi C10FCH2 15-Amp 10-inch miter saw with laser highlights.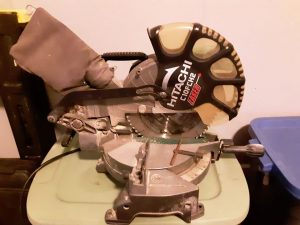 **** Portability.
Hitachi C10FCH2 miter saw is among the most light-weight compound miter saws in the market now. It weighs only 26.5 lbs so that you won't have any difficulty in bringing it to job sites or workplaces. There is also a handle at the back of the tool for easy carrying.
The minimal design makes it more compact and convenient. If you don't take notice of other details, there are main parts as following: a blade and the protective shield, a big scale at the bottom, and a large pivoting flip fence. Notably, there is a dust collection bag, which doesn't appear in many other saws.
*** Power.
A 15-amp motor, a speed of up to 5,000 RPM, and a large 10-inch blade. Is that enough to show up the power of Hitachi C10FCH2?
This cutting tool operates at a very high speed that it allows cutting thing smoothly and cleanly. Things will be done more quickly and easily with this impressive combination. As opposed to the simple look, this is a robust and robust cutting tool that can deal with many projects.
Do you find challenging with crosscuts and miters? Don't worry as you have Hitachi C10FCH2 now.
Are you afraid of doing tough projects? No problem with Hitachi C10FCH2.
Well, in this part, you may ask how we can handle a robust cutting machine but still ensure accuracy and safety. Good question, and here is an exciting feature of this Hitachi product.
There is a special grip that can reduce and absorb vibration to support a stable posture and handle. This will help you much when facing rough materials or doing many stacks of wood.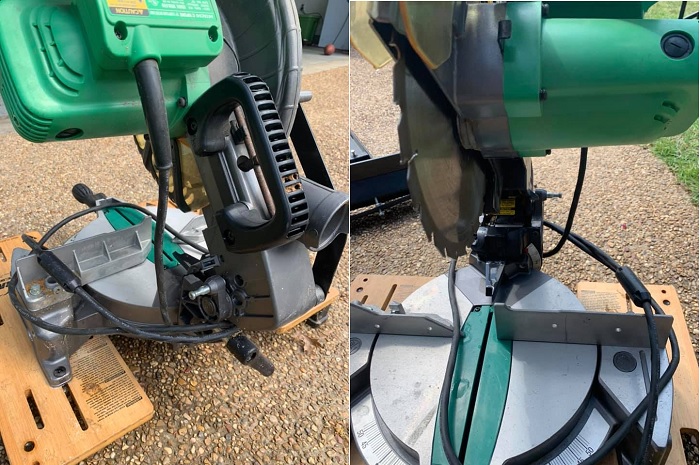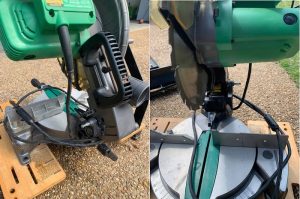 *** Precision.
In the term of accuracy, you will be totally assured of Hitachi C10FCH2. Why?
The adjusting range is from 0 to 52 degrees for miter angle, and 0 to 45 degrees for bevel angle, which is wide enough for your use. The scale and measurement are designed with high accuracy to offer high precision to your cuts.
There is also a large pivoting fence, which can raise up 4 inches higher to enhance the sharpness of the details. If you would like, you can use a laser guide that indicates the cutting patterns and gives you precise cuts with less effort.
*** What we don't really like about Hitachi C10FCH2.
The first thing is the dust collection bag. You know, it doesn't work very well as we've seen particles around the machine. It simply cannot cover all the dust created.
The second one is the laser marker. When unboxing and using for the first time, the laser line is not aligned at the center. Honestly, you will have to adjust it with the support of technical service, as this may be the problem of the factory.
3. In conclusion
Anyway, you all know about the basic features of this awesome compound miter saw in Hitachi C10FCH2 review. Like other cutting saws in the market, it has strong points and weaknesses as well. You will need this information to make your own decision. So, what is your choice? Share your idea now.