Below I will compare the power, portability, and features of the Skil 5180-01 and 5280-01
Difference between Skil 5180-01 and 5280-01
Image
Dimensions
14.25 x 9.75 x 8.5 inches
Image
Image
Dimensions
14.25 x 9.75 x 8.5 inches
The technical summary sheet for Skil 5180-01 and 5280-01
Design Comparison
A lightweight and compact machine always catches your attention more than a bulky one. Luckily, both Skil 5180-01 vs 5280-01 are what you expect for.
The former weighs about 7.2 pounds, and its sizes are 13 x 9.5 x 8 inches, while the latter is 1.5 pounds heavier and has larger dimensions of 14.25 x 9.75 x 8.5 inches.
Although you can move these two products around with less fatigue at different job sites, the 5180-01 model still brings a bit more comfort for mobility.
Power Comparison
When it comes to engine power, these two circular saws are highly rated. To be more specific, they share the same no-load speed of 5.300 RPM, which is ideal for making faster cuts.
However, their motors still show a slight difference. For example, the 5280-01 unit features an extremely robust 15 Amp motor, and the other one seems to be less impressive with 14 Amp engine.
Of course, Skil 5280-01 will undeniably be the go-to circular saw for your projects, which offers such smooth and quality cuts of plywood and lumber all the time.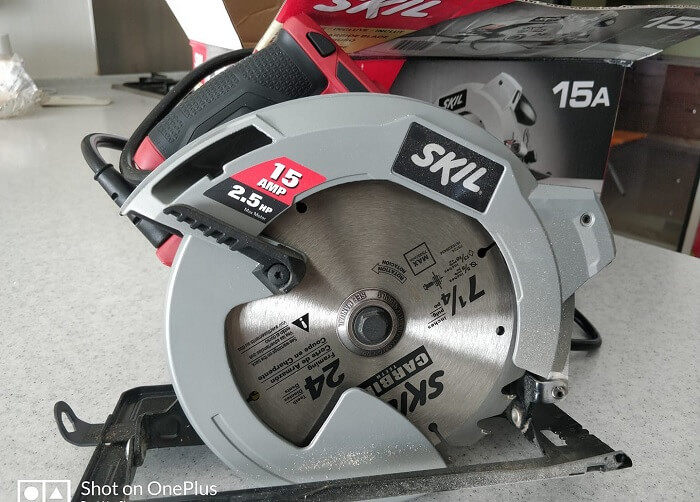 Features Comparison
The manufacturer Skil has designed these two devices with many similar points.
For example, they all come with a dust blower to keep you away from the sawdust particles. You can see the path clearly without any obstacle. Plus, in order to improve your visibility, an indicator light is engineered for these tools to notice when your machine is powered on.
On top of that, they bring you to the guarded trigger stop for safety that totally meets the demands of many less-experienced users. There is no need to worry about the accidental start-up as well.
It will be a big mistake if we miss out on the flexibility of bevel settings. Their blades can bevel up to 51 degrees and have various positive stops at 45 degrees for optional cuts.
But how to distinguish these two Skil machines?
Well, what makes the 5280-01 circular saw have the upper hand over the previous one is the laser beam guided view. You will easily keep following the path where your machine is cutting, enhancing the accuracy as a result.
Buying Skil 5180-01, you will receive a circular saw, a 20-tooth carbide blade, and a wrench stored in foot. On the other side, a whole package of Skil 5280-01 includes a circular saw, a 24-tooth carbide blade, a wrench, and a carry bag.
Quick Rundown Of Skil 5180-01
Skil 5180-01 Circular Saw
14-Amp motor for more power and performance than the SKIL 5480
15% weight reduction vs. SKIL 5480 reduces user fatigue
51-Degree bevel with positive stop at 45-Degree for greater cut capacity that SKIL 5480
Improved dust blower keeps line of cut free of sawdust
Includes 20-Tooth Carbide Blade
[i2pc show_title="false" title="Pros & Cons" show_button="false" pros_title="Pros" cons_title="Cons" ][i2pros]Lightweight and compact design
Has a trigger release mechanism
Comes with an integrated dust blower
A power-on indicator light
Flexible[/i2pros][i2cons]Lacks an electric brake
Does not have a carrying bag[/i2cons][/i2pc]
---
Quick Rundown Of Skil 5280-01
Sale
Skil 5280-01 Circular Saw
Powerful 15-amp motor delivers 5 300-RPM for greater speed and faster cuts
7-1 4-inch carbide-tipped blade included. Spindle lock for easy blade changes.
51° bevel capacity with a positive stop at 45° for a wide variety of cuts
Dust blower keeps line-of-cut free of sawdust for improved visibility
Safety lock/guarded trigger and power-on indicator minimize accidental starts
[i2pc show_title="false" title="Pros & Cons" show_button="false" pros_title="Pros" cons_title="Cons" ][i2pros]More powerful
Helpful to see the cut line clearly thanks to a blower
Ensures your safety via a guarded trigger
Provides you with a variety of cut options
Has the laser beam's guidance [/i2pros][i2cons]Heavier than its opponent
Does not have an electric brake[/i2cons][/i2pc]
---
Conclusion
It is not an exaggeration to say that Skil 5180-01 vs 5280-01 come in handy for many DIY projects around the house. After considering carefully, we highly praise the 5280-01 unit for its power and convenience during cutting?
However, you can have the opposite opinion. We believe that you can choose the right tool afterward.