Further down the page, you'll find some explanations regarding the key similarities and differences between the Sole F63 and the Proform Power 995i.
But before checking out explanations regarding their specs, features, and warranty, here's a table that summarizes the main technical summary sheet for these 2 treadmills:
Image
The Winner (#1)
The Runner-up (#2)
Heart Rate Monitor
Pulse Grips and Chest Strap
The Winner (#1)
Image
The Runner-up (#2)
Image
Heart Rate Monitor
Pulse Grips and Chest Strap
Specs Comparison
In terms of sizes, Sole F63 has a dimension of 57 x 82 x 35 inches in height, weight, and width, respectively, while ProForm 995i is slightly bigger with 66.75 inches height, 81 inches height, and 37 inches width. Hence, the F63 is more compact to easily store in your house than the other.
Interestingly, both the Sole F63 and ProForm 995i are well known for their weight capacity; however, the Sole F63 is 25 pounds less
than the 995i from Proform.
ProForm 995i has far more available numbers compared to Sole F63 regarding the workout programs. On the ProForm model, users can select up to 30 workouts, whereas Sole F63 only offers ten programs.
Their running surface is identical, measuring 60 inches long and 20 inches wide. Besides, they both come with a 2-ply non-stretch belt which is commonly used for treadmills.
Sole F63 and ProForm 995i also have fantastic folding mechanisms that help runners easily raise and lower the treadmill's deck. The release lever is placed high on the deck of F63, while ProForm's release lever locates at the bottom half, where it can be released by foot.
The motors on both treadmills also have no differences. They use 3.0 CHP motors which support smooth operation and movements between speeds and incline levels. Although the sound while functioning is noticeable, it is not quite loud and will not bother the user as it will fade quickly into the background sound.
The incline range on Sole F63 and ProForm 995i starts at 0% and reaches a 15% maximum. The transition from one to another incline level is smooth, and they can remain steady at the highest level also.
Furthermore, these treadmills both have the same speed range, spreading from 0.5 MPH to 12 MPH. Although most users do not need to use the highest speed, it is great to know that it is available.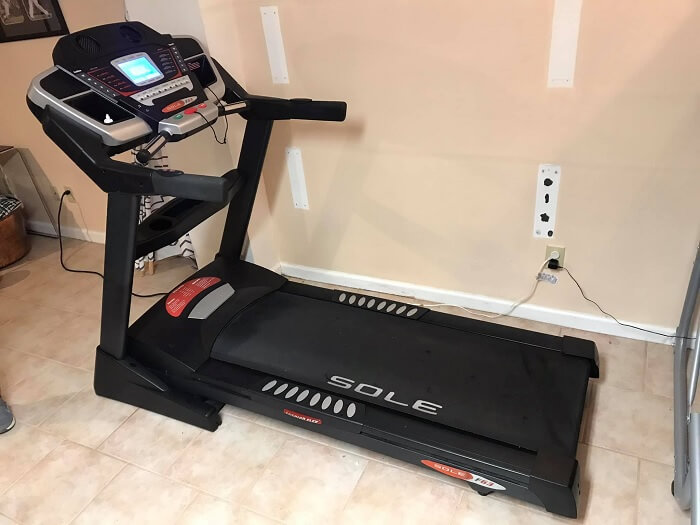 The fans, on the other hand, are not equally powerful on these machines. Even though it will not create much difference when users walk on the treadmill, the breeze put out from the Sole F63 is weaker while running than the ProForm 995i.
Both treadmills come along with pulse grip handlebars to check people's heart rate, but we have to mention that they are not entirely accurate. Moreover, the two can also sync with a chest strap, so feel free to buy a Bluetooth heart rate if you don't want to use the handlebars.
The ProForm 995i weighs 225 lbs when it comes to weight, whereas the Sole F63 weighs heavier at 254 lbs. But we are sure that both treadmills are pretty easy to move around.
Comparing Sole F63 vs ProForm 995i, the price of ProForm is nearly the same. However, ProForm usually has a discount, making it a bit more affordable for everyone.
Features Comparison
Generally speaking, their incline and speed controls are similar. A slight difference is the F63 is often slower, while the ProForm is always readily available.
Although the ProForm 995i has a wider range for program selection, they both require runners to scroll with the help of program buttons.
Moreover, the F63 has an LCD screen that displays in bright blue color. It provides all of the information during the workout process, but it is a bit messy for some users. ProForm, on the contrary, offers a round LCD screen, and it lights up when showing the data in the Tempo, Endurance, and Peak range. Users can scroll down if they want to see other information on the screen, which is less confusing to use.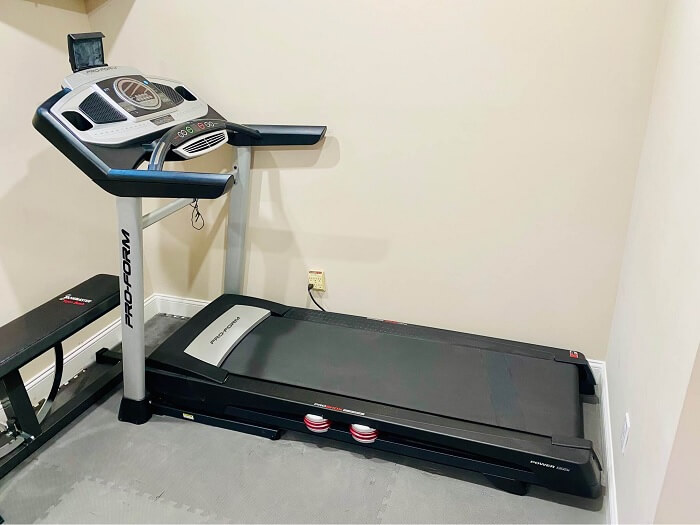 Apart from that, these treadmills also have speakers, but the ProForm's ones are better in quality. There are no entertainment features on the F63, while the ProForm 995i has a holder for mobile devices. However, the USB port is not available on both of them.
Users can use the Sole Fitness App for the F63 without extra fees, but the iFit Coach App for the ProForm costs a small fee monthly.
Warranty
In terms of warranty, Sole F63 and Proform 995i both include a 30-day trial period for a refund. Motor, frame, and deck worth a lifetime warranty, when the parts and labor offer five years and two years correspondingly.
Quick Rundown Of Sole F63
Sole F63 Treadmill
Features. 1/4 mile track feature and a Peak and Valley graph for different programs.. Built in speakers that allow you to hook up any MP3 player (iPod, etc.) for easy listening..
New for this year, the F63 now includes an Integrated tablet holder. Allows you to use your smart devices to watch shows or follow your workout routines. Included is a USB port.
Made in China.
---
Quick Rundown Of Proform Power 995i
Proform Power 995i Treadmill
6 inch high contrast multi-color display, iFit Bluetooth Smart (ble) enabled
3. 0 CHP* drive System, walking belt 20 x 60 proshox
Digital quick speed control 0-12 MPH, digital quick incline control 0-12%
30 preset workout Apps, Coolaire workout fan, EKG grip Pulse, 325 lb. user capacity
---
Product Videos
---
Conclusion
Even though both treadmills have amazing features and great design, we highly recommend ProForm 995i for its entertainment features and well-qualified LCD. However, this does not mean that Sole F63 is a bad treadmill. If you want a more compact treadmill, the Sole model is considerable.
---