Further down the page, you'll find some explanations regarding the key similarities and differences between the Sole F63 and the Proform Performance 600i.
But before checking out explanations regarding their specs and features, here's a table that summarizes the main technical summary sheet for these 2 treadmills:
Image
The Runner-up (#2)
Display
10″ full color capacitive touch display
The Runner-up (#2)
Image
Display
10″ full color capacitive touch display
Specs Comparison
When buying a treadmill, pricing is the first aspect that customers will look up to. Comparing the Sole F63 and ProForm 600i, the former is $400 cheaper than the latter.
Now let's check the weight-bearing capacity of these treadmills. Mid-range treadmills tend to specify a weight limit between 200-400 lbs. In detail, both ProForm 600i and Sole F63 tend to hold weight up to 325 lbs.
Another major feature of treadmill training is workout programs. The Sole F63 is suitable for people who are new to exercising at home because it offers 10 built-in fitness programs. To be specific, this workout scheme combines 2 customizable programs, 6 fixed programs, and 2 heart programs as well.
In contrast, the ProForm 600i provides 22 built-in workout presets, which include various options like heart rate training, interval running sessions, etc.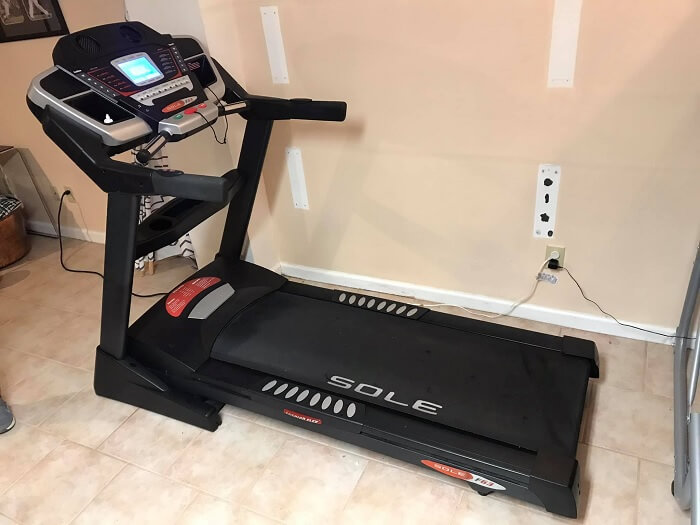 In terms of running surface, the Sole F63 and ProForm 600i come with a 20×60-inch surface.
It is reported that users rarely hear the rough motor noise on these treadmills. With the 2.75 HP motor, the ProForm 600i performs remarkably quietly. The Sole F63 also impresses users with the silent 3.0 horsepower motor.
When comparing the power incline, the F63 allows runners to go from flat to 15% incline, which is suitable for intensive workouts. On the other hand, the Performance 600i machine offers 0-12% quick incline grade, helping burn calories speedily.
Similar to other trainers, both Sole F63 and Proform 600i allow users to reach 12 MPH, perfect for training and long-distance running.
As the Proform 600i consists of a built-in cooling fan, you can feel cool off during your workout from the onboard fan. Thanks to the armrest cooling fan, the Proform will also keep you cool through your muscle training.
The ProForm 600i treadmill provides a grip heart rate monitor for all practitioners with basic needs. When users hold on to the EKG grip pulse sensors, the heart rate will be displayed on the console. On the other hand, if runners want to check their heart rate on the Sole F63, they need a wireless chest strap that senses the electrical impulse of their heart.
How big are these treadmills? The Sole F63 is 75 x 33 x 58 inches and weighs 260 pounds. Meanwhile, the ProForm 600i measures 82.5 x 30 x 13.5 inches, and it has a shipping weight of 224 pounds. Runners can fold up these treadmills after using them to free up space.
These treadmills both have front and rear rollers so that you do not need to tilt them at an angle to roll them to the new location. Moreover, the large rollers lessen the rotation and tear between the belt and the bearings.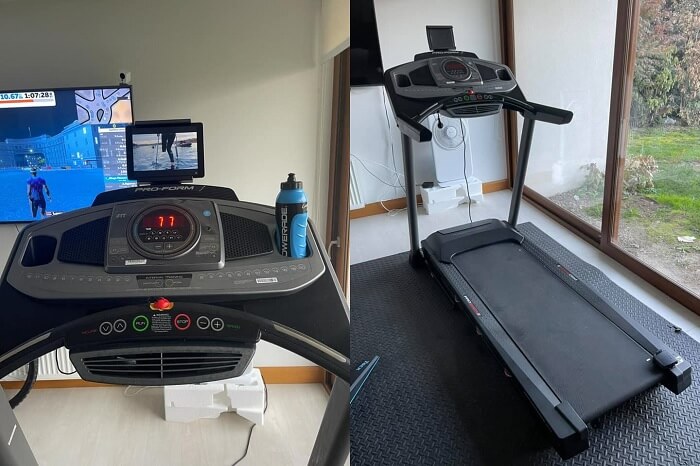 Features Comparison
In order to adjust the speed and incline of both trainers, you can either press the numbered buttons or use the plus/minus buttons on the trainer console.
A 10-inch Smart HD touchscreen is integrated into the ProForm 600i, while the Sole F63 comes with a 6.5-inch LCD screen. These smart boards show speed and incline information.
Do Sole F63 and ProForm 600i have Bluetooth? Yes. You can connect your phone and play music through a wireless Bluetooth connection. Along with this function, the audio speakers for transmitting sounds are both included.
Furthermore, Apple and Android users can easily download workout apps like iFit, which provides workout programs at home. This app contains training programs and fitness equipment. If you buy the 600i, you can be a member of iFit and have 1 year of coaching free.
Both trainers have two drink bottle holders, which are attached to each side of the console. The only difference is that the cup holders of ProForm 600i are pretty narrow compared to the Sole F63.
Warranty
The Performance 600i trainer currently has a lifetime warranty for the motor, 10 years coverage for the frame, 2 years for part-backed warranty, and 1 year of workmanship warranty.
The Sole F63 treadmill carries 20 years motor warranty, 3 years coverage of deck, frame, and the electronics/belt/rollers, and a 1-year labor warranty.
Quick Rundown Of Sole F63
No products found.
[i2pc show_title="false" title="Pros & Cons" show_button="false" pros_title="Pros" cons_title="Cons" ][i2pros]Affordable price
Foldable treadmill
Lifetime warranty
Treadmill deck cushioning
Good storage area
[/i2pros][i2cons]Lack of advanced technical features
Weak fan power
Impossible for heavy training[/i2cons][/i2pc]
---
Quick Rundown Of Proform Performance 600i
Proform Performance 600i Treadmill
60-inch length gives your legs plenty of room to stretch out your stride
20 x 60 tread belt, proshox cushioning, space saver with easy lift assist, IPod Compatible audio
CoolAire workout Fan, EKG grip Pulse, 325 lb Weight capacity
This Treadmill is protected with a Lifetime frame and motor Warranty, 2-year parts Warranty and 1-Year Labor Warranty
If it Compatible- requires if it Wireless module; sold separately; buy an if it Wireless module and receive a free one-year if it subscription
[i2pc show_title="false" title="Pros & Cons" show_button="false" pros_title="Pros" cons_title="Cons" ][i2pros]iFit workout app compatible
ProShox cushioning
Foldable design
Coolmore cooling fan[/i2pros][i2cons]Limited warranty to specific parts
Short side rails[/i2cons][/i2pc]
---
Product Videos
---
Conclusion
To sum up this review of Sole F63 vs Proform 600i, we are delighted to conclude that the Sole F63 treadmill is the winner! Although the ProForm 600i has its own advantages, Sole F63 proves itself a sturdy and reliable trainer with its excellent build quality and warranty!
---