Further down the page, you'll find some explanations regarding the key similarities and differences between the Sole S77 and the Sole F63.
Specs Comparison
We consider that price is the main factor that affects the purchase decisions of a product. Sole F63 utterly wins people's hearts, as it is cheaper than the S77.
Following this is the weight capacity of the machine. It seems that Sole F63 can handle a user's weight at an average of under 325 pounds. In contrast, the weight capacity of Sole S77 can manage a constraint weight of 400 pounds – which works for heavier users.
What you also need to think about is built-in programs on treadmills. To be more specific, Sole S77 offers you the same number of 10 preset exercises as F63.
Regarding running surface size, Sole S77 and Sole F63 have a little difference in width. Sole S77 with 22″ x 60″ and Sole F63 with 20''x60″ offer spacious running areas that satisfy all in-house runners. Additionally, Sole S77 can better fit taller people.
What's about the treadmill's power? The Sole S77 treadmill has a stronger motor than Sole F63. One bonus point is that its four-horsepower combined with two zinc-coated flywheels is perfect for minimizing vibration and noise. While Sole F63, with its 3.0 horsepower, has normal heavy-duty flywheels to keep the motor cool without promising a low noise level.
A quick look at the decline, Sole F63, and Sole S77 both offer you a flexible incline range from 0% to 15%. With Sole S77, it is awesome that users can adjust the decline angle automatically at their target heart-rate zone.
Moreover, there is a similar top speed of 12mph for the two trainers. At the maximum speed, Sole F63 and Sole S77 can run stably and smoothly.
Both treadmills have wireless heart rate readers. The trainer utilizes contact pulse and wireless chest straps to track heart rate and allow you to adjust speed.
Sizing is also a noticeable factor to take into account. While Sole F63 takes up the space of 82″ long x 35″ wide x 57 "" high, Sole S77 occupies the space of 80″ long x 36″ wide x 58″ high. Hence, Sole S77 is a bit bulkier than its brother.
How about the mobility of two treadmills? Well, for Sole S77, it is quite hard to move as it has a non-folding frame. In contrast, users can pull Sole F63 with its wheels after folding it. To get treadmills started, you press the "Start" button and adjust your wishing speed.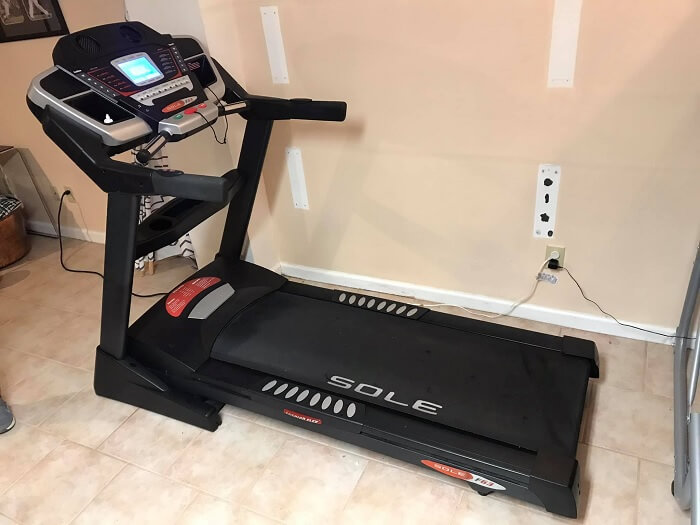 Features Comparison
As mentioned above, users can adjust speed and decline to suitable levels. With Sole F63 and Sole S77, you can use buttons on display or handlebars to turn up or down the speed of the decline angle. At a glance, Sole S77's 10.1 – inch LCD graphic screen is superior to Sole F63's 6.5 -inch basic screen.
Furthermore, both of these treadmills can help you keep track of your heart rate with a wireless chest strap or stainless steel sensors at the front crossbar for Sole F63 and on the handlebars for Sole S77 doing exercises.
Also, there are diversified types of workouts on two treadmills. Like Sole F63, Sole S77 has typical preset programs such as Hill, Fat Burn, Cardio, Interval, and Strength.
What about the speakers of Sole F63 and Sole S77? Well, both treadmills are equipped with Bluetooth audio speakers. This connection allows you to play music on speakers by syncing it to your smartphone.
If you are a music lover, it is unimaginable that you can do workouts without music, right? So, Sole S77 with a USB charging port can be a lifesaver. Unfortunately, Sole F63 can not support you with this function.
One significant thing about Sole S77 and F63 is connecting with Sole Fitness App via Bluetooth connection. This app records your current workout data and tracks your progress; then, you can maximize your training process based on that.
Despite the two treadmills striking people with Bluetooth connectivity, the Internet connection is unavailable on Android or IOS operating systems!
You may wonder: Do these machines have a place for water bottles? Yes! Don't get worried! With storage traps designed on two sides, Sole S77 and Sole F63 can solve this problem.
When you buy a Sole F63, you have a lifetime frame, lifetime motor, 3-year part ( electronics and deck included), 1-year labor warranty.
While purchasing Sole S77, you have a lifetime frame, lifetime motor, 5-year parts, and 2 -year labor warranty.
Quick Rundown Of Sole S77
[i2pc show_title="false" title="Pros & Cons" show_button="false" pros_title="Pros" cons_title="Cons" ][i2pros]Wide LCD screen
USB charging port
Powerful motor
No noise disturbance[/i2pros][i2cons]Non-foldable
Higher price
[/i2cons][/i2pc]

---
Quick Rundown Of Sole F63
No products found.
[i2pc show_title="false" title="Pros & Cons" show_button="false" pros_title="Pros" cons_title="Cons" ][i2pros]Reasonable price
Foldable
Spacious running track[/i2pros][i2cons]No USB charging port
Basic display screen[/i2cons][/i2pc]

---
Product Videos
---
Conclusion
After comparing Sole S77 vs F63, we suggest that Sole S77 is a better choice based on its powerful motor, compact size, smart design, and low noise level. However, this is only based on our perspective. Please choose the one that can satisfy your personal needs and demands.
---