Further down the page, you'll find some explanations regarding the key similarities and differences between the Proform Pro 5000 and the Sole F80.
But before checking out explanations regarding their specs, features, and warranty, here's a table that summarizes the main technical summary sheet for these 2 treadmills:
Image
The Winner (#1)
The Runner-up (#2)
Heart Rate Monitor
EKG grip pulse Sensor and wireless chest strap
Pulse grip and chest strap heart rate monitoring
Display
7.5-inch LCD workout display
Audio
Audio Auxiliary Port and Bluetooth Speakers
MP3-compatible sound system
The Winner (#1)
Image
Heart Rate Monitor
EKG grip pulse Sensor and wireless chest strap
Audio
Audio Auxiliary Port and Bluetooth Speakers
The Runner-up (#2)
Image
Heart Rate Monitor
Pulse grip and chest strap heart rate monitoring
Display
7.5-inch LCD workout display
Audio
MP3-compatible sound system
Specs Comparison
Pricing is perhaps the most prior factor to think about when it comes to purchasing any products. When putting Proform Pro 5000 vs Sole F80 into a price comparison, there is not much difference between the two products.
In detail, Sole F80 comes with a price of a little higher than $1,500 while Proform Pro 5000 is sold at nearly $1700. So, you know which one is a winner in this battle. To those who are on a tight budget, Sole F80 can be a better choice.
So, we are done with comparing the price of the two treadmills. Let's put aside pricing to discover the dimensions.
Sole F80 is generally a smaller and lighter treadmill compared to Proform Pro 5000. The machine is 82 inches long, 37 inches wide, 57 inches high, and 278 lbs. As a result, this model occupies less area in your room. So, if you worry about the availability of space in your home, then F80 is a better choice. Coming with light and small dimensions is convenient to fold and unfold the machine.
As said, Proform Pro 5000 is a larger and heavier model as its measurement is 79 inches long, 39,12 inches wide, 71 inches high, and 310 lbs. This is why it is going to "eat" more areas of your room.
The maximum weight to carry between Proform Pro 5000 vs Sole F80 is different. Sole F80 supports 350 lbs while 300 lbs weight carrying is for Proform Pro 5000. Hence, Sole F80 is more suitable for more customer segments.
To this point, many of you might be prone to Sole F80 already. But do not make up your mind yet as Proform Pro 5000 has some advantages over Sole F80. Let's find out.
In terms of built-in training programs, while Proform Pro 5000 has 34 training programs, the Sole F80 only provides 10 exercises for its users, including 2 custom workouts, 2 HR-controlled workouts, and 6 standard workout programs.
Regarding power, the treadmill of Proform overtakes the Sole F80 with a powerful 3.75 HP motor- allowing it to speed up to 12 MPH, which is way stronger and quicker than Sole F80.
Regarding Sole F80, the machine comes with a 3 HP motor, which can also reach 11MPH. Hence, the power and the speed are not equal to Pro 5000. Both models are best for casual home users, not designed for professional runners.
Now, let's examine the treadmill's incline and decline level. The motorized incline range of Sole F80 is from 0% to 15%, which can change to simulate outdoor terrain. However, Proform Pro 5000, besides coming with an incline range between 0% to 15%, supports a 3% decline level to diversify your training experience.
What about their belt sizes? Well, while Sole F80 and Proform Pro 5000 have a running belt at 22 x 60 inches, Not much difference between them, right?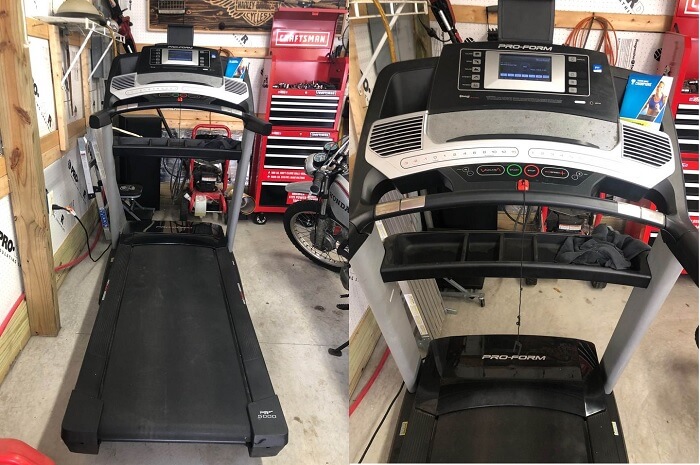 Features Comparison
Both Proform Pro 5000 and Sole F80 go with BlueTooth connection with mobile devices and apps. Also, there are speakers to help you listen to music while training.
Besides, two treadmills also have LCD screens to show workout data. Nevertheless, Proform Pro 5000 features a 10-inch LCD touch screen- 2.5 inches larger than Sole F80's.
Heart Telemetry is also a technology that the machines support. Users can use the heart straps to keep track of their heart rate anytime while training.
Apart from these features mentioned, the Pro 5000 wins over Sole F80 in that it is enabled for iFit, a popular all-in-one fitness app. Specifically, iFit allows users to access hundreds of training programs, iFit Coach, Google Maps all around the world, and more other features.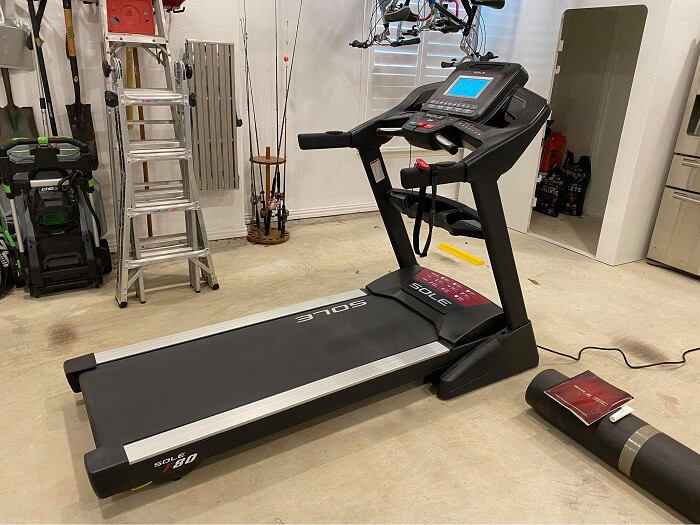 Warranty
Sole F80 offers a lifetime warranty that covers the motor, frame, and deck. Nevertheless, the other parts of the treadmill are under a 5-year warranty, and the labor is covered for 2 years.
But with Proform Pro 5000, buyers will get a cover of a 10-year warranty on the Proform Pro 5000's motor, frame, deck, 2 years on other parts, and 1 year of service.
Quick Rundown Of Proform Pro 5000
Proform Pro 5000 Treadmill
Adjustable tablet holder, iFit enabled, EKG with wireless chest strap, 4.0 CHP* Mach Z commercial Pro Motor
15% incline, -3% decline, proshox cushioning, 34 workout apps, 22" x 60" tread belt, 0-12 MPH Quick Speed control
7 inch Full-color touchscreen, Space Saver design with easy lift assist, iPod compatible audio, EKG heart rate monitor with wireless chest strap
Dual Coola ire workout fans, integrated tablet holder, 2.5 inch balanced rollers, integrated accessory Tray, 300 lb. Weight capacity
Once you create your raving workout playlist, just plug your iPod or MP3 player into our built-in sound system. Built with dual 3-inch speakers, you can turn up the tunes and turn up the tempo
---
Quick Rundown Of Sole F80
Sole F80 Treadmill
Folding treadmill with 3.0-horsepower continuous-duty motor
Vibrant 7.5-inch LCD display with integrated speakers and audio cable
6 standard workouts, 2 custom workouts, and 2 HR-controlled workouts
Easy Assist folding deck design; Cushion Flex shock-absorption system
350-pound capacity; measures 33 x 80 inches (W x D); weighs 250 pounds
---
Product Videos
---
Conclusion
This article has provided you with a quick comparison between Proform Pro 5000 vs Sole F80. Proform Pro 5000, with all its advantages over Sole F80, is a better treadmill for casual home runners.
---