Telling the better generator from Wen 56202i vs 56203i is not an easy task, especially when both come from the famous Wen brand and serve the same purpose as standby power during hurricanes/power outages. Not to mention they do share a lot of other specifications in common as well.
Now relax, it's okay to feel so confused over such information. From now on, we'll fill you in on why the manufacturer splits them into two separate lines and which line performs greater, all with our in-depth comparison.
Wait no more, and let's kick right in!
Differences Between Wen 56202i Vs 56203i
Judging from the first glance, Wen 56202i and Wen 56203i 2000-Watt might not look that much of a difference: the distinct orange-gray color, the control panel on the side, and the ventilation shaft. Thus, we'll break them down from the pricing, utilities, and maintenance angles.
Prices
These two lines of Wen generator are comparatively cheap when compared with a Honda counterpart, which will cost you more than $500.
Yet with a budget of $500, you can purchase both the Wen 56202i and Wen 56203i 2000-Watt and even have some spare cash for your personal use. Isn't it amazing?
Utilities
Both the Wen 56202i and the Wen 56203i 2000-Watt are designed with the attention to details from the manufacturer. Thus they have an approximately 39-pound lightweight design, which makes them more than effortless for the user to move from place to place.
Running on a four-stroke engine, which is inherently famous for its working accuracy, efficiency, and durability, these generators can last around 7 hours with a half-loaded tank and up to 10.5 hours with a quarter-loaded tank.
The Wen 56203i 2000-Watt also features a 3-in-1 switch for ease of adjustment, which is Off, Fuel Off, and On from left to right.
The two notable characteristics that set Wen 56202i and Wen 56203i 2000-Watt apart are that the former is more of a lightweight design, and the latter features a special fuel shutoff. This fuel shutoff system allows the running engine to make use of the remaining fuel in the carburetor whenever it amounts to low on the engine.
Both of them produce clean power, which is safe for charging electronic devices like smartphones, tablets, and computers. But that's not the best part, though. They can even be your very assistant on construction sites, camping trips, tailgate parties, and so forth.
Last but not least, for those who are sensitive with a loud noise, there is another reason that you should go for these buddies, as their maximum loudness is only 51 decibels, similar to a window air conditioner or a casual conversation.
Maintenance
The inverter generators on these Wen products come with an exclusive two-year warranty from the company, backed off by a nationwide network of technicians and an always-available hotline.
So then you know who to reach out to if there come any problems!
Quick Rundown Of Wen 56202i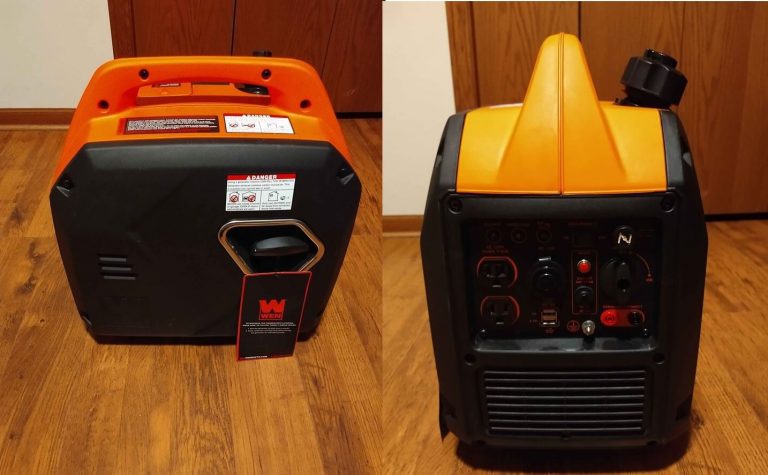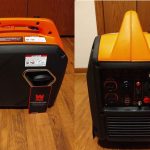 Having looked at the general comparison, now let's see the recap on Wen 56202i.
No products found.
Pros:
Lightweight design
Easy to start
Rather a quiet operation
Features an eco mode for maximizing fuel economy
Great durability
Affordable price
Cons:
Doesn't have the fuel shutoff system
Requires a separate connection kit to up the power

Quick Rundown Of Wen 56203i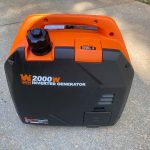 Let's find out how the Wen 56203i differs from the last one.
Pros:
Great portability
Features a fuel shutoff to increase the longevity of the generator
As quiet as a normal conversation
Can be combined with another Wen generator for more energy
Great durability
Cons:
A grounding rod and wire not included

Conclusion
Well, Wen 56202i vs 56203i, what do you say after all? For us, we would go for the latter. Even though its price is slightly higher than the former's, its fuel shutoff system, ease of power upgrading and noise compression make up for that. Now, tell us your final decision!
Popular Alternatives Worth Considering: