Wen 56202i vs 56203i? Which one performs better? Which one most fits your budget? How can you give your final verdict? Follow our article to answer such questions.
Differences Between Wen 56202i and 56203i
Power Comparison
Similar to other competitive generators, two generators run on gasoline fuel. They also include an economy mode for efficient fuel efficiency, low-oil, and low-fuel automatic shutdown consolidating with the built-in overload insurance and indicator lights to protect your generator and your gadgets from damage.
To be more specific, the 56203i and 56202i models are powered by a 79cc WEN OHV 4 stroke engine with a running power of 1700W and a maximum power of 2000W. This means that they can provide enough power for more appliances such as computers, mobile phones, tablets, and TV.
Moreover, the 56203i and 56202i are quite efficient with a built-in ECO mode. At 50% load, they will operate for up to 7 hours of runtime. Two products also have a similar fuel tank capability of 1 gallon and an energy consumption level at 0.14 GPH.
The WEN 56203i (51dB) noise level is the same as that of the 56202i. Therefore, both models are some of the quietest inverter generators than others on the market. They also have a low THD supply of 1.2%, which is suitable and ensures safety for sensitive electronics in your house.
Design Comparison
At the first look, WEN 56203i and 56202i have similar looks and compact designs. However, consumers can easily differentiate them by dimension indicators and weight. Compared to the 56202i, the WEN 56203i provides a better experience with a smaller size (17.3 x 11.5 x 17.7 inches). Meanwhile, the 56202i model is larger with a size of 18 x 18 x 12 inches.
Interestingly, the 56202i generator comes up with a lighter weight (39 lbs) than the 56203i one (40.3 lbs). Hence, these differences make WEN 56202i more portable and easy to position into the storage area than its sibling – the WEN 56203i model.
Features Comparison
You can start the WEN 56203i and its brother-56202i by simply using a traditional pull recoil cord in terms of launching.
Moreover, both of these models are available with a couple of household AC outlets that allow more than one device to connect. But there is a small difference between the two generators, as the 56202i offers three more DC, which gives you a great selection regarding plugging up your electronics.
Quick Rundown Of WEN 56203i
WEN 56203i Portable Inverter Generator
Ultralight body weighs in at a mere 39 pounds for easy transport and storage
Extremely quiet operation comparable to the sound of a normal conversation according to the US Department of Health and Human Services
Produces 2000 surge watts and 1700 rated watts of clean power for safe charging of sensitive electronics (phones, tablets, televisions, computers, etc.)
Fuel shutoff maximizes the generator's lifespan by using up the remaining fuel in the carburetor before shutting down
Includes two three-prong 120V receptacles, one 12V DC receptacle, two 5V USB ports, and a two-year warranty
[i2pc show_title="false" title="Pros & Cons" show_button="false" pros_title="Pros" cons_title="Cons" ][i2pros]Excellent safety feature in terms of low oil shutdown, warning lights, and overload protection
ECO-mode
Four-stroke OHV engine
Quiet
Parallel capabilities[/i2pros][i2cons]No electric start
Requiring oil changes frequently[/i2cons][/i2pc]

Quick Rundown Of WEN 56202i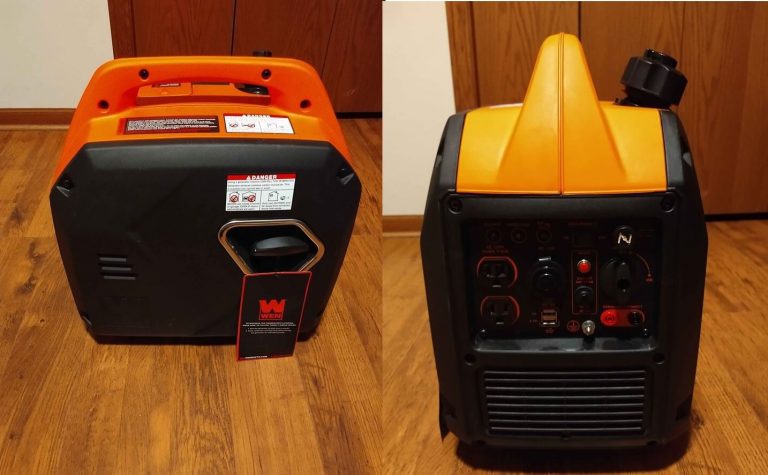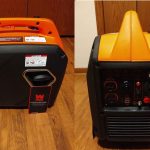 [i2pc show_title="false" title="Pros & Cons" show_button="false" pros_title="Pros" cons_title="Cons" ][i2pros]Extra USB port
Durable working
CARB and EPA III complaint
Reliable performance
3 DC drives[/i2pros][i2cons]Higher price
Charging heavy appliances[/i2cons][/i2pc]

Product Videos
---
Conclusion
Overall, it is a tough choice between the two products as both models are quite similar. However, the WEN 56202i provides better experiences when carrying around and multiple plugs, which wins our hearts.
With the "WEN 56203i vs 56202i" comparison, we hope to provide enough information to find and quickly choose the one that suits you best. Thanks for reading, and see you in our next post!