As two of the most efficient and quiet inverter generators in their price range, WEN 56200i 2000-Watt, and WEN 56202i have numerous similar advantages that make it really hard to choose one between them.
Acknowledging this, in this article, we will provide a thorough comparison between WEN 56200i vs 56202i as well as give you a quick run-through of each product's pros and cons. Read on!
Differences Between WEN 56200i vs 56202i
Image
The Winner (#1)
The Runner-up (#2)
The Winner (#1)
Image
The Runner-up (#2)
Image
Besides various characteristics shared by WEN products, there is a lot to tell between the 56200i and 56202i, especially in terms of power, portability, and other features.
Utilities and Power Comparison
With the same starting wattage of 2000 V, both WEN 56200i 2000-Watt and WEN 56202i are perfect to use in campgrounds, construction sites, and in case of power outages. However, as an updated version, WEN 56202i overtakes WEN 56200i 2000-Watt in terms of power by a wide margin.
Running wattage: The 56202i's running wattage is 100 W higher than that of 56200i, with 1600 W. This allows the 56202i to power more equipment and appliances in your house at the same time.
Runtime: On a full tank, the 56202i can deliver power for up to around 7 hours, 1 hour longer than the 56200i.
Efficiency: WEN 56200i 2000-watt has a fuel tank of 1 gallon and a duration of 6 hours at 50% load, which means its fuel consumption is about 0.17 gallons per hour (GPH). In this regard, the 56202i is a lot better with 0.14 GPH. This efficiency will save you a considerable amount of money and is environmentally friendly as well.
Portability
WEN 56202i is among the most compact and lightweight inverter generators with a weight of 38.6 pounds, whereas the 56200 is 12.4 pounds heavier. Even though both models offer a side handle, the 56202i is obviously easier to carry around.
Feature
Fuel gauge: Integrated into WEN 56200i 2000-Watt, this device is a user-friendly feature that allows you to see the fuel level instantly. It is otherwise not available in WEN 56202i.
Noise: The 56200i is definitely among the quietest generators out there with 50 dBA, which is just about the noise of a conversation at home. For WEN 56202i, the number is slightly higher: 51 dBA.
Quick Rundown Of Wen 56200i 2000-watt
Wen 56200i 2000-watt
Dimensions: 18" x 11" x 18" | Weight: 48 lbs
Noise Level: 53 dB operation
EPA III and CARB Compliant 79.7 cc 4-stroke OHV engine produces 2000 surge watts and 1600 rated watts
Great for campgrounds, construction sites, tailgates and power outages
Produces clean power to safely operate and prevent damage to sensitive electronics such as phones, tablets, televisions and computers
Pros:
Flawless performance
Reasonably-priced regarding what it offers
Low operating noise level, really convenient to use in public space
More user-friendly than most products of its price thanks to handy features such as low fuel shutoff or fuel gauge
Cons:
Lower running watts and runtime
Higher oil consumption

Quick Rundown Of Wen 56202i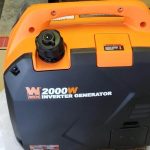 Wen 56202i
Ultralight body weighs in at a mere 39 pounds for easy transport and storage
Extremely quiet operation comparable to the sound of a normal conversation according to the US Department of Health and Human Services
Produces 2000 surge watts and 1700 rated watts of clean power for safe charging of sensitive electronics (phones, tablets, televisions, computers, etc.)
Fuel shutoff maximizes the generator's lifespan by using up the remaining fuel in the carburetor before shutting down
Includes two three-prong 120V receptacles, one 12V DC receptacle, two 5V USB ports, and a two-year warranty
Pros:
Among the most compact and lightweight inverter generators on the market
Excellent fuel efficiency with just 0.14 GPH at a 50% load
High runtime as it can deliver power for up to 7 hours straight
Higher running watts at 1700 W, allowing users to power more appliances at the same time
Cons:
Slightly more expensive than the 56220i
Lacks fuel gauge that instantly informs users of oil level

Conclusion
As each model has its own pros and cons, choosing between WEN 56200i vs 56202i is never an easy task.
As an updated version of WEN 56200i 2000-Watt, WEN 56202i seems superior with regards to power capability and compactness, which makes the model the better choice if leaving out the matter of money. However, it is your using purpose that decides which model will suit you best.