Image
The Winner (#1)
The Runner-up (#2)
Verdict
✔️ Lightweight and portable ❌ Vibrations that are uncomfortable.
✔️ Lightweight and portable ❌ High noise level
The Winner (#1)
Image
Verdict
✔️ Lightweight and portable ❌ Vibrations that are uncomfortable.
The Runner-up (#2)
Image
Verdict
✔️ Lightweight and portable ❌ High noise level
In the battle between Aircat 1150 vs Ingersoll Rand 2235, which one is the champion? Follow our brief comparison to see the final result.
Aircat 1150 vs Ingersoll Rand 2235 – Both models have made it to the final round. However, there is only one that wins. Follow us as we will give them equal judgments based on their main differences, special features, and limitations. After that, you help us decide the winner.
Differences Between Aircat 1150 Vs Ingersoll Rand 2235TiMAX
Aircat 1150 vs Ingersoll Rand 2235, how do they differ? Here is our quick comparison of their origins, prices, performances, and designs.
Origin
The first notable feature we can point out lies in the different brands the two products come from. While the AIRCAT 1150 comes from the renowned brand Aircat which has a 30-year history of making power tools, the Ingersoll Rand 2235TiMAX is a product of Ingersoll Rand, a brand that has been making construction tools for over 100 years.
Price
When it comes to shelf price, the Ingersoll Rand 2235TiMAX significantly exceeds the AIRCAT 1150 though they both come into the market at single products. Price can vary among different sellers so it is not the deciding factor. Instead, the performance makes the worth of a power tool.
Performance
The Ingersoll Rand 2235TiMAX produces significantly high torque, which is a maximum of 1350 feet pounds. Therefore, Ingersoll Rand 2235TiMAX is a tough competitor. It offers more power to handle almost all kinds of automotive work.
Moreover, the hammer case is made from titanium – the 'strongest metal on earth', plus the durable composite material at the handle. All have contributed to a well-built air wrench on the market.
Meanwhile, the AIRCAT 1150 can only produce a maximum of 1295 foot-pounds. It can still handle your basic home tasks such as applicating bolts and nuts or loosening some corroded pairs of bolts and nuts.
Design
Overall, the black color that the AIRCAT 1150 comes in offers a more modern look that the blue-and-grey color of the Ingersoll Rand 2235TiMAX.
Both the AIRCAT 1150 and the Ingersoll Rand 2235TiMAX feature a very compact design though there is a slight difference. We have a table of comparison below:
Quick Rundown Of AIRCAT 1150
AIRCAT 1150 1/2-Inch Impact Wrench
The sheer power and performance of 1, 295-Feet-pounds (ft-lb) of loosening torque and 1, 400 Blows Per Minute makes this the strongest hard hitting Twin Hammer 1/2 Impact Wrench on the market
AIRCATs patented tuned exhaust system gives this tool an extremely low decibel level of 86 dB, with no loss of power
Let's take a look at some features that make the AIRCAT 1150 a tough competitor in this battle.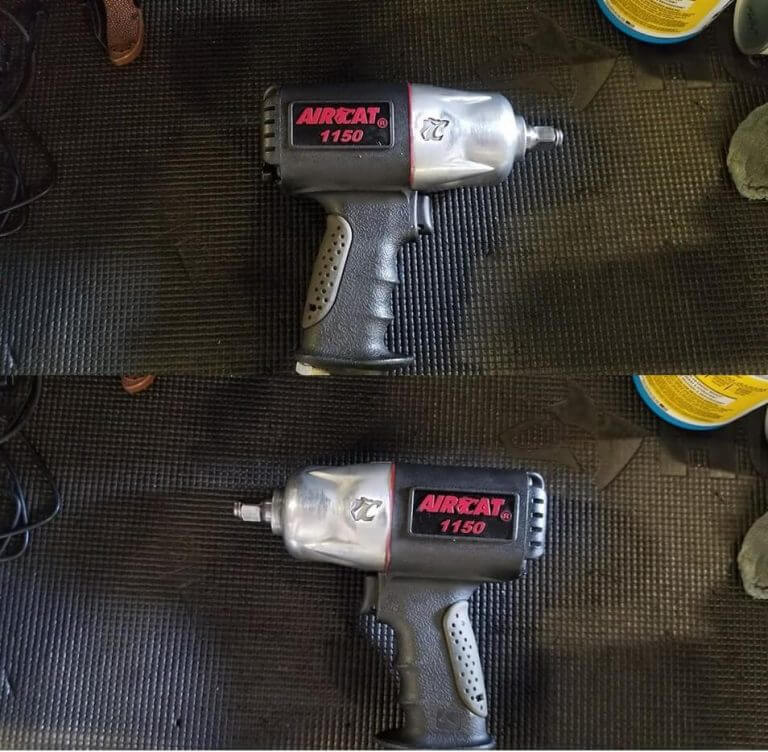 Pros:
The item runs on air power
Lightweight and portable (4.63 pounds)
Noise level reaches 86 dB which is friendly to your hearing
Comes with 2-year manufacturer warranty
Cons:
Users can come across unnecessary vibrations which is uncomfortable.

Quick Rundown Of Ingersoll Rand 2235TiMAX
Sale
Ingersoll Rand 2235TiMAX Drive Air Impact Wrench
Air impact wrench delivers powerful torque output
Up to 1,350 foot-pounds of nut-busting torque ideal for heavy-duty applications
Twin-hammer mechanism provides maximum power and durability
Lightweight design helps minimize fatigue
Composite housing and hammer case offer rugged durability
Some plus and minus points of Ingersoll Rand 2235TiMAX.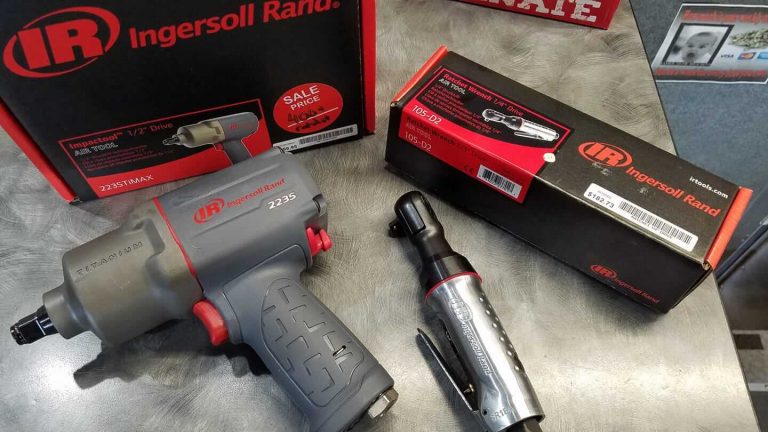 Pros:
The item runs on airpower so no batteries are required
The item weighs 4.63 pounds for extra portability
Titanium finish for extreme durability
Features trigger for speed adjustment
It comes with a two-year manufacturer warranty.
Cons:
The high noise level that requires proper hearing protection

Conclusion
This is the wrap up of our comparison post on Aircat 1150 vs Ingersoll Rand 2235. Both products come with pros and cons but we prefer the model Ingersoll Rand 2235TiMAX. It offers extra power durability. This is very suitable for heavy-duty and excellent long-term usage.
How about you? What is your final choice? We believe that you are able to make a smart choice after reading our post. Good Luck!