Ingersoll Rand 2235TiMAX vs 2235QTiMAX. How can you point out the finer one? Which one will be worthy of your investment? No worries, our comprehensive review will walk you through the comparison in the pros, cons, and utilities of each product.
In the meantime, get yourself a notebook!
Differences Between Ingersoll Rand 2235TiMAX vs 2235QTiMAX
Judging from the first glance, these two guys might be next to identical. Both the Ingersoll Rand 2235TiMAX vs 2235QTiMAX are air impact drivers from the series of the same well-known brand. They also do the main job of mechanical usage.
However, there are considerable differences in their automotive specifications, durability, and performance. Let's take a quick peek!
Appearance
Just like we've mentioned earlier, these two products do not look that much of a difference: both with the blue handles, some gray touch in the front, and some red on the switch.
And although these two guys weigh about 4.63 lbs, the Ingersoll Rand 2235TiMAX is about 1.5 times bigger than the other.
On their grips, we can see they're made of hard yet light plastics with some random "L" textures on and without any backing pads to support our hands.
Looking from the backend, these Ingersoll Rand buddies have four different settings of power adjustment, forward and reverse, which would be of great help for you to find the best tune levels when working.
To change it, you will need to press the left/right button underneath and then move the dial. These two steps instead of one step in other products might prevent you from accidentally hitting the power button.
Price
Released in the same Ingersoll Rand 2235 series for years already, both the TiMAX and the QTiMAX still keep their trophy as one of the best impact drivers both on the common market and to the automotive engineers.
One of the contributing reasons why they have been there for so long is the affordable price. We mean, they're just too good to be sold at only around $300.
Utilities
You might have noticed that the name of the 2235TiMAX and 2235QTiMAX got a "Q" difference. It's because the "Q" stands for "quiet", which means the latter has been revised with the quiet technology.
Thus, no noise whatsoever even when you're grappling with even big DIY tasks.
It's such black and white when compared with the 2235TiMAX which got a roaring 1/2″ drive pneumatic impact. Also, you're required to equip yourself with every hearing protection when working with this guy.
Still, they're both worth your money due to the number of working torques, being up to 1200 torques at maximum levels. At the same time, they barely move your hands and wrists AT ALL. Hence, throw them any strenuous automotive repair and you'll be as effortless as ever.
Maintenance
Both of these Ingersoll Rand products require regular oiled-ups to keep the anvil spotlessly smooth.
Also, the manufacturer has made a two-year warranty for both of these products. So make sure to make good use out of it.
Quick Rundown Of Ingersoll Rand 2235TiMAX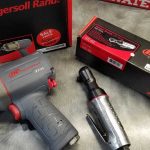 Pros:
A 4.63-pound lightweight body
Can last for a decade without breaking up
Sufficiently strong for big DIY/automotive tasks
Good warranty terms
Supreme quality
Cons:
Very loud
Not very ergonomic handle

Quick Rundown Of Ingersoll Rand 2235QTiMAX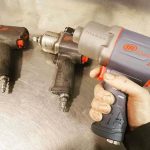 Pros:
A 4.63-pound lightweight body
Great durability
Makes next to no noise when working
Makes strenuous DIY tasks effortless
Easy maintenance
Saves time
Cons:
Still a little off-balanced

Popular Alternatives Worth Considering:
Conclusion
We bet you've had some pretty ideas on how the Ingersoll Rand 2235TiMAX vs 2235QTiMAX work, haven't you? As for me, personally speaking, I chose Ingersoll Rand 2235QTiMAX noise-reduced features and effortless usage.
But it's totally up to you to decide. Choose smart!