Bosch MRF23EVS and 1617EVS are two of the most modern and popular routers. Both are capable of performing detailed woodcuts, helping to mitigate the difficulty of complex cutting operations. From there, they can even create softer and smoother cuts.
They are also relatively similar in style, but with reasonably obvious differences in factors such as characteristics and power. So which one is better?
We have a few small comparisons to make this clear.
Difference between Bosch MRF23EVS and 1617EVS
Image
The Winner (#1)
The Runner-up (#2)
The Winner (#1)
Image
The Runner-up (#2)
Image
Power Comparison
Bosch 1617EVS owns a powerful engine block up to 2.25 horsepower, accompanied by 12 amp. This capacity allows the machine to run at a minimum speed of 8,000 rpm and maximum capacity up to 25,000 rpm.
A little more impressive, the MRF23EVS has an engine with a unique set of 15 amp, 2.3 hp. This equipment makes it possible to reach speeds between 10,000 and 25,000 pm.
We see that the minimum speed of the MRF23EVS is slightly better than that of its rival. This advantage is especially important in situations where you are dealing with a more rigid wood surface than usual.
Thus, although both machines can work smoothly with many different types of wood for other jobs, the MRF23EVS still has a more significant engine power and is much dominant than in this comparison.
Design Comparison
In terms of compactness, both these tools can pride themselves on their overall size and weight. The two machines are relatively similar in size: Bosch MRF23EVS has dimensions of 11.2 x 10.8 x 8.1 inches, and 12.3 x 10.2 x 7.7 inches regarding the Bosch 1617EVS.
With these compact volumes, both machines ensure flexible portability and help the carpenter smooth out the most challenging corners.
However, in terms of volume, the 1617EVS dominates with a total weight of only about 11.2 pounds, while the MRF23EVS is 13 pounds heavier. With a handheld requirement, the lighter in weight, even if minimal, makes the product more impressive.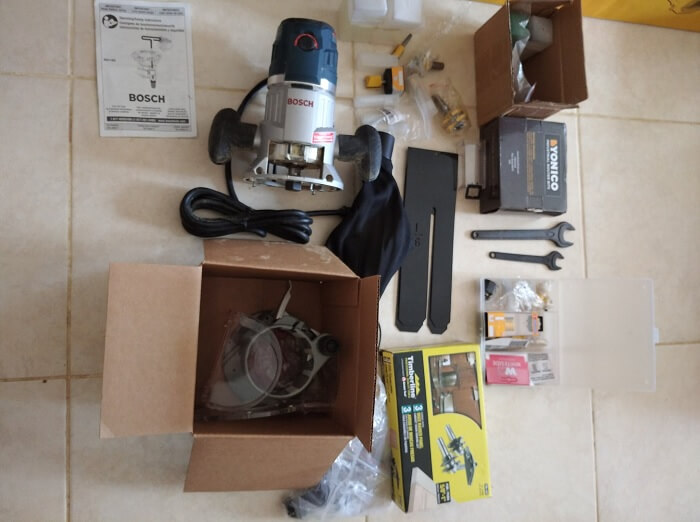 Features Comparison
Function
Bosch MRF23EVS has an integrated power switch right in the handle, and with simple activation, you can start using it. This convenience is beneficial with a hand-held machine as carpenters will be able to focus entirely on what's going on with their wooden surfaces.
Besides, this unit from Bosch has the function of adjusting the blade depth from 1 inch to ⅝ inch. This is relatively useful when the carpenter can customize the grinding angle to create more beautiful and later grades.
Meanwhile, the Bosch 1617EVS depth adjustment system has a range that extends from 1 inch to 1/64 inch. The degree of variation in this indicator of this machine compared to its rival.
Easy to use
Both models use the power switch on the handle. However, Bosch MRF23EVS has a relatively quality LED system. Not only that, but it also can illuminate the area and bring higher accuracy to each cut of the machine.
The Bosch 1617EVS has a dust-tight power switch that prevents dust from adhering to the internal engine.
Quick Rundown Of Bosch MRF23EVS
Sale
Bosch MRF23EVS Router
Versatile fixed-base depth adjustment features 1-5/8-Inch continuous micro-fine adjustment range and wrench for adjustments
Trigger power switch located in handle for enhanced control
Precision centering design makes it easy to keep bit on outline when using jigs, templates, dovetail fixtures and similar guidance devices
Two-stage quick clamp system for fast tool-free conversion
Constant Response circuitry maintains constant speed under load
Pros:
Depth adjustment feature
Easy-to-control power switch
The two-stage quick clamp system
Cons:
Big vibration
A lot of dust

Quick Rundown Of Bosch 1617EVS
Sale
Bosch 1617EVS Router
12 Amp router motor - Combines ample power with adjustable speed settings, allowing users to glide along cutlines
Adjustable speed dial (8000-25,000 RPM). 2 inch sub-base opening
Fixed base has threaded holes for mounting to router table positioned in common 3-hole pattern
Now includes RA1161 fixed-base with system for adjusting bit height from above a router table
Compatible with optional RA1129 template guide adapter set – For easy change of Bosch quick-release template guides and common threaded template guides; Includes RA1126 template guide adapter and RA1100 interface for threaded template guides
Pros:
Flexible speed
Threaded hole fixed
Convenience switch
Cons
Poorly working switch
Heavier than usual

Conclusion
The above is our brief comparisons and comments between Bosch Mrf23evs Vs 1617evs. The article is informative, and we hope that you can choose the right product for your needs and your requirements and conditions through this article.