It's so hard to find a good router table. The mechanical world is so vast and diverse with hundreds of inventions. Then how can a consumer-like you navigate?
In this battle between the Bosch RA118 vs RA1171 vs RA1141, each product has its specialty, and you must feel so tempted to buy them right now. But remember, a router table is a pretty big investment, that's why we're here to give you a detailed description of each product.
So, let's not waste any more time and continue to read this article!
1. Bosch RA1181 Benchtop Router Table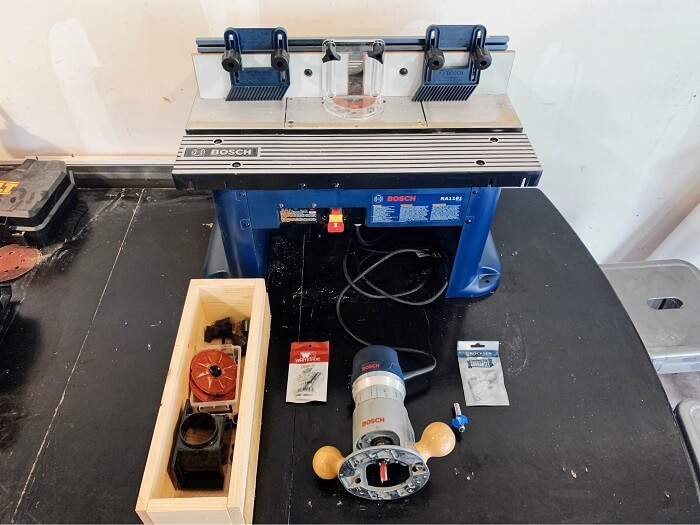 First up, we have the Bosch Benchtop Router Table RA1181. Marketed as a versatile router table with a large working surface, this table is expected to be very efficient at its job.
So does this table worth the money? Let's see!
This router table follows the benchtop design and has aluminum as its main material. Finished with a clear-coated aluminum top, this table promises a smooth looking appearance, as well as a durable quality.
Not to mention, this router table comes in medium size and provides portability. Its width is around 27 inches and the height is only 14.5 inches.
Weighing at 30 pounds, workers can carry this table around with ease. Many reviews applaud this wonderful addition to the machine.
On the downside, the RA1181 model doesn't bring much satisfaction in terms of its tabletop. Many users point out that its working area is not very flat and smooth as advertised. Though the surface is the only complaint about this product, it is a big deal for some users since they work on this area the most.
Fueled with 120 volts, the RA1181 sure is very powerful and suitable for long working hours.
The device contains an accessory slot that accepts feather boards in the equipment section, allowing more creative uses for the owners. Besides, you can also see a storage pocket, where users can store their accessories and make it easier for them while working.
Other than that, this table includes a dust-collection port so that the working surface can self-clean, and the users will definitely save more of their energy.
Overall, the Bosch RA1181 is a pretty decent router table. It has some flaws, but they are overshadowed by innovative features, such as the dust cleaner and portability.
Sale
Bosch RA1181 Benchtop Router Table
Benchtop router table design – Features a large aluminum top for extended work area, durability and precision
Rigid aluminum mounting plate – Pre-drilled for compatibility with a variety of routers and for above-table height adjustment
Extra tall aluminum fence – Has adjustable faceplates and feather boards to maximize precision and versatility
Dedicated standard dust-collection port – Fits standard 2-1/2 inch vacuum hoses for debris-free operation to help keep your work area clean
Easy-to-use adjustable feather boards – Attach to fence and table, providing additional guidance and kickback protection
[i2pc show_title="false" title="Pros & Cons" show_button="false" pros_title="Pros" cons_title="Cons" ][i2pros]Durable
Portable
Self-cleaning[/i2pros][i2cons]Non-flat surface[/i2cons][/i2pc]
---
2. Bosch RA1171 Benchtop Router Table
Next up, we come to the Bosch RA1171. A cabinet-style router table has a neat appearance as it is designed to look like a cabinet.
Whereas other tables have regular stools, the RA1171, with its cabinet-style construction, is supposed to have more stability. Users seem to be very satisfied with this design as it provides good stability when working. Some even say this table is very easy to assemble.
The table is 18 inches in height and its stool is 15.88 inches in width. However, the table surface is much wider, it is 25.5 inches.
Just like the other route table, the RA1171' engine runs at 120 volts, guaranteeing durable working stamina.
Furthermore, the cabinet design gives leeway for other excellent additions, for example, the two dust cleaners that work effectively. Some other features also get multiplied, such as the mounting plate ring, the feather boards, and the outfeed fence shims.
Quantity doesn't surpass quality in this case. Many people find it hard to adjust the fence as they usually get stuck in the track. Another thing that might bother some is that users can't adjust the table's height. Because woodwork requires long hours of labor, having a too low table or too high for you might affect your experience much or less.
All in all, this table is solidly built and has some appealing features, but the quality is still something to consider.
Bosch RA1171 Benchtop Router Table
Support: The tall aluminum fence measuring 4 7/8 inch x 25 1/8 inch can handle tall stock with ease; The fence is complete with adjustable MDF face plates for smoother operation with taller work pieces and out feed can be offset for jointing
Precision: The Bosch RA1171 features a rigid aluminum router mounting plate that stays flat and precise for accuracy; For added versatility, it's pre drilled to fit a variety of routers
Easy to use: Two easy to use feather boards attach to fence and router table, providing additional guidance and protection against kickback; They're fully adjustable to fit a variety of work pieces; Accessory slot accepts additional feather boards and 3/4 inch optional accessories such as miter gauge
Cleanup: With a cabinet style design, the RA1171 is able to feature two dust collection ports for removing any job site dust and debris; The dust collections ports fit standard 2 1/2 inch vacuum hoses
Convenience: Featuring a dual outlet switch with 6 feet power cord; Includes bench top router table, aluminum router mounting plate, 3x mounting plate rings, mounting hardware, 2x adjustable feather boards, adjustable clear guard, starter pin and guard, and 2x out feed fence shims
[i2pc show_title="false" title="Pros & Cons" show_button="false" pros_title="Pros" cons_title="Cons" ][i2pros]The good dust cleaning system
Sturdiness
Abundant accessories[/i2pros][i2cons]No router adjustment
Unstable fence [/i2cons][/i2pc]
---
3. Bosch RA1141 Benchtop Router Table
The Bosch RA1141 has a similar built to the Bosch RA1181. With a laminated MDF top, this table can help users create smooth and precise cuts.
This table weighs 33 pounds. Its working surface is pretty spacious, too. The area is about 26 inches in width, but it is only 14.5 inches in height.
This table, unlike the two previous ones, requires zero preparation since it comes pre-assembled. This is a huge plus for anyone who has just started in woodwork.
As the name suggests, the RA1141 is ultra-portable. Equipped with folding legs, the router table is easy to set up and convenient for storage. Having a click router mounting system, users can make small changes while not needing to level the table.
Sadly, this product still has its disadvantages. The table sacrifices its stability for having a portable design. This might not sit well with many workers, considering how dangerous woodwork can be.
Just like the RA1181 and the RA1141, the RA1141 runs at 120 volts, which means it has what it takes to work in the long run. This machine proves that it is no less than the other versions.
The Bosch 1141 router table comes with onboard storage. The storage of this table might not be as spacious as the others, but many have to admit how convenient it is.
Router bits and spare parts are small objects. Workers may mix those parts up in big storage. Other than that, onboard storage allows effortless access for the workers when they need to grab something.
In general, this device is still capable of some handiworks. But keep in mind that if you're working with heavier materials, then this machine isn't for you.
Sale
Bosch RA1141 Benchtop Router Table
Ultra-portable design – Features folding legs for fast setup and easy storage
Easy click router mounting system – Provides easy bit changes and no leveling
Laminated MDF top – Helps users make smooth and precise cuts
Onboard storage – Ideal for holding router bits and spare parts
No assembly required – Comes preassembled
[i2pc show_title="false" title="Pros & Cons" show_button="false" pros_title="Pros" cons_title="Cons" ][i2pros]Portability
Easy storage
Effortless adjustment
Pre-assembled[/i2pros][i2cons]Instability
Not meant for heavy labor
[/i2cons][/i2pc]
---
Below is a summary of the specifications
Image
Image
Image
Image
After a thorough review of these three router tables, the Bosch RA1181 vs RA1171 vs RA1141, we hope that you've gained some insight into these incredible devices.
All of them share some similarities while still having their distinction and serving different purposes. So, as consumers, the best product for you is the one you find most suitable for your needs.