Delta Power Tools is indeed the titan in the wood appliance business. The battle of Delta 22-555 Vs 22-590, the two popular machines coming from this brand, has never been tedious.
If you find the distinct features prevent you from selecting the winner, this article will be your savior as it will scrutinize each unit's characteristics.
Let's get on with it!
Similarities between Delta 22-555 and 22-590
As these two units are manufactured from the same giant in the hand tool field, the Delta Power Tools, they bear a lot of resemblances. Let's see what to notice:
Both are installed with a 15 amp and 120 V motor, which is remarkably powerful and can handle even the toughest materials.
Both can manage the max stock dimensions of 13 inches in width and 6 inches in height. Although it is not an ideal number, it can still manage the average-sized lumber and log.
Both offer a 5-year warranty, which is more than sufficient for any return.
Differences between Delta 22-555 and 22-590
Image
The Winner (#1)
The Runner-up (#2)
The Winner (#1)
Image
The Runner-up (#2)
Image
Performance
The first difference that can be noticed in the comparison table above is the feed rate. While the Delta 22-555 provides you with a 28 ft/min rate, the number goes down to 26 ft/min regarding the 22-590.
This number reflects the speed at which materials are moved through the machine. And apparently, the Delta 22-555 will guarantee a faster working process.
However, the Delta 22-590 soon takes its reputation back when delivering a deeper cutting depth. This machine can cut through the hardest wood with 1/8 inches cutting depth, which is a fantastic dream of the 22-555.
Portability
Especially when you have to move your planner to many worksites, the weight of each unit is an integral part in deciding the winner. Specifically, the Delta 22-590 is heavier than its sibling 24 pounds, a significant amount when it comes to a thickness planer.
Quick Rundown Of Delta Power Tools 22-555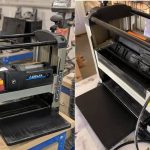 Sale
Delta 22-555 Benchtop Planer
Powerful 15A motor capable of handling the most demanding jobs
Four column design provides excellent stability for smooth, accurate planning
Quick-change knife system with dual edge disposable knives lets you change knives without difficult to use alignment jigs
Adjustable infeed and outfeed tables to better support long pieces and reduce snipe
Reversible dust port allows you to collect chips from the right or left side of planer.Machine Dimensions: 21-5/8 x 23-5/8 x 20-1/8 inches
Pros
Allows high productivity and less effort required
Robust motor system
Light yet sturdy structure
Comes with 2 reversible knives
Quite affordable
Cons

Quick Rundown Of Delta Power Tools 22-590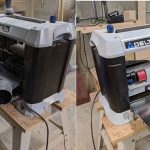 Delta 22-590 Benchtop Planer
Three Knife Cutter Head provides an ultra smooth finish and up to 3 time longer blade life than competitive 3 knife planers
Full with material removal gauge allows utilization of the entire width of the cutter head
Inf between 1-1/4-Inch and 1/8-Inch innate micro-adjust depth stop allows user to select a specific dimension for repeatable cuts
Snipe reduction features a patented cutterhead lock system
infeed and outfeed table reduce snipe
Pros:
High cutting depth
Equipped with a material removal gauge
The reliable snipe reduction system
4 inches dust port
The trustworthy cutter head lock improves endurance and reduces snipe
Cons:
Sometimes makes you struggle with the assembling

Conclusion
Each machine has its strength and weaknesses, yet I can ensure both tool's merits will outweigh its downsides and provide buyers with the most favorable working process.
However, with more points seizing in the battle, the Delta 22-555 has grasped my admiration for its accuracy and convenience.
I hope this Delta 22-555 Vs 22-590 review is enlightening and helps you select your partner wisely.
Let me know what you think by dropping a comment below!
Popular Alternatives Worth Considering: