The two well-known hand tools manufacturers Delta and Dewalt are acknowledged to deliver the most high-quality wood commodities in the market.
Hence the fight of the top thickness planers Delta 22-555 Vs Dewalt DW734 is notably fierce. If you find it hard to select the best thickness planer, quickly dig in my article to find out the most convincing declaration of the victor.
Let's break it down!
Differences between Delta 22-555 and Dewalt DW734
Image
The Winner (#1)
The Runner-up (#2)
The Winner (#1)
Image
The Runner-up (#2)
Image
Performance
These two machines present 3 principal differences that are vital in deciding the winner. Let's see what they are:
Regarding the knives system, the Delta 22-555 is facilitated with 2 steel knives, while the number is 3 in the Dewalt DW734. However, both are more than robust to cut through any wood and ensure a hassle-free cutting process.
What is more, all knives equipped in these tools are disposable and reversible. This quick-change knife system will enable you to change blades without the need for alignment jigs.
The Delta 22-555 soon gains back its reliability when featuring blade speed going up to 18,800 RPM. This rate is much faster when compared to the 10,000 RPM speed of the Dewalt DW734.
The cutting depth is also a notable feature used to determine the better thickness planer. To make it clear, the Dewalt DW734 offers a deeper cut of the maximum going up to 1/8 inches, while the number is 3/32 inches in the Delta 22-555. Although the difference is not considerable, it still features a better cut-through of the Dewalt DW734.
Portability
Although these tools come with the approximately same size, their weight differs a lot. The Delta 22-555 weighs 58 pounds, which is 22 pounds lighter than its opponent.
This variation will make a significant impact on the ease of transport because most of these thickness planers are used in diverse worksites.
Quick Rundown Of Delta Power Tools 22-555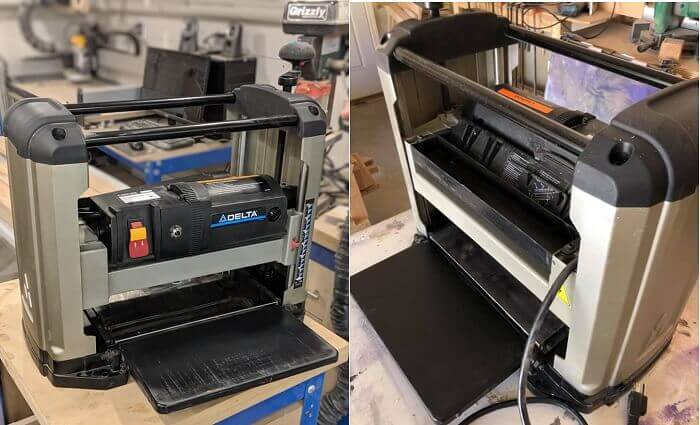 Sale
Delta 22-555 Benchtop Planer
Powerful 15A motor capable of handling the most demanding jobs
Four column design provides excellent stability for smooth, accurate planning
Quick-change knife system with dual edge disposable knives lets you change knives without difficult to use alignment jigs
Adjustable infeed and outfeed tables to better support long pieces and reduce snipe
Reversible dust port allows you to collect chips from the right or left side of planer.Machine Dimensions: 21-5/8 x 23-5/8 x 20-1/8 inches
Pros:
A strong motor of 15 Amp and 120V
High blade speed for greater productivity
Light yet sturdy construction
Easy to assemble
Quite affordable
Cons:

Quick Rundown Of Dewalt DW734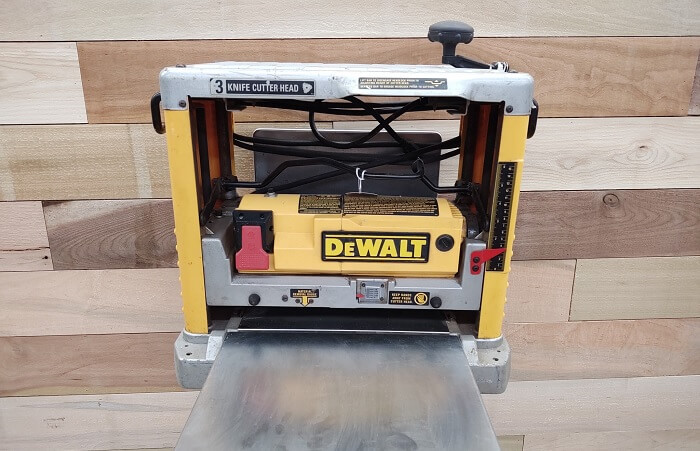 Sale
Dewalt DW734 Benchtop Planer
Powerful 15 amp, 20,000 rpm motor of the woodworking planer handles larger, deeper cuts in hardwoods.
Three-knife cutter head with 10,000 rpm cutter-head speed of the thickness planer provides 96 cuts per inch, one of the finest finishes of any portable planer
Disposable, reversible knives of the wood planer deliver 30% more knife life and make knife change fast and easy.
Four-column carriage lock drastically reduces the movement that causes snipe
Extra-long infeed and outfeed tables provide 33-1/2-inch of material support.
Pros:
3 reversible knives
Deep maximum cutting
4-column carriage lock reduces snipe
Spacious working surface
Reliable dust collection
Cons:

Conclusion
Both the Delta 22-555 and Dewalt DW734 guarantee to deliver exceptional features and satisfying performances to woodworkers, namely exactness and comfort.
However, the working space and the price are the key features, thus I choose Delta 22-555 to be my partner.
I believe that this short but informative Delta 22-555 Vs Dewalt DW734 Review would help you find your suitable companion.
What do you think? Let's share your thoughts with us and other readers by dropping a comment below!
Popular Alternatives Worth Considering: