Although there are available many relatively affordable compound miter saws on the market, it's not easy to find out a friendly-budget model with slide and tilt left for bevel cuts like Delta S26-263L.
This tool can help even beginners perform a wide range of different tasks with accurate cuttings.
>>> More: 10 BEST Miter Saws
1.  Delta S26-263L Miter Saw Review.
Below is the detailed review:
Delta S26-263L Specs:
Before going deeper into the outstanding features of this saw, please take a look at its specs:
Dimensions: 27.8" x 27.8" x 14.5".
Weight: 30 lbs.
Metering: Metric.
Power Source: Corded Electric.
Wattage: 1800.
Voltage: 120 volts.
Miter cut: 45 degrees max.
Cut capacity: Nominal 2×12 inches.
Speed: 5500 RPM.
Color: Silver
Warranty: 3 years.
First of all, you can easily recognize that this is a lightweight model. So it's possible to carry from place to place in order to perform different projects.
Many people said that a small and lightweight model could lead to vibration while using. Delta S26-263L only results in a tiny amount of vibration.
Despite a compact model, its table extensions allow you to cut large sheets of wood stably. For your small projects, this feature will add an extra surface to work more comfortably.
This machine is also very safe to use. The spindle lock plays a vital role in stopping the spindle from turning when changing the blade. Besides, its decent blade guard system can protect your fingers from unexpected accidents. To increase safety, the manufacturer has designed the work clamp, which will secure pieces to the table.
What's the best part?
This useful saw is able to cut nominal 2×12 at 45 degrees, especially, its bevel can tilt left up to 45° in one direction.
Though both double and single bevels are portable, this single one is lighter, so you can carry it around easier to perform more projects.
Another good news is that you can do everything that a dual bevel can do, but you just need to spend a small amount of money. Keep in mind that it takes you more time and requires you to perform more carefully. If you need to work with a standard trim board, a double one is an expensive and unessential solution.
This corded saw comes with an on/off switch, plus, you can stop the saw within seconds by pressing the trigger. Moreover, the modern laser system line signal will provide you with faultless cuts.
The Delta S26-26L is designed as a simple dust collection system, specifically, a dust collection bag, which minimizes mess as well as maximizes visibility.
The most wonderful thing is that the 10" aligning cutting blade helps you produce convenient and precise cuttings.
In sum, we strongly recommend this model for home use and professional workshop because it has enough great features for a handyman at an affordable price.
2. Pros and cons of Delta S26-263L.
Any product has both advantages and disadvantages. It would help if you learned both sides to determine whether or not it suits your demands: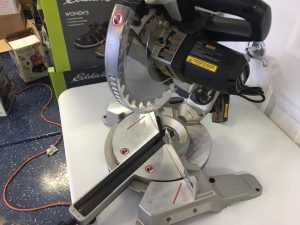 *** Pros:
Easy to use.
Straight cuts.
Powerful motor.
Portable.
*** Cons:
Short fence.
Limited capacity and power.
Rating: 4.3 out of 5 stars.

3. Will you buy Delta S26-263L?
As you can see, Delta S26-263L is lightweight and has many outstanding features that can meet the demands of home use, even professional workshops.
Is it your choice? Please let us know your idea by leaving your comments below.