Due to the increased demand, Dewalt and Milwaukee Companies have released two prominent drilling products into the market. That is why you should read Dewalt DCF899HB vs Milwaukee 2767-20 in order to know about their prominent features and decide to buy them.
Both products have their superior and incomplete features, but Dewalt DCF899HB with its long-lasting prestige probably persuades more customers than the other. This post will give you a brief review and comparison between Dewalt DCF899HB and Milwaukee 2767-20 so that you can select the best suitable one for you.
Image
The Runner-up (#2)
The Runner-up (#2)
Image
Differences Between Dewalt DCF899HB Vs Milwaukee 2767-20
Color and size
Dewalt DCF899HB follows it's traditional colors-yellow and black, while Milwaukee 2767-20 also stands out by a perfect combination of red and black.
In addition, Dewalt DCF899HB has bigger dimensions than Milwaukee 2767-20 (9.9 x 4.2 x 10.6 inches). Both products have the same total weight, about 2.9 pounds.
Battery
Like other Dewalt Drilling machines, Dewalt DCF899HB is powered by a battery at the 20V voltage. This traditional use of
The battery ensures the stability of the product but easily causes damage to the battery after a certain time of use.
Milwaukee 2767-20 works on red Lithium batteries, delivering more work per charge unit over the life of the battery. However, users have to regularly recharge the battery because of its limited using time.
Price
The price of each product depends on its attached items. If you intend to buy an extra socket set, starter kit, or battery, you have to pay more money than just buying a standard product.
In general, Dewalt DCF899HB's price is a bit higher than that of Milwaukee 2767-20. However, when compared to others, both products are in the high-price category.
Power
Dewalt DCF899HB with best-in-class 700 ft-lbs max torque and multi-speed control designed to make operation better and increase the performance of this tool. Besides, the heavy-duty impact mechanism helps users easily control speed.
On the other hand, Milwaukee 2767-20 is equipped with 4-mode drive control and brushless red Lithium battery, allowing control and operation to be much easier and simpler. Moreover, bolt removal mode assists users in having their work done faster and more productively.
Quick Rundown Of Dewalt DCF89HB
DEWALT DCF899HB 20V MAX XR Impact Wrench
1/2 inch cordless impact wrench has up to 700 ft-lbs of max torque and 1200 ft-lbs of max breakaway torque
DEWALT 1/2 inch impact wrench has a compact design of 8-13/16-inch length
Multi-speed control of the battery-powered impact wrench is made for a variety of applications (0-400/ 1,200/ 1,900 RPM)
1/2-inch Anvil with hog ring (also available in detent pin)
LED light with 20-second delay for increased visibility
The superior features of Dewalt DCF89HB are listed below: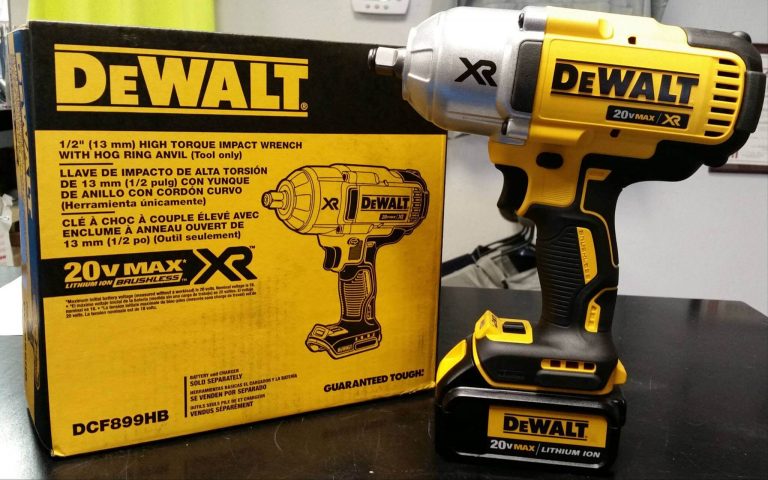 Brushless motor: Enhance the performance and the durability of the product.
700 ft-lbs of max torque and 1200 ft-lbs of max breakaway torque: Optimize the efficiency and shorten the working time.
Multi-speech control: Assist users in choosing a suitable speed when working.
LED lights: Make observation easier and more comfortable.
Battery and charger sold separately: Help to save money if you do not need to buy a battery or charger.
However, Dewalt DCF899HB's high price can be a concern for low or average-income customers, so you should think twice before deciding to buy this product.

Quick Rundown Of Milwaukee 2767-20
No products found.
In terms of advantages, Milwaukee 2767-20 impresses customers thanks to the following traits:
Cordless high torque and impact wrench: Perfectly work on many hard surfaces and improve the performance.
Red Lithium battery: Promote the force and lengthen the longevity of the product.
Friction rings: Flexible for many sizes and shapes of sockets.
RED lights and REDLINK PLUS function: Keep the safe observation and prevent the potential damage to the product.
Up to 5-year warranty: Customer service available to help customers.
Milwaukee 2767-27 still have some limitations as follow:
High price: More expensive than others, which causes concern to customers when buying.
Long shipment: Customers may wait for 2-3 weeks to receive their orders shipped.

Conclusion
This Dewalt DCF899HB vs Milwaukee 2767-20 post is thought to please your needs. They possess first-rate properties and on their way to becoming the most reliable products for many kinds of customers.
Because the price of these two products are nearly the same and each one is impressive by its own strengths, so you should depend on your using purpose and personal interests to pick up the right tool.