This article will compare the power, portability, and features between Milwaukee 2555p-20 vs 2555-20. Each model possesses distinct strengths and weaknesses. Let's uncover what these are.
Difference between Milwaukee 2555p-20 and 2555-20
Image
The Winner (#1)
The Runner-up (#2)
The Winner (#1)
Image
The Runner-up (#2)
Image
First of all, let's discover how powerful these products are, how portable they are, and what is special about them.
Power Comparison
Speaking of power, both impact wrenches come with a powerful motor, which can bring about a maximum of 250 ft-lbs of breakaway torque, allowing the models fitted with a wide variety of applications.
Besides, the two wrenches support one-of-a-kind 4-mode drive control- offering better control over output power and speed. In the first mode, the revolutions per minute of the two models range from 0 to 1200, while IPM ranges from 0 to 1100.
In the second mode, RPM is from 0 to 1800, and IPM is around 2,100 maximum. In the third mode, 0 to 2,700 is the RPM range, while 0 to 3,200 is IPM. And finally, the last mode- auto shut-off mode allows the wrenches to avoid over-tightening of fasteners.
So, the two wrenches tie as both delivers a fast and strong spin on the round of power to make sure that you can take out even the most stubborn fasteners and bolts.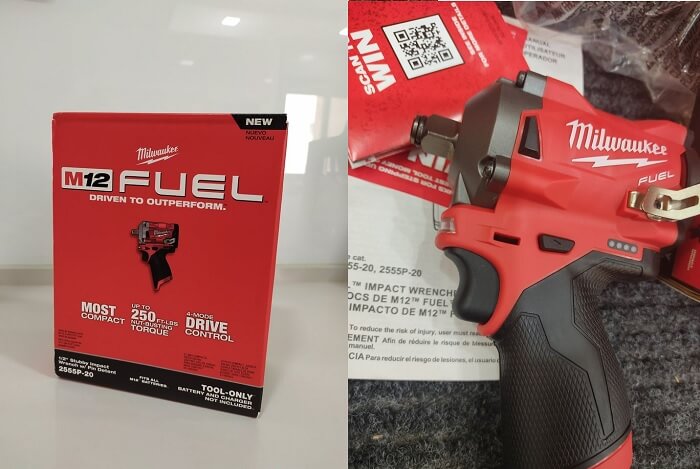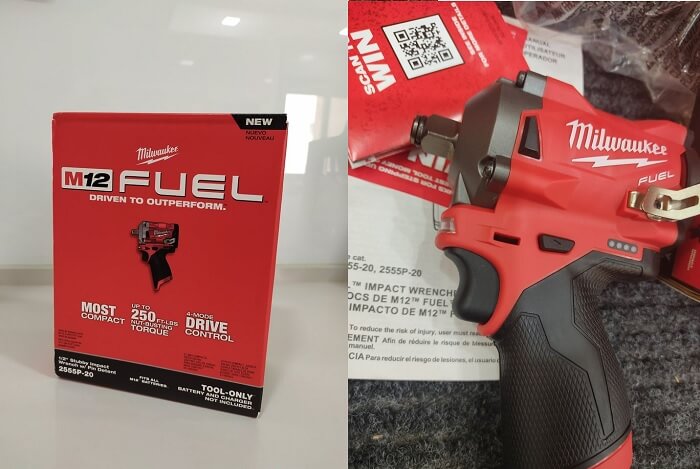 Design Comparison
In terms of design, the differences between the two products are apparent. First of all, Milwaukee 2555-20 comes roughly 5 inches long, 2.4 inches wide, and 7 inches high. The impact wrench weighs approximately 2 pounds without a battery and 3 pounds when attaching with a battery with this dimension.
Regarding 2555P-20, it has 4.9 inches in length, 2 inches in width, and 8 inches in height. This model's total weight is about 2.4 pounds without a battery and 3.4 pounds with a battery.
However, the two models are cordless impact wrenches. As a result, no wires needed to connect with the power source.
In general, both impact wrenches have a compact design, making them so easy to enter in tight places, such as a hood, undercarriage areas.
Features Comparison
The two products are equipped with the most advanced technology from Milwaukee.
First and foremost, the POWERSTATE brushless motor offers constant power, more run-time, and longer life expectancy- ready to remove even the most stubborn lug nuts, bolts, and screws.
Moreover, a red lithium battery, which goes with the wrenches, provides an extended capacity battery pack, allowing you to complete more work per charge with longer life.
Besides, REDLINK PLUS™ Electronic Intelligence makes the interaction between the batteries and the tools as perfect as possible, leading to unmatched performance, protection, and productivity levels.
Finally, Milwaukee supports the time warranty of the two impact wrenches that lasts for five years. Then, you do not have to worry about confronting any problems that arise when using the wrench.
Coming with Milwaukee 2555p-20 and 2555-20 is the case and the battery.
Quick Rundown Of Milwaukee 2555p-20
Sale
Pros:
Powerful to deal with medium-duty tasks
Compact design for hard-to-reach areas
Cons:
Not Applied for hard duty tasks

Quick Rundown Of Milwaukee 2555-20
Sale
Milwaukee 2555-20 Impact Wrench
Most compact - 4.9 in. in length
250 ft-lbs breakaway torque
One of 90+ tools on the M12 system
Greatest access in tight spaces at 4.9 in. in length
Pros:
Long battery life
Suitable for medium-duty tasks
Cons:
Lack of Power to deal with hard duty tasks

Product Videos
Conclusion
Hopefully, this article has provided you with insightful information on the difference between Milwaukee 2555p-20 vs 2555-20. Each machine possesses its strengths and weaknesses. Hence, based on your budget and your demand, be clever to pick the right wrench.