A planer is undeniably an indispensable power tool in the shred to bring you such smooth wood. And you might come across both Dewalt DW735 vs DW735X on the current market. Do you wonder which tool gives you a better experience?
Well, we are here to clear up your matter. Check out this article to see how these units differ from each other and determine which deserves your investment.
Differences Between Dewalt DW735 and DW735X
Image
The Winner (#1)
The Runner-up (#2)
The Winner (#1)
Image
The Runner-up (#2)
Image
Dewalt DW735X is actually the upgraded version of Dewalt DW735, so there will be some huge differences between these items for sure. In this review, we will give them better judgment in terms of price and utilities.
Price
On any commercial market, you can find the price range of Dewalt DW735 vs DW735X varying from $600 to $900, but the DW735X shows a higher cost than its opponent.
Remember that everything happens for a reason. The higher price means that you can receive several stunning features that you cannot find in the other planer. Keep scrolling down to see which is waiting for you ahead.
Utilities
Even though both products are similar in dimensions, their weight is not exactly the same. To be more specific, the new version – DW735X is 15 pounds heavier than its predecessor. That's why you will find it more effortless to transport DW735 around the working space.
Speaking of cutting performance, these two items do share several things in common. In particular, they are powered by 15-AMP, 20.000 RPM motor, especially the cutter head speed of 10,000 RPM, as well as the two-speed gearbox.
Thus, they do an excellent job of dealing with larger cuts in even a wider array of materials without any difficulty.
Notably, their fan-assisted chip ejection vacuums will even surprise you more. It contributes significantly to the effective management of dust, debris, and wood. As a result, cleanup will no longer be a challenging task in your shed.
What makes DW735X the advanced version of the DW735 is the additional set of 13-inch blades for cutter heads to replace the old blades when they become dull or nicked over time.
Furthermore, this improved planer is equipped with infeed and outfeed tables to help maintain the smoothness of some wood items. Specifically, these tables enable us to reduce snipes on some materials simply.
Quick Rundown Of Dewalt DW735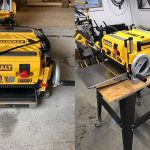 Sale
Dewalt DW735 13-Inch Thickness Planer
Powerful 15-AMP, 20,000 RPM motor (10,000 RPM cutterhead speed) handles larger cuts in wider...
Three knife cutter-head delivers 30-percent longer knife life and makes knife change faster and...
Two speed gear box allows users to change feed speed to optimizing cuts per inch at 96 or 179 CPI
Fan-assisted chip ejection vacuums chips off of the cutter-head and exhausts them out of the machine
Pros:
Sturdy and rigid machine with a cast aluminum base
Easily portable thanks to its lightweight design
Rugged engine with dual speeds
Auto-lock mechanism
Affordable price
Perfect fan-assisted ejection system
Long-lasting knives and changeable cutter heads
Precision cutting options
Cons:
Lacks both additional set of 13-inch knives as well as infeed and outfeed tables

Quick Rundown Of Dewalt DW735X
Dewalt DW735X 13-Inch Thickness Planer
Your purchase includes One Stationary 13" Planer, in/out feed tables, extra blades and dust hose...
Planer dimensions: 24" L x 22" W x 18" H. Depth capacity: 6-Inch. Max depth cut: 1/8-Inch....
Specifications: Made for 110V, not convertible to 220V. Includes automatic carriage lock that...
Two-speed gearbox allows users to change feed speed to optimizing cuts per inch at 96 or 179 CPI
Compatible with DW735 13", DW735X 13"
Pros:
Replaceable three-knife cutter heads
Brings clean and accurate cuts
Multiple speeds
Comes with an extra set of 13-inch knives
Has extra infeed and outfeed tables
Manages dust, debris, and wood well
Easy to set up
Cons:
Heavier than its previous version
Relatively expensive
The high cost of the replacement of knives

Conclusion
Both Dewalt DW735 vs DW735X is undeniably among the top-notch planer machines in the world of power tools. We recommend you to consider which tool that suits your personal needs more.
You can experience better performance from Dewalt DW735X only with a little extra investment. But if its extra trimmings are not important to you, let's settle for the DW735, which is perfect for less experienced users. Hopefully, you will be able to make a sound decision thanks to our review.
Popular Alternatives Worth Considering:
Related posts: