Bosch 1250devs vs Makita BO6050J vs Festool RO 150? Which tool is the winner in this battle? Check out this article to find a satisfactory answer.
Bosch 1250DEVS vs Makita BO6050J vs Festool RO 150 Review.
1. Bosch 1250devs Random Orbit Sanders
It would be such a huge mistake when mentioning some famous sander manufacturers without the appearance of Bosch. And Bosch 1250devs proves it even further.
We highly praise the powerful 6.5 Amp motor. Of the three tools in the battle today, this sander can put out the most efficient power to tackle such tough jobs without difficulty.
Also, the variable speed options between 3,100-6,500 Opm enable you to match the appropriate speed for the piece you are currently working on. This feature is also an outstanding weapon that Bosch 1250devs bring to defeat the other two opponents.
Besides, the Soft Start, which manages to reduce start-up torque when you turn the tool on, is also a highlight that distinguishes the Bosch 1250devs from other sanders on the list. As a result, you can control everything and keep the process safer.
If you are struggling with handle aggressive stock removal or fine finishing task, Bosch 1250devs would be an ideal choice as it comes with dual sanding modes, including turbo and conventional random orbiting modes.
They will offer you the versatility to take down more massive stock and smooth out finer details effectively.
However, one major concern of this Bosch 1250devs is its quite expensive price. You will need to consider carefully before choosing this item if you are on a tight budget.
Bosch 1250devs Random Orbit Sanders
Dual Mode: Provides 2 Sanding Modes: Random Orbit Mode for Normal Stock Removal or Fine Finishing and "Turbo" Driven Eccentric Orbit Mode for Aggressive Stock Removal at 5 Times the Rate of the Normal Random Orbit Sanding Mode
VARIABLE SPEED: The 1250DEVS comes with a powerful 6.5 amp variable speed motor (no load speed: 270 to 600 RPM, no load orbit speed: 3,100 to 6,500 OPM) provide power, flexibility for jobs
EASE OF USE: Get fast, smooth finishes on a variety of surfaces
PASSIVE DUST COLLECTION SYSTEM: Passive dust collection system that requires a vacuum cleaner and hoses; Accepts Bosch VAC001, VAC009 and VAC010 hoses (sold separately) or a Bosch VAC002 hose adapter (included)
ORBITAL SANDER PACKAGE INCLUDES: The 1250DEVS unit includes 1 (1) dust tube, 1 (1) RS6045 6 inch soft backing pad, 1 (1) ambidextrous auxiliary handle, 1 (1) sanding disc, 1 (1) pad wrench, 5 millimeter (stored on tool), and 1 (1) dampening ring; Perfect for normal removal, most sanding jobs, wood floors, furniture finishing and polishing applications
Pros:
Lightweight enough to move around easily
Features a powerful motor
Comes with a variable speed control system from 3,100 to 6,500 OPM
Has a Soft Start system to slow down start-up
Extremely versatile thanks to two distinct sanding modes
Super easy to use
Cons:

2. Makita BO6050J Random Orbit Sander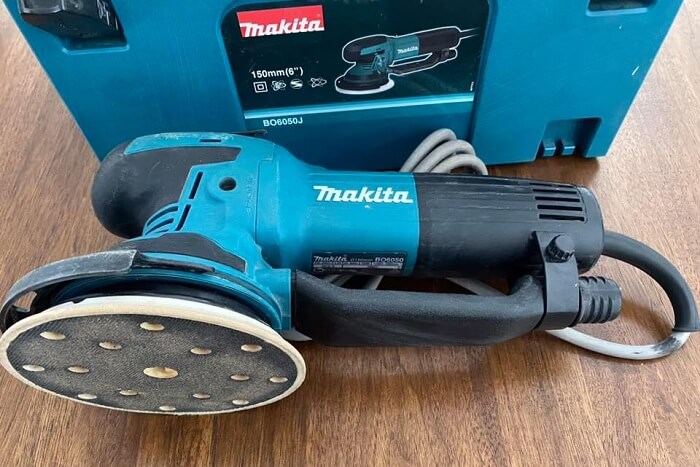 Up next, we want to introduce you to a random orbit sander from the brand Makita, named BO6050J. Its excellent specifications are more than enough to make this product a formidable opponent in the battle of sanders today.
In terms of power and flexibility, the Makita BO6050J does not differ much from the Bosch model. Specifically, it runs on a 6.6 Amp motor along with a variable speed dial from 1,600 to 6,800 Opm.
This sander provides an extra boost to deliver a quick yet smooth sanding process as the Bosch 1250devs does. Furthermore, you can utilize its more speed options to the corresponding material.
Speaking of accuracy, this orbit sander does have a lot of it. In more detail, Makita BO6050J comes with two sanding modes. The first is a random orbit for finish sanding and buffing. And the second is a random orbit with forced rotation for aggressive sanding and polishing.
You can switch between them to get the maximum adaptability for all of your woodworking projects.
Of all three products we are discussing today, this Makita BO6050J may probably cause hand fatigue when you hold the device for too long. The reason lies in its weight, which is about 12.4 pounds.
However, do not worry about it too much as this sander brings the optimal comfort for users thanks to an ergonomically-designed barrel grip. This feature is unique as those two models from Bosch and Festool do not possess.
Makita BO6050J Random Orbit Sander
Convenient 2-mode switch for "random orbit" and "random orbit with forced rotation" action
Variable speed control dial (1,600 - 6,800 OPM) to match the speed to the application
Ergonomically designed barrel grip and side handle for increased comfort
7/32" orbit diameter provides a swirl-free finish
Tool-less backing pad change enables quick pad change to meet application
Pros:
Runs on an extremely robust motor
Variable speed for a wide variety of woodworking projects
Has two-mode functions to provide the accuracy
Delivers absolute comfort within the unique barrel grip
Cons:
Weighs a bit heavy
Quite expensive

3. Festool RO 150 FEQ Dual-Mode Sander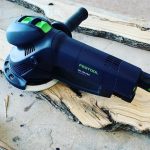 Festool RO 150 FEQ is another top-notch sander that you should pay attention to.
This product is capable of switching among three different modes, including fine sanding, coarse sanding, and polishing so that you can do whatever you need with only one tool.
Compared to other candidates on the battle today, these functions of Festool RO 150 does a better job of conducting many toughest projects with ease, such as sanding off old paint or polishing mineral materials.
For anyone who does not know, one of the sanding modes of this Festool unit bears a resemblance to its two opponents, which is the random orbital mode. On the other side, its gear-driven aggressive mode allows you to strip the thick coatings or paints quickly.
Also, what is excellent about the RO 150 is that it boasts a 720-watt engine and runs an orbit between 3,300 and 6800 Opm. These specifications all turn this tool into a heavy-duty sander that carries out more refined woodwork.
Unfortunately, the polishing system does not give a finish that is as smooth as Bosch 1250devs and Makita BO6050J. However, this 3-in-1 power tool is still sought-after by many woodworkers, carpenters, and cabinet makers.
Another incredible thing that you should not overlook the Festool RO 150 FEQ is its Jetstream dust extraction. If you wish to have a sander to collect all of the dust effectively, this tool will live up to your expectation!
This dust system not only ensures the cleaner working area, but it also makes a better finish and prolongs the life of the pads. How amazing it is! You will even find its adjustments rather effortless to do thanks to the FastFix tool-free pad change system.
Festool RO 150 FEQ Dual-Mode Sander
Three tools in one for coarse sanding, fine sanding, and polishing
Eccentric motion for high-quality, scratch-free surfaces
Sanding up to the edge thanks to the Festool protector
Rotex rotary motion for efficient material removal
Pros:
Works well in both sanding and polishing, making it a versatile master
Handles heavy-duty projects
The amazing dust collection system to clean up the working area
Has FastFix tool-free pad changes to control jobs easier
Cons:
Does not deliver the smooth finish as expected

Which One Is The Best?
For us, compared to its two opponents, Makita BO6050J comes with a lot of premium features to make it become the best sander here.
For example, its robust motor in particular and its performance, in general, are undefeated. Besides, the BO6050J does deliver higher optimal comfort with the barrel grip that you hardly find in Bosch and Festool sanders.
It cannot be denied that this unit has proved itself to meet all the demands of DIY projects, no matter which features you expect.
Image
Rank #1
Rank #2
Rank #3
Rank #1
Image
Rank #2
Image
Rank #3
Image
In Conclusion
Bosch 1250devs Vs Makita BO6050J Vs Festool RO 150? Have you got your answer on which tool suits your requirement? We do hope that the answer is yes after consulting our in-depth comparison.
Now, wait for no further and start doing your DIY project. Good luck with your final option!