Is the Evolution R255MSL Saw good? Can you use it for metal cutting? Yes, you will find answers after reading our Evolution R255SMSL review below!
Why do you select the saw from Evolution for your cutting needs? Is it because of the reliable brand, the reasonable price, or the exceptional quality??
No matter what your reason is, you need to learn about the product details before buying.
Well, we'll help you out! Our following Evolution R255SMSL review would show if you made a wise choice.
>>> More: 10 BEST Miter Saws
1. Evolution R255MSL Specifications.
Power type: Corded electric.
Cable length: 6 feet.
Weight: 33.7 lbs.
Package Dimensions: 22" x 20.6" x 14.5".
Motor: 15A.
Speed no load: 2500 rpm.
Maximum right cut degree: 00.
Maximum left cut degree: 450.
Voltage: 120 volts.
The thickness of cutting: ¼ inches.
*** Pros:
No problem cutting steel, aluminum, and wood.
The affordable price.
Large stable platform.
All of the easy adjustments to work.
Fantastic customer service.
*** Cons:
The low fence.
Lack of movable extensions.
Rating: 4.3 out of 5 stars.
>>> Read Customer Reviews: Here
2. Evolution R255SMSL Miter Saw Review in Great Detail.
*** Construction.
As the Evolution R255SMSL Miter Saw is designed to cut multiple materials, its construction is solid. With the dimensions of 14.37 x 27.8 x 28.8 inches, it is not too bulky. Even, the 33.7lb weight is much lighter than other saws.
All parts are compatible together, especially with Evolution's Mitre Saw Stand. You can entirely control it to get accurate cuts, from the length to width.
*** Blade.
To support for cutting a variety of materials, such as steel, wood, plastic, Evolution has equipped this unit with the 10-inch cutting blade. You can exactly perform Compound cuts, Crosscuts, Bevel cuts, and Miter cuts.
For other cutting needs (cutting ornamental stone or ceramic tiles), you might want to use the Evolution 10 inch Diamond blade (sold separately).
Most importantly though, we have to mention the optimal blade system. You can cut through many materials without sparks, heat, burrs, thanks to having this feature.
*** Cutting Capacities.
As previously stated, you can use the R255SMSL Miter Saw from Evolution for a range of cuts:
Crosscuts – 11-3/4 x 3-1/8 inch.
Bevel cuts – 8-1/4 x 3-1/8 inch.
Miter Cut – 11-3/4 x 1-3/4 inch.
Compound Cut – 8-1/4 x 1-3/4 inch.
Generally, you can cut at +/-0.5 degree with bevel tilt from 0 degrees to 45 degrees, +/-50 degrees of miter angles, and click miter stops at 45, 30, 22.5, 15, and 0˚ both right and left.
*** Cutting Applications.
Except for galvanized steel, stainless steel, and hardened high carbon steel, the Evolution R255SMSL Miter Saw can handle well wood (stud-work, MDF laminates, moldings, etc.), ferrous metal (square tube, rebar, RSJs, mild steel, box section, etc.), non-ferrous metal (armored cables, stair nosings, aluminum, etc.), and plastic (plastic pipes, Wood Plastic Composites, electrical conduit, etc.).
*** Others.
Apart from the advantages above, the strong 15A hi-torque is a plus point because it contributes to increasing the motor speed and lifespan of the blade.
The model comes equipped with the Japanese Tungsten-Carbide-Tipped 10-inch blade when purchasing. Furthermore, it is backed with a limited warranty in 3 years. Amazing!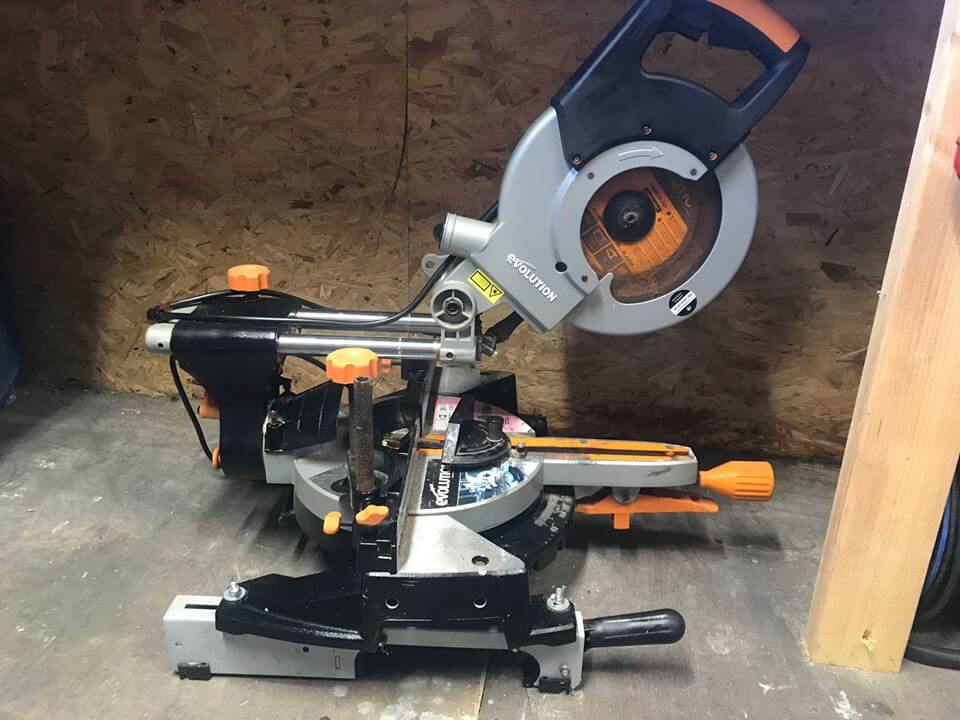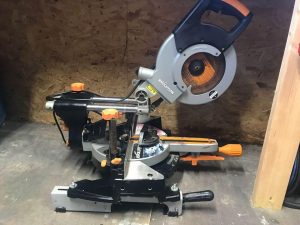 3. In Closing
If you are looking for a quality saw in the budget, the Evolution R255SMSL Miter Saw will not make you disappointed.
We believe that you can recognize the strong and weak points of the product through reading our Evolution R255SMSL Saw review. Not only is it durable but you can also use this saw for many different cuts.