If you are struggling with cutting various materials, it's time to get a powerful cutting tool. Check out my Evolution RAGE3 Review!.
Overview Evolution RAGE
Evolution RAGE3 Compound Sliding Miter Saw
MULTIPURPOSE CUTTING: Patented multipurpose cutting technology allows you to make compound miter cuts in mild steel, aluminum, plastics, and wood; with the included blade.
MINIMAL SPARKS, BURRS & HEAT: Cut through 6mm mild steel with no heat, no burrs & virtually no sparks, leaving an instantly workable finish unlike alternate methods.
SIMPLE & ACCURATE MITER CUTTING: Features a 45 degree L&R miter system with 9 positive stops. A 0-45 degree bevel tilt, allows for bevel cuts and compound cuts.
SLIDING MITER CUTS: Slide mechanism allows for 90 degree cuts of up to 11-13/16 inches wide and 45 degree cuts of up to 8-1/4 inches wide. Comes with laser guidance for optimum accuracy.
ADJUSTABLE CUTTING DEPTH: Cutting depth can be adjusted to allow for grooving and trenching. 15A Powerful Hi-Torque Motor with Soft Start
The Evolution RAGE3 is a superb tool that helps you dismiss almost all difficulties from your procedure of handling materials. Moreover, its simple and lightweight design will definitely bring you convenience and comfort, creating products for your work!
1800W(220V) motor
Sliding offered
Laser guide offered
Max width cut: 11-13/16"
Max depth cut: 3"
*** Cons:
Because there are corners and grooves, the process of cleaning may discourage you after using it. However, you just need to be more careful to clean the blade and sweep the base, which is enough to keep it clean and expand its lifespan.
>>> Read Customer Reviews: Here
A Detailed Review Of Highlighted Features Evolution RAGE3
1. Simple and Convenient Design
Well, I am quite sure that the Evolution RAGE3 will make a great impression on you when you first see it. The components of this fantastic saw are assembled carefully and tightly.
The position of the handle is above and away from the blade, so you can rest assured that you will effortlessly control the blade to get desirable cuts.
2. Super Easy To Operate
This outstanding cutting tool allows you to experience a super easy process to utilize it. You only need to install the blade into the saw, place your material in the right place on the base and then start to cut.
You can also move the blade to the left or right to easily have perfect cuts. With this feature, your process of cutting will be more effective and smoother than ever!
3. Safe And Accurate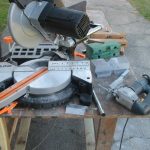 The Evolution RAGE3 miter saw will bring pleasure to you due to its safety and accuracy. No more burrs or sparks flashing out that threaten your eyes and even the heat is controlled compared to traditional saw. Besides, to ensure the cut is accurate, you should draw a line on your material and push the blade downright the line, the cut will be clean and straight.
4. Be Able To Cut Many Different Kinds Of Materials
What is more intriguing about the Evolution RAGE3 miter saw? It can be used to cut various materials such as plastic, mild steel, wood, and aluminum. Thanks to this feature, you can use it for multiple purposes and save money.

To sum up!
My Evolution RAGE3 Review has shared with you about a down-to-the-earth cutting tool, Evolution RAGE3 that helps enjoy the process of your work instead of strenuously carrying out the process by using traditional saws.
The expense for using it does not cost you an arm and a leg, so it is worthwhile for you to buy this useful tool to finish the process of cutting without breaking a sweat while saving time and money for yourself.