Generac GP3500io and Predator 3500: Which portable generator is the better option for you? Still, have no idea? Let's scroll down to find the answer!
Differences Between Generac GP3500io and Predator 3500
Below is a summary of the specifications:
Image
The Winner (#1)
Size
19.7 x 16.5 x 16.4 inches
The Winner (#1)
Image
Size
19.7 x 16.5 x 16.4 inches
Power Comparison
In terms of fuel types, both Generac GP3500iO and Predator 3500 use Gasoline to operate the engine.
While Generac GP3500iO is equipped with a 212 cc Generac OHV 4-stroke engine, the Predator 3500 runs on the 212cc OHV 4-stroke engine.
Interestingly, both of them offer a running watt of 3000W and can deliver up to a maximum of 3500W to power your tools and other motor-driven equipment.
Noticeably, the gasoline inverter Generac GP3500iO features advanced PowerRush technology, which allows the machine to deliver 50% of starting capacity in comparison with other generator brands.
With a running time of 11 hours, both powerful inverter generators are ideal for powering RVs, camping, supplying household emergency power, and tailgating.
Predator 3500 has a fuel tank capacity of 2.6 gallons, greater than Generac GP3500iO (2,37gallon).
However, the Generac model is in no way inferior with its lower energy consumption (0,22 GPH), while that of Predator is 0,24 GPH.
The best feature of Predator 3500 is its quiet operation with a measured sound level of 57dB, making this generator ideal for campsites.
When it comes to GP3500iO, it's unfortunate that the Generac does not publish decibel levels for portable generators. But based on some customers' reviews, this product has a decent noise level, suitable for noise-sensitive environments.
Both Generac GP3500iO and Predator 3500 have a low THD supply (3% for Generac GP3500iO and 5% for Predator 3500). The lower the THD Value is, the less noise or distortion the system output is. As a result, we can clearly see that both products are suitable for sensitive electronic devices.
Design Comparison
In terms of dimensions, Generac GP3500iO measures 19.7 x 16.5 x 16.4 inches and weighs 74.3 pounds. This means that you can easily carry this machine without too much force!
On the other hand, Predator 3500is seems bulkier with a weight of 110 pounds and a size of 22.75 x 17.3 x 20 inches. As a result, Generac GP3500iO overwhelmingly takes the lead in this round.
Well, we were a bit disappointed because Generac does not equip wheels for the GP3500iO. Conversely, the 3500 Predator is designed with integrated smooth-rolling casters for convenient portability.
With this strength, we can conclude that the 3500 Predator completely dominates its rival.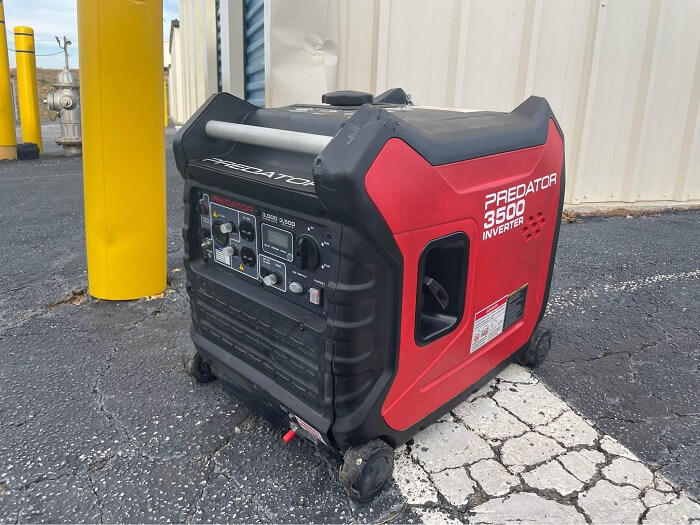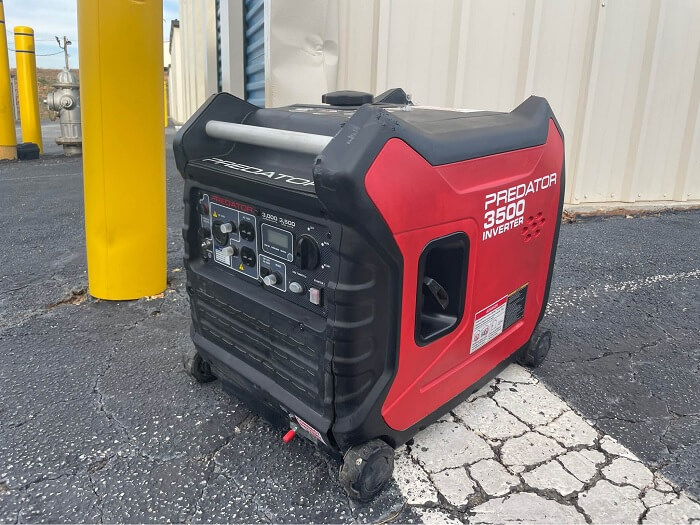 Features Comparison
Both machines can start by using a traditional pull cord. But one highlight feature of the GP3500iO is the simple dial for controlling the start, stop and run functions.
While Predator 3500 provides 3 AC drives and 1 DC drive, the GP3500io comes even better with 3 AC drives and 2 CD drives. This machine also offers USB outlets and parallel, ready to connect two units for double the power.
Quick Rundown Of Generac GP3500iO
Generac GP3500iO Inverter Generator
Portable Power Solution: Weighing 25% less than comparable models, the lightweight GP3500iO is designed to reduce fatigue and enhance portability, making it an excellent choice for camping, RV essentials, or powering tools on the go
High Quality and Consistent Power: With TruePower Technology, this generator delivers clean power that's safe for sensitive electronics, tools, and appliances, so you can stay connected even in the great outdoors
PowerRush Advance Technology: This portable open frame inverter generator offers over 50 percent more starting capacity, making it perfect for powering tools and motor-driven equipment, allowing you to accomplish more with ease
Quieter Operation: This Generac generator operates at 50% less noise, making it ideal for noise-sensitive environments while providing the power you need without causing disruptions
Smart and Reliable: Benefit from USB outlets for convenient charging of electronic devices. Featuring a single, user-friendly dial that seamlessly integrates start, run, and stop functions, simplifying operation and making it easy for anyone to use
[i2pc show_title="false" title="Pros & Cons" show_button="false" pros_title="Pros" cons_title="Cons" ][i2pros]Quiet operation
Lower energy consumption
Nicely packaged[/i2pros][i2cons]Overpriced
No wheels or handles[/i2cons][/i2pc]

Quick Rundown Of Predator 3500
No products found.
[i2pc show_title="false" title="Pros & Cons" show_button="false" pros_title="Pros" cons_title="Cons" ][i2pros]Endure a lot of electric needs
Super portable and lightweight
Bigger fuel tank capacity
Quiet operation[/i2pros][i2cons]No gas gauge with the fuel tank[/i2cons][/i2pc]

Product Videos
Conclusion
Generac GP3500iO vs Predator 3500, which one is for you? From our perspective, the most optimized generator in this battle is the Generac GP3500iO, thanks to its acceptable energy consumption and quiet operation. Hopefully, this machine will fully meet your electric needs and bring you peace of mind during storm season.