Either you choose Predator 3500 over Champion 100263 3400-Watt or vice versa, you can't go wrong as you've narrowed your option down to the two units.
However, Predator 3500 Vs Champion 3400, which generator makes a better investment? We're going to find out in today's article.
Image
Best Price
Best Price
Image
Differences Between Predator 3500 Vs Champion 3400
Utilities
The first difference between the two units is the starting and running power, which you can tell by looking at the names.
Predator 3500 starts at 3500 Watts and runs at 3000 Watts while its opponent, the Champion 100263 3400-Watt has starting Watts of 3400 and running Watts at 3100.
What is more, the running time of the Champion 100263 3400-Watt can be extended as the unit is versatile in using both gas and propane. It can run continuously up to 7.5 hours on gas and 14.5 hours on propane.
Compared with gas, propane is cheaper, and it offers similar features to gas, so it makes a great alternative.
In contrast, Predator 3500 can run up to 11 hours when having to consume only 25% of gas, so you can say that Predator 3500 and Champion 100263 3400-Watt are drawn in terms of fuel consumption.
In terms of noise level, the difference is hard to tell as Predator 3500 runs smoothly and quietly at around 57 dBA, while Champion 100263 3400-Watt has a noise level of 59 dBA.
Both units don't come with a fuel gauge, making it hard to determine the amount of gas or propane left in the tank.
However, the Predator 3500 has a running time display on the control panel to help you regulate the gas consumption easier, making it far more superior than its competitor – the Champion 100263 3400-Watt.
Speaking of the AC outlets, both products share similar panel configurations of two 120-Volt AC outlets and one 120-Volt DC outlet for more versatility.
Those are pretty much the basic differences between Predator 3500 Vs Champion 100263 3400-Watt.
When it comes to handy features, the units both have something to offer. As for the Predator 3500, it provides you with low oil, overload, and light indicators. There are also safety breakers to come with the outlets, preventing you from unexpected injuries.
In regard to the Champion 100263 3400-Watt, there is a convenient ignition switch to help you monitor the unit easier. Also, the quick touch control panel makes controlling a breeze since you have access to control in one place.
Maintenance
Champion offers buyers with a decent three-year warranty for their product, whilst Predator warranty only lasts for 90 days.
Quick Rundown Of Predator 3500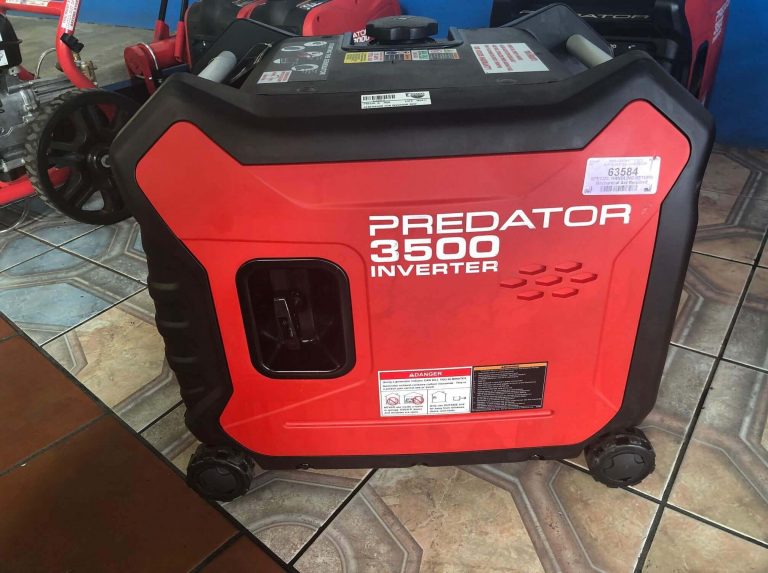 No products found.
[i2pc show_title="false" title="Pros & Cons" show_button="false" pros_title="Pros" cons_title="Cons" ][i2pros]Quiet unit with a noise level 57 dBA
Good values of money
Ease of maintenance by running a periodic oil changes test runs
Lightweight to add more portability[/i2pros][i2cons]Missing a fold-down handle, minimizing the use of the four wheels
Not very user-friendly
Short warranty[/i2cons][/i2pc]

Quick Rundown Of Champion 100263 3400-Watt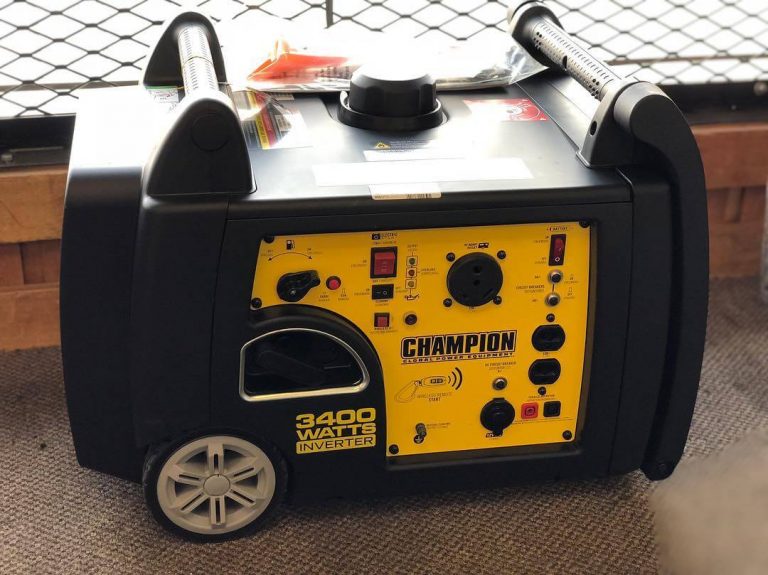 Champion 100263 3400-Watt
Dual Fuel – Operate your 3400-watt portable generator right out of the box on either gasoline or propane, plus the unit holds 0.6-quarts of oil (recommended 10W-30) and has a low oil shut-off sensor
Convenient Electric Start with 3-Position Ignition Switch – Battery included, plus Quick Touch Panel allows you to access all your controls in one spot.Noise Level :59 dBA at 23 feet. Frequency 60 Hz
Ultra-Quiet Operation – 59 dBA is perfect for RVs, tailgating, your next project or backup power for your home, featuring 3400 starting watts and 3100 running watts with up to 7.5 hours run time on gasoline
Clean Power for Sensitive Electronics – RV Ready with a 120V 30A RV, plus two 120V 20A household outlets with clean electricity (less than 3% THD) and 12V DC outlet with dual USB adapter
Champion Support – Includes 3-year limited warranty with FREE lifetime technical support from dedicated experts
[i2pc show_title="false" title="Pros & Cons" show_button="false" pros_title="Pros" cons_title="Cons" ][i2pros]Dual-duel feature for saving extra money
Quiet operation at 59 dBA
Easy to assemble
A good investment for such a price
Decent running time
Operates with clean electricity with less than 3% THD[/i2pros][i2cons]Fuel gauge missing
Overloading happens quite often[/i2cons][/i2pc]

---
Product Videos
---
Conclusion
Have you decided which machine is better after going through our comparison of Predator 3500 Vs Champion 3400 yet?
Both products have their pros and cons, but I'll have to go with the Predator 3500 as it comes with slightly more handy features and it also suits my preferences better.
---