Generac and Honda are both great brands to make some of the most powerful generators on the market. As you may know, the battle between Generac IQ2000 Vs Honda EU2000i has been going on for a while now.
So, which unit will win?
Differences Between Generac IQ2000 Vs Honda EU2000i
We will be discussing the differences in terms of price and key features.
Image
The Runner-up (#2)
The Runner-up (#2)
Image
Price
I can't tell exactly because it also depends on where you get the unit from, but generally, the Honda EU2000i costs somewhat $150-200 more than the Generac 6866 iQ2000.
Key Features
These generators are extremely quiet when operating; in fact, they're on the list of the quietest generators on the market.
Generac claimed that the Generac 6866 IQ2000 runs quieter than its opponent – Honda EU2200i, and they have a point.
In general mode, both units have an approximate noise level, but when you turn on the low power mode, you can see that the IQ2000 is somewhat quieter, and it even runs more smoothly.
Yet, the difference is hard to tell.
Another significant difference between the two machines is the fuel consumption rate. IQ2000 has a built-in gas gauge to tell you the amount of gas you have left, so you know when to refill the unit.
The EU2000i, on the other hand, does not.
You'll either have to wait until it is entirely out of gas or check the gas tank often. This is very inconvenient as sometimes you will need the unit to run continuously for specific jobs.
As for the handy features, the Generac 6866 iQ2000 seems to outweigh its competitor when it offers you an easy-to-use control panel, as well as an indicator to tell you the level of the oil and fuel.
Nonetheless, the Honda EU2000i has a strong adaptor (12 Volt) to make it more versatile and flexible. This feature is missing in the Generac 6866 iQ2000 as it only has two 120 Volt AC outlets, limiting its application in certain cases.
Even though Generac 6866 IQ2000 has a slightly bigger gas tank of 1.06 gallons, Honda EU2000i appears to be better in terms of running time.
It can run 8.1 hours on 25% gas load whilst the IQ2000 can only do up to 7 hours, give or take. This might not make that much of a difference to some people, but that extra minutes can really come in handy in certain situations.
Quick Rundown Of Generac 6866 iQ2000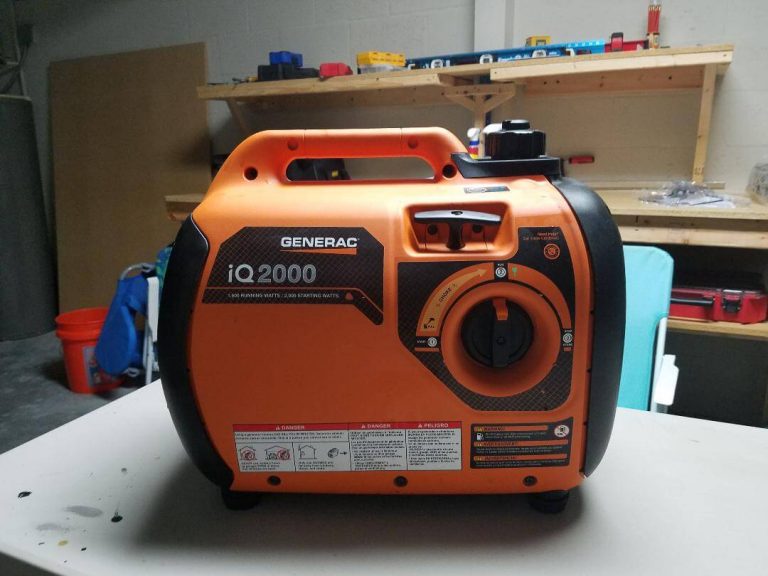 Generac 6866 iQ2000
AC Rated Output(Running/Starting): 1600/2000 Watts; AC Rated Voltage: 120V
PowerDial integrates start/run/stop functions into 1 easy-to-use dial
PowerBar monitors and displays wattage used; Electronic Fuel Gauge displays remaining fuel; Runtime Display show how much time is left before refueling
Fuel Capacity: 1.06 Gallons; Runtime (50% - 25% Load): 5.7 - 7.7 hrs; Full Load Fuel Consumption (gallons/hour): 2.85; Displacement: 80 cc; Oil Type: SAE 10W-30
Economy, Standard, and Turbo modes of operation saves fuel and reduces noise
Pros:
The perfect combination of 2 units for more versatility
Lightweight and compact design
Very quiet
Powerful 2000 Watt motor
Decent operating time at over 7 hours on 25% gas consumption
Electric fuel gauge to help determine gas consumption
Cons:
The instruction is quite hard to understand, making it confusing to turn on the unit properly

Quick Rundown Of Honda EU2000i
No products found.
Pros:
Quiet enough for you to use in public parks
3-year warranty
Additional 12 Volt DC adaptor
Can run continuously up to 10 hours on 25% gas consumption
Comes with an oil alert, an overload alarm, and an output indicator
Cons:
Might run rich after a time of use
Quite expensive

Conclusion
After comparing the two products, you can see that the Honda EU2000i is relatively better than the Generac 6866 iQ2000. Yet, that doesn't make IQ2000 a bad decision to go with.
It depends solidly on your preference to choose which unit is better in the battle of Generac IQ2000 Vs Honda EU2000i.
Popular Alternatives Worth Considering: